Queen Elizabeth House
38 Southborough Road, Bickley, Bromley BR1 2EE
Queen Elizabeth House is owned and operated by Greensleeves Homes Trust, a 'not for profit' charitable organisation providing care and accommodation for older people.

A multi-award winning, purpose built care home, Queen Elizabeth House provides care and accommodation for older ladies and gentlemen. Situated in a tranquil suburb of Bromley, Kent, Queen Elizabeth House offers a safe and comfortable 'home from home' with easy access to public transport and local amenities.

On duty 24 hours a day, the home's dedicated multi-disciplined team, provide high quality care to meet individual resident's requirements. Delivering the highest standards of care in a warm, safe environment is central to the home's philosophy. As part of the home's commitment to best practice, Queen Elizabeth House staff receive ongoing training in every aspect of the care of older people.

The home offers 28 en-suite bedrooms, each tastefully furnished and decorated. Residents are encouraged to bring in personal items such as pictures, ornaments and small items of furniture. Queen Elizabeth House's gardens have been adapted to afford ease of access with walkways and many relaxing places to sit and enjoy the sunshine.

Queen Elizabeth House follows the Eden Alternative philosophy in the care of older people. All residents' views, choices and preferences contribute to the daily running of their home. Regular residents meetings ensure that all the wishes of the residents are met. The residents organise a shop in the home, run their own film club and help to market the home to new residents.
Group: Greensleeves Homes Trust
Person in charge: Beverley Simms-Dick (Manager)
Local Authority / Social Services: London Borough of Bromley Council (click for contact details)
Type of Service: Care Home only (Residential Care) – Voluntary / Not for Profit Owned , 28 residents
Registered Care Categories*: Dementia • Old Age • Physical Disability
Admission Information: Ages 65+.
Single Rooms: 28
Rooms with ensuite WC: 28
Weekly Charges Guide: Personal Care Single £645 – £800
Facilities & Services: Own GP if required • Own Furniture if required • Smoking not permitted • Near Public Transport • Lift • Wheelchair access • Gardens for residents • Phone Point in own room/Mobile • Television point in own room
Latest CQC* Report on Queen Elizabeth House: click here
*Care Quality Commission (CQC) is responsible for the registration and inspection of social care services in England.
Bed Vacancies
Current Bed Vacancies Posted by Queen Elizabeth House
Please Contact Us for Latest Vacancies
Current Recommendations
There is currently no 'Recommendation Score' for Queen Elizabeth House.
There are currently no recommendations for Queen Elizabeth House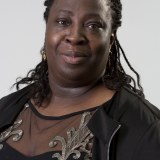 Beverley Simms-Dick
Job Title: Manager
Description:
Beverley writes:
QEH is an award winning home which prides itself on the ethos that it is run 'for the residents and by the residents'. The staff and the management team take pride in the knowledge that all residents regardless of their cognitive needs have a voice, choice and total control. The residents are actively involved in the management of the home from managing the main office, marketing the home, running the weekly shop, running daily film shows, interviewing staff, participating in catering committees, theatre groups, designing the garden, bathroom and all refurbishments within the home. Residents are empowered to lead the life of their choice, with support to maintain any likes, dislikes, hobbies and social needs and/or desires they might have.
Care Home Idol 2014
There are currently no Care Home Idol entrants who have performed at Queen Elizabeth House