Woodmead
35 Portway, Warminster BA12 8QR
Woodmead is registered for forty-eight residents and offers a team of skilled and friendly carers, able to provide care for older people and those with dementia, while also being able to offer day care.

Care homes from The Orders of St John Care Trust are well respected in Lincolnshire, Wiltshire, Oxfordshire and Gloucestershire where the voluntary sector charity has a strong presence after seeing healthy growth since it first opened homes in 1992.

All residents are supported in the pursuit of active lifestyle and personal interests, while benefitting from a care philosophy that prioritises dignity and independence alongside health, safety and security.
Group: The Orders of St John Care Trust
Person in charge: Sarah Hill (Manager)
Local Authority / Social Services: Wiltshire Council (click for contact details)
Type of Service: Care Home only (Residential Care) – Voluntary / Not for Profit Owned , 48 residents
Registered Care Categories*: Dementia • Old Age
Admission Information: Ages 65+.
Single Rooms: 48
Rooms with ensuite WC: 0
Facilities & Services: Respite Care • Physiotherapy • Own GP if required • Own Furniture if required • Pets by arrangement • Close to Local shops • Near Public Transport • Lift • Wheelchair access • Gardens for residents • Bar/Cafe on premises • Television point in own room
Latest CQC* Report on Woodmead: click here
*Care Quality Commission (CQC) is responsible for the registration and inspection of social care services in England.
Awards / Recognitions
February 2013
Current Recommendations
Recommendation Score: 8 (7.975)
The user 'Recommendation Score' ( 8 for Woodmead) is calculated using a combination of the average of all ratings on user Recommendations submitted in the last 2 years, and the total number of user recommendations submitted in relation to the number of beds at the care home. The maximum Recommendation Score is 10. To see more about the carehome.co.uk user recommendations please click here.
Review of Woodmead
My mother has been resident at Woodmead since February 2014. She had been living with me for about 16 months as she was no longer able to cope by herself. However, caring for her in my home became increasingly difficult as her dementia developed into a moderate stage. As well as this, although she loved having family around, she found it overwhelming to be in a busy, working household and would often get upset with the frustration. Sadly, I was beginning to view her less as my mother, but as a set of problems that needed dealing with! It's wonderful that, since Mum has been at Woodmead, I feel that our former mother / son relationship has been restored. I visit her at least once a week and she always seems very happy and contented there. She has always been very sociable, so loves it that there are always people around to sit with and talk to. There is always something going on, not at the rush and bustle of family life, but at a manageable pace that she can cope with. I think it's brilliant that a programme of activities is organised every month, that generally has something for every day, including arts and crafts, music, cooking, gardening, games, quizzes, indoor sports, films and slide shows, pamper days, visitors and talks! Physically, all of Mum's needs are met: the warmth, the spacious and light lounges, a comfortable and bright bedroom, the good, home- cooked food. But I think, by far, the most important aspect is Woodmead's ethos of person-centred care. Huge consideration is given to each resident's needs, desires and individual whims. Nobody is hurried, rushed or made to conform. Residents can opt in or out of activities as they wish. Mum sometimes likes to participate and sometimes prefers to just sit back and watch, but she's never made to do anything against her will. And this 'person-centred' ethos is totally understood by all the care staff. They always have the time and a smile for residents and their families, are always making sure that residents are comfortable and their needs met, and never appear impatient. They really are CARE staff! I feel very lucky to have found such a comfortable, secure and caring environment for my mother's later years. Somewhere that she sees as her home. And where I know she will be happy as her condition deepens.
Overall Standard: Excellent

Facilities: Good

Care / Support: Excellent

Cleanliness: Excellent

Treated with Dignity: Excellent

Food & Drink: Excellent

Staff: Excellent

Activities: Excellent

Management: Excellent

Safety / Security: Excellent

Rooms: Good

Value for Money: Excellent
Submitted by Nick Andrew (Son of resident) on Wednesday 4 June 2014.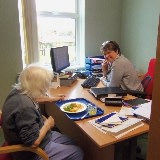 Sarah Hill
Job Title: Home Manager
Joined: 1999
Description:
Woodmead is a residential care home for forty eight residents and are looked after by a dedicated team of over seventy staff including carers' ancillary staff and the administrate assistant. The team are led by the home manager Sara Hill who has managed the home for over four years and supported by a Head of Care, care leaders and heads of departments.
Sarah Hill joined the trust in 1999 as a carer and progressed through the career structure in the home to eventually become home manager. During this time Sarah has gained many qualifications including Registered Managers Award and NVQ level 4 in management.
During her time with the Trust Sarah has gained experience in managing a care home for people with dementia and has recently undertaken a qualification in dementia awareness.
Sarah sets high standards of care and conduct within the care setting and has gained recognition of this in the positive and compliant inspections that have been undertaken by CQC.