Acorn Court Care Home
The Kilns, Watercolour Development, Redhill RH1 2NX
Acorn Court Care Home specialises in both nursing and dementia care, having been purpose-built to allow for efficient care methods in a comfortable and homely environment.

High standards of care are achieved while respecting the independence and personal freedoms that residents wish to continue, which are supported through strong community links.

Pleasing furnishings and a range of entertainments help support and maintain a good social atmosphere, with staff always keen to welcome visitors.
Group: Carebase Ltd
Person in charge: Monica Prosser (Manager)
Local Authority / Social Services: Surrey County Council (click for contact details)
Type of Service: Care Home with nursing – Privately Owned , 86 residents
Registered Care Categories*: Dementia • Old Age
Specialist Care Categories: Alzheimer's
Admission Information: Ages 65+.
Single Rooms: 86
Shared Rooms: 0
Rooms with ensuite WC: 86
Facilities & Services: Respite Care • Convalescent Care • Physiotherapy • Separate EMI Unit • Own Furniture if required • Smoking not permitted • Close to Local shops • Near Public Transport • Minibus or other transport • Lift • Wheelchair access • Gardens for residents • Phone Point in own room/Mobile • Television point in own room • Residents Internet Access
Latest CQC* Report on Acorn Court Care Home: click here
*Care Quality Commission (CQC) is responsible for the registration and inspection of social care services in England.
Bed Vacancies
Current Bed Vacancies Posted by Acorn Court Care Home
Please Contact Us for Latest Vacancies
Current Recommendations
Recommendation Score: 8.4 (8.444)
The user 'Recommendation Score' (8.4 for Acorn Court Care Home) is calculated using a combination of the average of all ratings on user Recommendations submitted in the last 2 years, and the total number of user recommendations submitted in relation to the number of beds at the care home. The maximum Recommendation Score is 10. To see more about the carehome.co.uk user recommendations please click here.
Monica Prosser
Job Title: Manager
Description:
Monica joined Carebase five years ago, where the last two years have been spent managing Acorn Court. Monica has been caring for the elderly for more than 20 years in various roles. She primarily worked in domiciliary care, providing assistance to those in need at their home.
Taiwo Kolade
Job Title: Deputy Manager
Description:
Taiwo is a registered nurse, and is passionate about providing the highest level of care to all the residents at Acorn Court.
Petra Stephenson
Job Title: Administrator
Description:
Petra has worked at Acorn Court since it first opened its doors, and in that time has built a fantastic rapport with residents, their families and visitors to the home.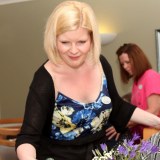 Ami Penfold
Job Title: Activities & Events Coordinator
Joined: 2011
Description:
The residents affectionately call her 'Amazing Ami' as there no end to her talents, because as well as ensuring there are activities and therapies to entertain and stimulate the residents every day, she is always on hand to provide a helping hand to everyone, whether it be it a hair-styling when the Hairdresser is not around or nails and makeup if required for that special occasion. Ami can always be counted on to join in the fun with a good song and a dance, or for giving that special hug to ensure that everyone feels special and loved.
Care Home Idol 2014
There are currently no Care Home Idol entrants who have performed at Acorn Court Care Home