Kingsclear Nursing Home
Park Road, Camberley GU15 2LN
Kingsclear Nursing Home combines a beautiful Edwardian house of distinction with purpose-built modern elements, offering residential and nursing care of the highest standard for up to 72 elderly people. Kingsclear is located in the Surrey town of Camberley and benefits from excellent transport links to the South East and beyond.

The house is situated in breathtaking gardens and grounds. A terrace and secluded seating areas enable residents to enjoy the gardens in peace and quiet, whilst those wishing to stretch their legs can enjoy a stroll along the woodland paths.

Kingsclear's interior is no less stunning. Bedrooms and communal areas are decorated to the highest standards and those within the Edwardian building retain a wealth of period features. Highlights include the elegant staircase (lifts are available to all floors for less mobile residents) and the ground floor drawing rooms featuring elaborate plaster mouldings and unique friezes.

Kingsclear offers a full range of residential and nursing care support, including trial stays, respite breaks and convalescent care as well as long term care. Residents are encouraged to bring important personal possessions to personalise their rooms. The home operates an open visiting policy, where residents and loved ones may visit at convenient times. In common with all of our homes, Kingsclear's manager has a qualified nursing background. The home is fully registered with the Care Quality Commission and has ISO9001/2000 and Hospitality Assured accreditation.
Group: Caring Homes Group
Person in charge: Margaret Miller (Manager)
Local Authority / Social Services: Surrey County Council (click for contact details)
Type of Service: Care Home with nursing – Privately Owned , 72 residents
Registered Care Categories*: Dementia • Old Age • Physical Disability
Specialist Care Categories: Alzheimer's • Hearing Impairment • Motor Neurone Disease • Multiple Sclerosis • Parkinson's Disease • Speech Impairment • Stroke • Visual Impairment
Admission Information: Ages 65+.
Single Rooms: 70
Shared Rooms: 1
Rooms with ensuite WC: 10
Facilities & Services: Palliative Care • Day Care • Respite Care • Convalescent Care • Separate EMI Unit • Close to Local shops • Near Public Transport • Minibus or other transport • Lift • Wheelchair access • Gardens for residents • Television point in own room
Latest CQC* Report on Kingsclear Nursing Home: click here
*Care Quality Commission (CQC) is responsible for the registration and inspection of social care services in England.
Bed Vacancies
Current Bed Vacancies Posted by Kingsclear Nursing Home
Bed Vacancies
(Please Contact Us for further information on our current Bed Vacancies)
posted 13 Apr 2015
Current Recommendations
Recommendation Score: 8 (8.030)
The user 'Recommendation Score' ( 8 for Kingsclear Nursing Home) is calculated using a combination of the average of all ratings on user Recommendations submitted in the last 2 years, and the total number of user recommendations submitted in relation to the number of beds at the care home. The maximum Recommendation Score is 10. To see more about the carehome.co.uk user recommendations please click here.
Review of Kingsclear Nursing Home
The care and attention given to my Dad in the last eight months of his life was exceptional. The carers were so kind and patient with him at all times and nothing was too much trouble. He thought of Kingsclear as his home and never asked when he was going to leave which was a blessing. There is always guilt when the need arises to put a parent into a nursing home, but I know now it was the best decision I could of made both for him and especially for me.
Overall Standard: Excellent

Facilities: Excellent

Care / Support: Excellent

Cleanliness: Excellent

Treated with Dignity: Excellent

Food & Drink: Excellent

Staff: Excellent

Activities: Excellent

Management: Excellent

Safety / Security: Excellent

Rooms: Good

Value for Money: Excellent
How likely would you be to recommend Kingsclear Nursing Home? Extremely likely
Submitted by Richard Mathews (Son of Resident/Service User) on Saturday 4 April 2015. Review relates to April 2015.
Review of Kingsclear Nursing Home
My mother spent her last (nearly) two years at Kingsclear. She was always kept warm, well fed, comfortable & clean. Staff were excellent and always attentive to my mothers's visitors. I would not hesitate to recommend Kingsclear to others.
Overall Standard: Good

Facilities: Good

Care / Support: Good

Cleanliness: Good

Treated with Dignity: Good

Food & Drink: Good

Staff: Excellent

Activities: Good

Management: Good

Safety / Security: Good

Rooms: Good

Value for Money: Good
Submitted by Pauline Maddison (Daughter of Resident/Service User) on Thursday 23 May 2013.
Review of Kingsclear Nursing Home
Prior to my dad moving to Kingsclear I was at breaking point. He was aggressive, unreasonable, demanding, abusive, depressed and lonely. Since moving to Kingsclear he is clean, well groomed and I have never seen him more pleasant and happy. He is fed, given his medicine at the correct time and has company. Before moving to Kingsclear he had several falls. Only had one since moving here.
Facilities: Excellent

Care / Support: Excellent

Cleanliness: Excellent

Food & Drink: Excellent

Staff: Excellent

Activities: Excellent

Management: Excellent

Safety / Security: Excellent

Rooms: Excellent

Value for Money: Excellent
Submitted by David G (Son of Resident/Service User) on Wednesday 15 May 2013.
Job Vacancies
To be discussed
(Care Home / Nursing Home • Full Time or Part Time)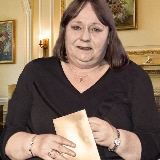 Margaret Miller
Job Title: Home Manager
Joined: 2013
Description:
As Home Manager of Kingsclear, Margaret leads a professional staff team in delivering the highest standards of residential and nursing care for up to 72 elderly people.
As a qualified RGN, Margaret has amassed a wealth of knowledge and experience across both the private sector and the NHS. She understands the importance of creating a seamless care pathway and works hard to maintain excellent relationships with a range of local health professionals.
As part of her previous work, Margaret has studied safeguarding across all walks of life, but specifically in a care home environment. This study reinforced her belief that effective training and knowledge play a crucial role in ensuring all care home residents are provided with good care and quality of life in a safe environment.
Margaret was keen to join Caring Homes and particularly Kingsclear, due to the positive atmosphere of dignity and respect she experienced when visiting the home. As such, she is intent on continuing to provide residents, staff and visitors with a pleasant environment to live, work and visit.
Within her role, Margaret takes particular pleasure from the relationships she is able to build with the residents of Kingsclear and their friends and family.
'I feel privileged to be able to support our residents and their relatives when they need a kind word, a smile or someone to talk to.'
Having lived in nearby Bracknell since 1999; Margaret enjoys Surrey life, with the close proximity to London combined with the countryside feel of the surrounding areas. Away from work, she enjoys reading 'a good thriller' and spending quality time with her three sons and three grandchildren.
Care Home Idol 2014
There are currently no Care Home Idol entrants who have performed at Kingsclear Nursing Home