Thorntree Mews
17 Arnothill Mews, Falkirk FK1 5RZ
Situated in the centre of the historic town of Falkirk, Thorntree Mews is a 40 bedded care home which offers specialist nursing, residential and dementia care. The home can also provide long and short term respite stays as and when availability allows.

Care Manager Merissa Meason has over 25 years of experience in the healthcare profession and has been manager at Thorntree Mews for 10 years. The experienced care team at take care of the varied healthcare needs of residents, from specialist support to general assistance with everyday living, while respecting their need for an independent and dignified lifestyle.

The home has retained some of the building's original features including stained glass windows, high ceilings and grand fire places which adds to the impressive feel of the home. Owners Countrywide Care Homes have recently invested in updating and refurbishing the home's facilities and modernising décor throughout. Facilities include spacious lounges and quiet rooms on each floor, an on-site hair salon and a conservatory overlooking the outdoor patio area.

All areas are wheelchair accessible and en-suite bedrooms are available, along with a choice of bathroom and shower room facilities.

The Activities Coordinators at the home provide a full programme of activities, entertainment and events for residents to choose from. The home also benefits from strong links to the local community and from having access to a mini bus for day trips out.
Group: Countrywide Care Homes Ltd
Person in charge: Merissa Meason (Home Manager)
Local Authority / Social Services: Falkirk Council (click for contact details)
Type of Service: Care Home with nursing – Privately Owned , 40 residents
Registered Care Categories*: Dementia • Old Age
Specialist Care Categories: Alzheimer's
Admission Information: Ages 65+.
Languages Spoken by Staff (other than English): Polish
Single Rooms: 40
Rooms with ensuite WC: 20
Facilities & Services: Palliative Care • Respite Care • Separate EMI Unit • Own GP if required • Own Furniture if required • Close to Local shops • Near Public Transport • Minibus or other transport • Lift • Wheelchair access • Gardens for residents • Phone Point in own room/Mobile • Television point in own room
* Care Inspectorate is responsible for the registration and inspection of social care services in Scotland.
Bed Vacancies
Current Bed Vacancies Posted by Thorntree Mews
2 Bed Vacancies
(Nursing)
posted 27 Feb 2015
Awards / Recognitions
February 2015
Current Recommendations
Recommendation Score: 9.8 (9.792)
The user 'Recommendation Score' (9.8 for Thorntree Mews) is calculated using a combination of the average of all ratings on user Recommendations submitted in the last 2 years, and the total number of user recommendations submitted in relation to the number of beds at the care home. The maximum Recommendation Score is 10. To see more about the carehome.co.uk user recommendations please click here.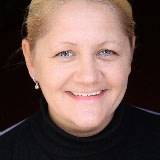 Merissa Meason
Job Title: Care Manager
Description:
Hello my name is Merissa Meason and I am the Registered Care Manager of Thorntree Mews which is situated in the centre of Falkirk.
I have been the Care Manger of Thorntree Mews for 8 years and I have worked in the healthcare profession for 15 years, where I completed my NVQ Levels 2, 3 and 4. I also gained my Registered Manager's Award in 2004.
Care Home Idol 2014
There are currently no Care Home Idol entrants who have performed at Thorntree Mews