New Buckinghamshire care home will adopt low carbon technology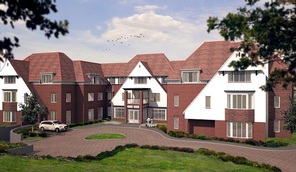 Date of article: 04-Jan-13
Article By: Richard Howard, News Editor
Signature Senior Lifestyle Ltd have awarded a second care home project to developers G B Building Solutions Ltd, set to get underway in Marlow, Buckinghamshire for completion in spring 2014.
The announcement follows last month's news that GB and Signature have agreed a joint venture partnership to focus on innovative care accommodations in London and the South East, following collaboration on a £13m Kingston-upon-Thames care home that began in October.
Martin Smout, chairman and chief executive of GB Group commented: "We are proud to be delivering Signature Senior Lifestyle their second care development and using our extensive expertise to make sure the residents live in a high quality building that provides a premium service where they can have both expert care and a happy, stimulating lifestyle."
The Marlow development will consist of 79 suites, 16 of which will be purposely designed for dementia care provision, and the £11m project has also been designed to incorporate low carbon technologies, adhering to BREEAM 'Very Good' standards.
Director of development and construction for Signature, Wayne Pryce, comments: "We look forward to working closely with GB to deliver another high quality home. Our residents are at the heart of everything we do and we focus on delivering the best home for them, from site acquisition through to building completion. We strive to offer a place where people can genuinely feel at home in specially designed suites, where residents can enjoy quality meals, a full range of activities and receive the best possible care. We look forward to welcoming our new residents to Signature."
Alongside its 79 suites, residents of the new facility will have access to a range of communal areas, entertainment rooms, a restaurant and bistro, and also a hairdressing salon.
Signature Senior Lifestyle are currently registered as operating three care homes, as well as several extra care properties and day centres, though have a number of key developments planned for expansion.
click here for more details or to contact Signature Senior Lifestyle Ltd