Coalition leaders confirm agreement for cap on individual care costs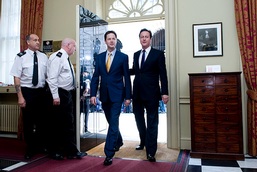 Date of article: 07-Jan-13
Article By: Richard Howard, News Editor
Prime Minister David Cameron and Deputy Prime Minister Nick Clegg have today confirmed the Coalition Government's intention to place a cap on individual care costs, as part of the 'Mid Term Review' presented to the media this afternoon.
A cap on care costs was a notable absence from the care reform legislation announced by the Government in July, leading to fears that the Treasury would not support such a move. However's today's announcement included confirmation that a cap would be part of the Coalition's major plans for 2013.
The Prime Minister said, "We are dealing with the challenges of an ageing population,' and pledged to support 'dignity in old age' as well as 'effective pensions reform'. While Deputy PM Nick Clegg confirmed, "We will act to make social care more affordable" and stressed his belief that "the social reforms of this time will overcome the long term economic challenges."
Minister for Care and Older People, Norman Lamb, had hinted last week that a cap was imminent, with initial rumours being that the amount would be set at £75,000. Mr Lamb also confirmed that the law will be changed to allow for the sale of houses to be deferred until after death, saying, "No one will have to sell their home during their lifetime to pay for care."
Issuing a response to the care cap rumours prior to today's announcement, shadow health secretary Andy Burnham seemed to bring an end to any all-party consensus that remained on the issue, accusing the Government of falling "far short of a fair solution to the care crisis."
Mr Burnham commented: "A cap on care bills of £75k per person, or £150k per couple, will not protect the home and life savings of an average family.
"George Osborne needs to address the immediate funding crisis. Since this Government came to power, £1.3bn has been cut from council social care budgets. Care charges are spiralling upwards for the most vulnerable people in society.
"Andrew Dilnot's proposed cap of £35k would be a significant step towards helping older people protect what they've worked for. Labour remains open to cross-party talks on funding the Dilnot plan and are disappointed they have decided to go it alone with this half-baked alternative."
Leading dementia charity the Alzheimer's Society do not share Labour's pessimism on the cap, issuing a statement praising the move, saying:
"This commitment to cap social care costs and raise the means test threshold is a triumph for the thousands of campaigners demanding changes. Many families face a 'Dementia Tax', paying tens of thousand of pounds for care that results from a medical condition.
However, the implementation of the cap will be a matter for ongoing scrutiny, as the Alzheimer's Society goes on to state:
"But the devil will be in the detail. The government and opposition must provide clarity and a timetable as soon as possible so people know how to plan for care costs now. These changes will help people in the future but we strongly urge the Government to look at how to cap the costs for people paying huge sums for care today."
Image: Prime Minister David Cameron with the Deputy Prime Minister Nick Clegg walk into Number 10 Downing St: courtesy of Conservative Party photostream