Torquay's Warberries Nursing Home embraces Planting Memories campaign
19-Jul-12
Article By:
Richard Howard, News Editor
A restoration project underway at Warberries Nursing Home, in Torquay, has become the first to embrace the new Planting Memories campaign. The campaign hopes to see communities embrace the challenge of creating Memory Gardens to help adults with dementia and, in doing so, raise awareness of those living with memory loss and funds for charities committed to finding a cure.
Having been taken over by new owners Graham and Lorraine Greenaway, the historic Warberries Nursing Home is currently being upgraded to make the most of its potential as a care environment, with attention now turned to the garden area and the ideal direction provided by the Planting Memories campaign and its founder Norman McNamara (known as Norrms).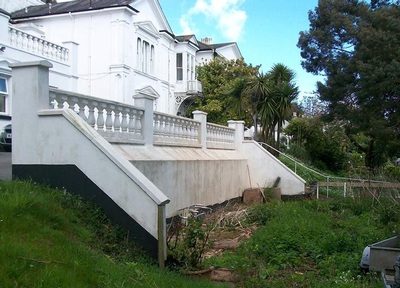 Mr Greenaway comments: "We have the perfect site to develop into a Memory Garden and when Norrms asked us if we could help him with his Planting Memories campaign – well we were honoured to be invited to have the opportunity to work with him. Norrms suffers from early onset Lewy Body disease and yet he is remarkable in every way, with enthusiasm, energy and compassion that would put many of us to shame.
"Norrms' ambition is to increase awareness of dementia by everyone in the community from school children upwards and so all will be invited to plant their own memories in our very special garden."
The Planting Memories campaign supports the Lewy Body Society – Lewy Body disease being the second most common cause of neurodegenerative dementia – and is focused upon marking the international Dementia Awareness Day 2012 (DAD), 15 September, by encouraging more communities and healthcare providers to get involved.
Eventually the campaign aims to see a Dementia Memory Garden in every town, meaning that anyone living with dementia can benefit from visiting a sensory environment that cognitive research shows to have positive effect on mental health.
Norman McNamara, who was diagnosed with early onset dementia four years ago aged 50, speaks on how easy it is to get involved with Planting Memories and the positive effect doing so can have on people's lives:
"Anyone interested in gardening can 'plant memories' in aid of international Dementia Awareness Day 2012 on Saturday September 15th. All you have to do is grow some garden plants of any kind over the summer and then sell them to your friends or local community on or before DAD. The profit you make can be donated online.
"It doesn't matter if you take on the challenge as an individual, or club together with some friends or neighbours. You can sell your produce direct from your front door or take it to a fête or car boot sale. Plants are very easy to grow, you can start from seed or cheat by buying ready propagated seedlings from your local garden centre. Enjoy nurturing and watching them mature, and then pot them up ready to sell as established plants during the summer or on DAD day! Ideas for growing plant varieties can be found on my Planting Memories Facebook page www.facebook.com/PlantingMemories
"But there is more to this campaign than fundraising. I would like you all to try and involve (where possible) someone who has a diagnosis of dementia in the choice of plants and the growing process."
An ageing demographic means that the UK's population of adults diagnosed with dementia is set to rise from 750,000 to an estimated 1.7m by 2051, according to the Alzheimer's Society, with Prime Minister David Cameron having this year set out a Dementia Challenge, in which he called upon the country to recognise the condition as "One of the greatest challenges of our time".
Anyone interested in donating can do so at: www.justgiving.com/DementiaAwarenessDay2012