Milestones Trust is launching a campaign to revolutionise the quality of food served to people in Britain's care homes.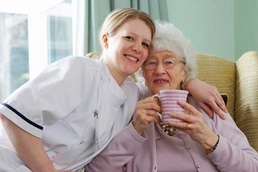 The charity based in Bristol, aims to raise the standards of care home food, similarly to the way TV chef, Jamie Oliver, did for schools, and to make sure that those who prepare and cook food for care home residents are properly trained.
The Milestones Trust supports people with learning disabilities, mental health needs and dementia, offering both residential care and day care.
Louise Chambers, head of elder care at the Trust, said: "Providing good food is one of the things we are passionate about."
"There are general quality checks in all care homes, but there's no national food standard. So we're looking to take the lead in raising the quality of food people eat in care homes," she added.
The Trust has received its own Bronze Catering Mark from the Soil Association for Humphry Repton House.
The care home is the first in Bristol to receive the award which recognises kitchens where, among other things, food is freshly prepared, contains seasonal ingredients and is free from undesirable additives or fats.
Milestones Trust aims to lead by example with its 'Focus on Food' campaign. The project involves the launch of a training programme for staff who prepare food in its care homes in the Bristol area. At the end of the course students will gain a recognised qualification from local cookery school Square Food Foundation.
"Our long-term goal is to see the same kind of training rolled out across Britain," said Ms Chambers.
The Trust is also looking at how it can improve its residents' nutritional health. It has been awarded funding from South Gloucestershire Council which has allowed the charity to work with a nutritionist to review and improve the menus at its care homes. It is also working in partnership with social enterprise organisation Growing Support to create vegetable gardens at its homes.
Naina Mandleker, director of business development at the Trust, added: "We want to transform how people think about food in care homes. We plan to be the trailblazers in creating a holistic, nutritious, sustainable food culture in the care industry."