When Beth Britton was 12, her father began to suffer from vascular dementia. He went 10 years without a diagnosis and during this time, she and her mother were his main carers.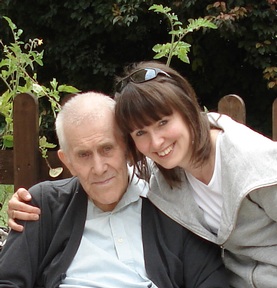 For Ms Britton, who has become a well-known dementia campaigner, it signalled the loss of her childhood and of her teenage years.
"I had to grow up quickly and take on extra responsibility. I didn't go out socialising much and lost quite a few 'friends' over the years because they didn't understand what my life was like. Further education wasn't an option – my focus was my family."
It was an unusual decision for a teenager to make but one that she doesn't regret. In her blog, she relates how in a radio interview last year, the presenter repeatedly quizzed her on why she had insisted on caring for her dad, instead of going to university and doing all the 'normal' things that people in their teens and twenties do.
She explains: "I never weighed up the option of a university education and the potential for a high-flying career against my dad's needs. Maybe that makes me very odd, but I know I'm not the only person who would have acted in this way. The materialism of life, and the desire to climb the greasy pole to facilitate that materialism that is educated into our children at ever younger ages, didn't pass me by, it just never interested me."
Dementia was a great teacher
For her, dementia was a great teacher, teaching her "to tell my dad I loved him every time I saw him. I say dementia taught me because a diagnosis of a terminal disease makes it imperative that you make the most of every moment".
She says: "Caring for my father was a privilege and a blessing that I wished had never ended. It was borne though love, sustained though love and lives on though my work, which incidentally I also love."
After being diagnosed with dementia, her father spent nine years in three different care homes and died in April 2012 aged 85.
Ms Britton now works as a care consultant, giving support and advice to people affected by dementia. She also campaigns to improve dementia care by informing and educating care professionals.
Becoming a carer wasn't a conscious decision. "In common with many carers we just fell into caring for dad, gradually doing more and more for him without seeing ourselves as carers."
As well as caring for her father, she took up freelance sport and lifestyle feature writing before becoming editor of Voiceoffootball from 2005-2007.
As her father's dementia continued to advance, she made the decision to prioritise his needs, and gave up her job.
She was sad to give up Voiceoffootball and says: "It was an amazing project that had given so many talented young writers a chance to shine, but I needed more flexibility in my life and in some ways it was a relief to not have to juggle so many balls in the air at once. Knowing I could spend more time with my dad and my family was a blessing."
Caring for someone with dementia can be extremely challenging. Ms Britton found it was the love of her family especially her mum that helped her get through the difficult times along with music, cooking, going out walking, living in the moment and lots of cups of tea.
Carers need to try and live in the moment
She advises carers of people with dementia to try and live in the moment as much as possible "because looking further ahead can be very stressful and upsetting when you know your loved one has a terminal disease. I always dreaded the times dad was ill with a UTI or chest infection – never knowing if he was going to survive was extremely hard to cope with".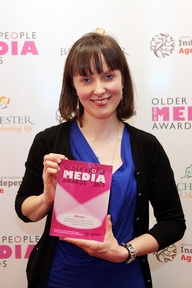 She also recommends seeking help. Unfortunately when her dad was ill, there wasn't the help that is available now. However it is very different now and as "there are lots of immensely supportive groups and forums online and some amazing people on social media. There are more community-based support cafés and carers groups too, and my dearest wish is that these are available to everyone who needs them – we must eliminate the postcode lottery for services. There are also some great campaigns to get involved with, like the 'DAA Carers Call to Action' (www.dementiaaction.org.uk/carers), which champions the rights of carers and gives them a voice."
Although things have improved in terms of awareness of dementia, with the disease even getting its own G8 summit last year, Ms Britton would like to see even more people knowing about the condition.
She calls more awareness "vital" saying "this will encourage people to come forward and seek help if they are concerned that they, or a loved one, are developing dementia. More understanding is needed to ensure that our communities are dementia friendly. Training for all health and social care professionals is also vital, but this must be meaningful and based on the lived experience if it is to appeal to the hearts and minds of those being trained".
Tips for people looking for a care home
At some stage as dementia progresses and the person deteriorates, friends and relatives are often forced to look for a care home. Ms Britton has some valuable tips for people looking for a care home. She advises "look for a home from home. Don't be afraid to ask questions and don't be seduced by a 'hotel' environment – the look of the home is important, but the quality of the care is far more important.
"Make sure your loved one will be seen as the unique individual that they are in every aspect of their life and care. Ensure that your loved one will have opportunities to participate in the life of the home: we need to move beyond 'activity' programmes and start to see every aspect of daily living as an activity - not everyone wants to play bingo or sing songs!
"Make sure you are also able to fully participate in the life of your loved one and the care home – no visiting times or 'toileting' times, but instead shared meals and integrated, homely living. And "ultimately, trust your gut instinct – if something doesn't feel right, don't go there."
Over the past decade, Beth Britton has become one of the UK's leading campaigners on dementia and is also an ambassador for Brace, which funds research into Alzheimer's disease. Her work has been praised by the likes of Professor Alistair Burns, national clinical director for dementia for NHS England and Andrea Sutcliffe, chief inspector of Adult Social Care at Care Quality Commission.
Spurred on by memories of her father, she is fiercely determined to improve the lives of others with dementia. "My dad was an amazing man, and I hope his legacy will be to improve the lives of others through my work."
To read Beth Britton's blog go to d4dementia.blogspot.co.uk/ and to find out more about her work go to www.bethbritton.com
Interesting facts
First job: Working at a National Trust property meeting and greeting guests
Favourite book: My dictionary and thesaurus!!
Favourite film: The Notebook
Favourite piece of music: Promise Me by Beverley Craven
What is the best present you have received: My iPod
Last holiday: Barcelona