Care home provider, Sunrise Senior Living, has been working with pottery manufacturers to develop a new range of dementia friendly crockery.
Many people with dementia have problems with their sight which can make eating and drinking a daily struggle.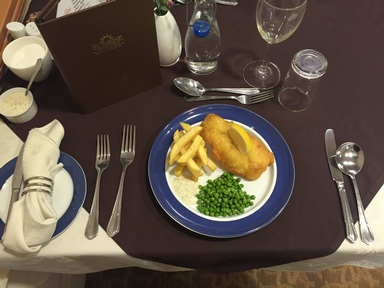 They can lose the ability to tell the difference between certain colours and so are unable to see their food against their plates and the cutlery against the table.
To address this problem, the new crockery was designed in a bright, bold blue colour complemented by white stripes to make the plates more easily distinguishable from residents' meals and tables. Blue has the benefit of being a bold, primary colour, and one which does not clash with any food.
Amanda Scott, Sunrise UK's managing director said: "We have been looking at every element of the crockery that we use for several years, from colour to size and plate depths.
"As a result we are thrilled to be able to roll out these new designs, which will boost the independence of residents in Sunrise communities up and down the UK."
Those with arthritis will also benefit, as it is hoped that the crockery may reduce the pain associated with cutting, lifting and gripping objects.
The crockery was tested before it was distributed to the Sunrise care homes with trials that showed the plates and cutlery were effective at enhancing the diets of the residents who used them.
People living with arthritis and dementia should find it easier to put food on their forks and spoons, as the plates are deeper than usual and larger handles on cups also make it easier to grab and hold onto drinks.
The new range is now in use at all Sunrise communities throughout the UK.
click here for more details or to contact Sunrise Senior Living