Music Memory Box was created by young designer and inventor Chloe Meineck, after a personal experience with a relative left her wanting to create a product that could help calm the effects of dementia.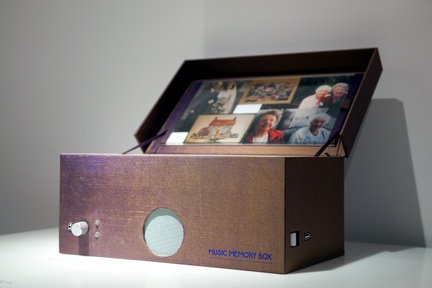 Chloe said: "Music Memory Box was inspired by an early experience of dementia in my life. When I was very young I went to visit my great gran in a care home and although she couldn't remember who any of her family were, she could still play lots of songs on the piano remember all the words and it seemed to help her stay calm and sparked many stories.
"This early experience, combined with the Design for the Future competition at the University of Brighton, where entrants were asked to think about pressing issues in the future, I naturally chose dementia and music.
"I then went about collecting research and learning about the links between dementia and music and made several prototypes of music objects before creating the first Music Memory Box for another family member."
The Music Memory Box design is modelled on a shoebox containing objects chosen by the owner to represent their friends, family and key memories. As they pick up each object, the box plays a specific piece of music, encouraging them to recall memories from their past.
The Alzheimer's Society reports that by the end of 2015, there will be 850,000 people living with dementia in the UK and anticipate that by 2025, there will be more than one million people living with dementia.
The number of people living with dementia doubles for every five-year age group, while one in six people over the age of 80 are living with dementia. While one third of people living with dementia in the UK reside in care homes and of people living in care homes, 80 per cent of them have dementia or severe memory problems.
Reminiscence therapy is a recognised way for people with dementia and memory problems to help regain control of the lives. In recent years, there has been an increase in the number of reminiscence products available to care homes and healthcare professionals.
Memory boxes focus on encouraging people to draw on some of their earliest memories
Often it involves talking about memories from the past, using props such as photos, objects and music which can be combined with a memory box, containing a person's favourite possessions. Memory boxes are popular as they focus on encouraging people to draw on some of their earliest memories which people with dementia often remember the best.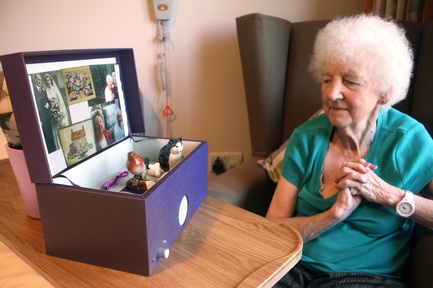 This kind of therapy can help improve mood, well-being and cognitive abilities, such as memory when conducted on a one-to-one basis, encouraging people with dementia to recall information about themselves and their past and not focus on their dementia.
Chloe continued: "I think the simple yet startling power of a song you once listened to, it opens up the story of who you were with, what you were doing.
"Meeting, working and being friends with new people whilst developing Music Memory Box, has led me to have some privileged moments. Including where people that haven't talked for ages, start singing, people that like to sit down, start dancing and one man in particular remembered through a song – that he was Italian, spoke Italian and had lived there for many years.
'Music is not based on time-frames, we listen to a mix of old and new, missing out the bits we don't like'
Unlike traditional memory boxes, the Music Memory Box is a multi-sensory experience and contains photos, objects and music. The Music Memory Box harnesses cheap technology allowing it to link the three resources together for a new sensory reminiscence experience.
Chloe is keen to highlight that The Music Memory Box is fully customisable, so it can be changed to accommodate personal tastes in music, as opposed to traditional combinations of songs from the 1930s or 40s. The music used can span the ages of an individual's identity, allowing the box to be fully personalised for a more effective reminiscence session.
She said: "When doing research into what was being used currently I remember an account of a lady in a care home being played 1940s English music every single day – she hated it. She had not lived in the UK in the 1940s had no recollection of the music and everyone else seemed to love it.
"The UK has a lovely mix of people from all over the world, different cultures and music genres should be considered, not everyone loves Vera Lynn.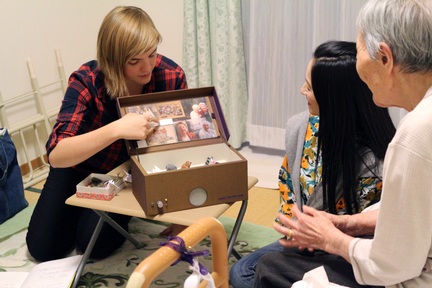 "You cannot simply sum up a group of people by their ages and play general music to them. If I am in a care home and they play Justin Bieber to me, I won't be impressed. Music is no longer based on time-frames, we listen to a mix of old and new, missing out the bits we don't like. I like 80s music and this brings back lots of memories about teenage years, but I wasn't a teenager in the 80s.
"Having a product that can be added to I think is a great idea, people could listen to new music they haven't heard before, or stay more in contact with what's going on in their family. For example, if a person with dementia can't go to their grandchild's Christmas concert, they can record the audio and put it on the Music Memory Box with a small Christmas tree for an object."
'Music Memory Box can reawaken a lost memory or connection in someone with dementia'
During the development of Music Memory Box, Chloe received a number of special recognitions and awards, including being recognised as one of the Design Council's '70 Ones to Watch', a list containing a group of designers selected for representing the future of British Design.
Furthermore, Music Memory Box was awarded 'Most Innovative Product' at Brighton University Enterprise Awards; recognised by UnLtd in 2015, a provider of support to social entrepreneurs in the UK; Chloe won the Blueprint Award for Design in 2014 and most recently was a finalist in the National Dementia Care Awards for the Most Outstanding Dementia Product of 2015.
So far the Music Memory Box has been tried by people living with dementia, their families and carers in day centres, care homes, sheltered housing, memory cafés and in peoples own homes. The box can be used by an individual or in a group setting.
Chloe added: "It is a labour of love getting Music Memory Box into production.
"I have found that the Music Memory Box works best when it is for an individual and their family helps them to fill it with objects and music. It also is good for when the family isn't visiting their loved one that there is something that someone can go to whenever they like.
"This three dimensional scrapbooking of important memories in someone's life has numerous benefits, so far the feedback has been that it helps trigger treasured childhood memories, entertain and amuse users. People who have used the box, said it 'promoted and encouraged a sense of well-being, relaxation and reduced agitation and anxiety'.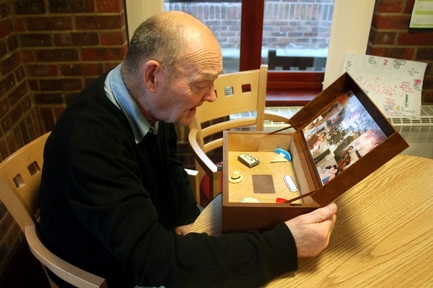 "Users found the box could enhance social skills, cognitive stimulation, tactile awareness, hand-eye co-ordination and motor skills. While encouraging people with dementia to participate in an activity and feel a sense of achievement in doing so."
"Music Memory Box can open up a window of meaningful conversation, communication and connection – I have found that for people living with dementia, a piece of music can reawaken a lost connection or memory in them. It can help the family of the person with dementia just as much as the person with dementia themselves."
Chloe has plans to make the first batch of one hundred Music Memory Boxes within the next few months and will be looking for feedback on these boxes in preparation for creating larger batch of boxes.
For more information or to contact Chloe, visit: http://chloemeineck.co.uk