'Heartbreaking': Only eight per cent of over 65s with dementia die in own homes
Date Published:
30 Sep 2016 @ 15:01 PM
Article By:
Charley Walker, News Editor
The Alzheimer's Society has condemned the 'shameful inequality' between those with dementia and those without, as a report reveals those with the illness rarely have the chance to die in their own home.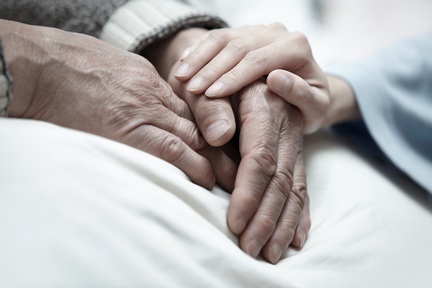 An investigation carried out by the National Dementia Intelligence Network and the National End of Life Care Intelligence Network into dying with dementia found significant differences between the place of death for people with and without dementia.
The findings of the investigation published in a report by Public Health England (PHE) found that of the 208,000 people with dementia who died between 2012 and 2014, only 16,500 died in their own home.
The report said the figures contrast with the fact that two thirds of the general population expressed a preference to die at home.
'Second-class citizens'
Responding to the report, Martina Kane, senior policy officer at Alzheimer's Society, said: "Dementia is still being overlooked as a terminal illness. Consequently, we continue to see the sustained failure to prepare and plan for end of life care for people with the condition.
"Everyone has the right to a dignified death in a place of their choosing, yet this report shows people with dementia are shamefully being treated as second class citizens."
Inequality faced by young and old
Thirty-six per cent of people with dementia aged between 20 and 64 were found to have died in care homes between 2012 and 2014, according to the report. This is compared to just three per cent of all deaths for people in this age bracket. Conversely, 17 per cent of people in this age bracket died at home, compared to 34 per cent of all deaths of 20- to 64-year-olds.
The figures were revealed to be even more extreme for those over the age of 65. The majority (58 per cent) of deaths of people this age with dementia occurred in care homes between 2012 and 2014, while only a quarter of all deaths in the general population aged over sixty-five occurred in care homes.
Only eight per cent of people with dementia aged over 65 died at home between 2012 and 2014.
The report, which was published on 29 September, also found that the place of death for people with dementia has changed over time. There was in fact a significant increase in deaths of people with dementia at home between 2001 and 2014 but this figure is still smaller when compared to deaths in care homes and hospitals.
Advanced care planning needed
As a result of the findings, Public Health England has made suggestions to increase the number of people remaining in their homes in the advanced stages of dementia, if they wish to.
Its recommendations include focusing on dementia-specific palliative services, improved transitions for people with dementia from secondary care back into the community, and completion of advanced care plans for people with dementia while they have the ability for these discussions, so they may die in a place of their choosing.
Martina Kane said: "One tenth of all recorded deaths are due to dementia, and it's heart-breaking that so many people with the condition are spending their final days in unfamiliar surroundings. Some are not dying where they had hoped; others are dying in pain, or without dignity.
"More advanced care planning is needed, a greater understanding of people's wishes towards the end of life, and a push to provide more services in the community, allowing people remain where they want to be, at home, when possible."