For many older people, chewing and swallowing food can be difficult, particularly if they have an illness, have had a stroke or are living with dementia.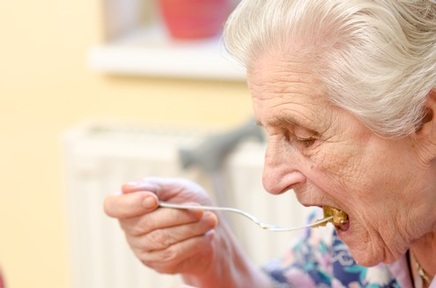 Milford Care, which has six care homes across Derbyshire and Nottinghamshire, is launching an innovative fine dining experience for those with swallowing difficulties, providing high-quality and visually appealing pureed food.
Catering manager, Peter Radford, said: "This product will help so many people on these smooth diets, particularly those who live with dysphagia - a condition that makes swallowing food difficult and often stressful.
"They say you eat with your eyes first, so we hope that as these meals look more appetising our residents will be more tempted to eat them which will improve weights and their overall health and wellbeing."
Improving residents health and wellbeing
Dysphagia is a secondary condition commonly associated with older people or linked to illnesses such as stroke and dementia. It can range in severity, from needing to eat slowly and feeling some pain while swallowing, to a complete inability to swallow without choking. Left untreated, dysphagia can affect overall health and lead to malnutrition or dehydration.
Adopting the idea of 'smoothfood' from Germany, the pureed meals at Milford Care are made to look 'realistic' using a thickening product called Gelea. The menu has a range of dishes including chargrilled chicken breast with pineapple ring, meatballs with tomato sauce and stuffed chicken.
Since launching the meals earlier this month, staff at Spencer Grove, Ashbourne Lodge, Milford House, The Meadows, Hazelgrove and Ernehale Lodge have been receiving training from Mr Radford.
"It's been brilliant so far," he said. "We have trialled the meals with 20 residents and the feedback has been great. The staff are really enthusiastic to try this new technique and improve the lives of our residents."
Awareness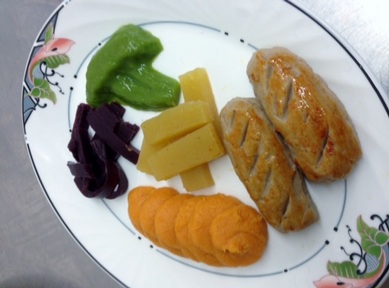 The introduction of the pureed meals at Milford Care comes after a new report highlighted a current lack of awareness and health care training for dysphagia.
'Dysphagia – The Hard to Swallow Truth' has been designed to plug a gap in easily accessible information available to support individuals, and their family members, living with the condition.
The research, which is published by food producer Apetito, points out that dysphagia can lead to malnutrition and dehydration, a loss of dignity when dining, and has potentially fatal consequences.
It also suggests that care professionals are "struggling" with limited awareness, a lack of investment into training and resources, inconsistent use of standards and a failure to focus on providing a dignified dining experience.
According to the research, as many as 75 per cent of care home residents live with dysphagia, while an estimated 68 per cent of those living with dementia have dysphagia. Data also shows that between 40 and 80 per cent of stroke survivors experience dysphagia.
Worrying lack of training around dysphagia
Lee Sheppard, director of public policy and external affairs at Apetito, said: "Dysphagia is caused by a huge number of primary conditions – it's associated with stroke, those suffering brain injury, developing Parkinson's, Multiple Sclerosis, or dementia. It is also widely experienced amongst the older people, often simply due to muscle-weakening or poorly fitting dentures.
"It is not surprising that many of us will experience this condition which can lead to further severe health problems, and yet our research has shown that 70 per cent of health care professionals say there is a worrying lack of help, education and training around dysphagia."
He added: "In recent years, special ranges of food have been developed following approved guidelines for dysphagia. However, specialist texture modified foods – which are high in nutritional value and have been proven to support the reduction of malnutrition in care home residents – are not available on prescription, nor are those living with the condition adequately signposted to them.
"We need to support organisations to provide far better information and signposting and for dignified standards to be upheld by our regulators."