Nearly half of care staff (48 per cent) leave their jobs within a year of starting, with the social care sector replacing more than a third (36 per cent) of its nurses every year, a new report reveals.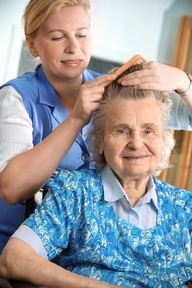 The findings of a four-month long inquiry into adult social care were published this week, in a report by the House of Commons Communities and Local Government (CLG) Select Committee.
The Committee is recommending the Government 'urgently review' how social care is funded in the long term and address 'serious threats' to social care provision. 
Its findings are based on Committee evidence sessions questioning witnesses including care staff, councils, people receiving care and providers for its inquiry into the financial sustainability of local authority social care and the quality of care available.
'Severe challenges in the care workforce'
The Committee's report has highlighted 'severe' shortages and challenges in the care workforce, 'manifested in high vacancy and turnover rates, which result from low pay not reflecting the amount or importance of the work involved, poor employment terms and conditions, lack of training and lack of opportunities for career progression'.
As well as a high turnover of care workers, the inquiry found 49 per cent home care workers are on zero hour contracts, compared with only three per cent of the workforce nationally.
New care workers' charter
The Committee recommends the Government publish a care workers' charter, setting out what staff can expect from their employer on wage levels, employment terms and conditions, training and career development.
The Committee is calling for an improvement in the status of care workers to ensure a high quality, sustainable workforce.
It wants to see better pay, better staff terms and conditions, including pensions, as well as the development of a strong career structure—from apprenticeship to registered nurse—'and centrally delivered training with national standards and qualifications.
Chancellor Philip Hammond announced, in his Spring budget, an extra £2bn would be given to adult social care over the next three years but the Committee said this will not close social care's funding gap.
The Committee has said: 'We believe that inadequate funding very seriously affects the quantity and quality of care that is being provided to people, the NHS, care providers, the care market, the way that care is commissioned and the workforce.'
96% of self-funders pay 43% more than state-funded residents
The inquiry discovered some councils paid as little as £2.24 an hour for residential care.
Some 96 per cent of people funding their own care pay on average 43 per cent more than state-funded residents in the same care home for the same room and same level of care.
The Committee's report highlighted:
-Reliance by care providers on their self-funded clients to subsidise local authority-funded clients by paying higher costs for the same care.
- Serious threats to care providers' financial viability, which mean providers failing, exiting the market and handing back care contracts to councils.
Committee wants CQC to oversee councils' social care activities
The Committee's inquiry heard evidence from care providers about poor commissioning practice, unfair contracts and depleted commissioning teams and has recommended to Government that the Care Quality Commission (CQC) oversee the market shaping, commissioning and procurement activities of councils.
The Committee's report stated: 'The pursuit of low fees' was 'becoming the driving factor in commissioning for many councils, undermining their relationships with care providers'.
It said councils were providing care to fewer people and concentrating it on those with the highest needs. It said care was 'becoming the minimum required for a person to get through the day' and described a deterioration in the overall quality of care, 'which is likely to continue.'
Fewer than one in twelve directors of adult social care are fully confident that their local authority will meet its statutory duties in 2017–18.
Committee's recommendations include:
-A standard process for assessing care costs, taking into account local variations in wage rates, to set fair prices that reflect costs.
-Councils annually audit services they commission, regularly carry out spot checks to ensure that people are receiving the care they require and ensure providers are paying staff the national minimum wage, covering care workers' total costs - with the CQC overseeing councils' monitoring activities.
Martin Green, the chief executive of Care England which represents independent care homes, gave oral evidence to the Committee earlier this year.
He said: "The report reflects exactly what our members are telling us namely the need for adequate funding in order to provide the care packages, training and sustainability of services. The conclusion of this report cannot be disputed; the Government needs to stem the financial crisis in adult social care.
"We recognise the financial pressures that local authorities are under, but the pursuit of low fees should not be the end goal. We therefore welcome the Committee's recommendation that CQC should oversee the market shaping, commissioning and procurement activities of councils." 
The CLG Select Committee has promised to review the Government's Green Paper on long-tem social care funding, when it is published later this year and 'consider whether a further inquiry into any of the issues it raises is needed'.
Mr Green added: "I hope that the Government will give maximum consideration to the recommendations proposed in its forthcoming Green Paper."