A care home run by nuns from the Order of Polish Sisters of Mary Immaculate, has been awarded an 'outstanding' rating, after impressing inspectors with its 'positive healing' setting.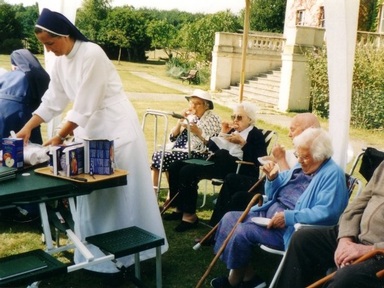 Sisters sent from the religious order's Mother House in Poland have been recognised for their outstanding work by inspectors visiting Laxton Hall in Corby, Northamptonshire.
Experienced in giving care to Polish residents affected by the Second World War, the sisters have created a "cultural and compassionate ethos" at the nursing home according to Care Quality Commission (CQC) inspectors.
The CQC said the sisters had promoted "all aspects of being Polish" and were responsible for creating "a positive healing environment".
"The strong cultural and compassionate ethos of the service provided at Laxton Hall was evident in all areas" said Rob Assall-Marsden, the CQC's head of inspection for Adult Social Care in the central region.
Inspectors arrived unannounced on 27 January to the nursing home, which cares for 29 people, and found the sisters busy keeping the residents' Polish traditions and culture alive.
Using food, language and even storytelling, the sisters have created a family atmosphere that recognised the history of Polish residents who had been displaced by the Second World War and scattered across Britain.
Inspectors said: "The provider had created a community where people who had shared experiences in their early life, for example during World War II, could be together to talk through their experiences".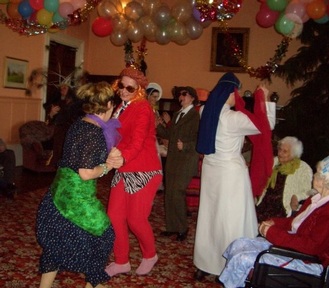 Residents had "warm, caring relationships with staff where conversation and sharing traditional Polish pastimes, including story-telling and singing, incorporated people's need to feel at home."
One resident told inspectors: "The carers spend lots of time in conversation with me. We talk about what is happening in the world and about my family and my life's experiences."
5,000 Polish books
The care home run by registered manager Sister Teresa Sabok ensures all staff have 'a deep understanding' of Polish culture, traditions and the language.
Laxton Hall's library houses around 5,000 Polish books, including influential Polish writers and many of the country's classic novels. If residents fancy reading something else, they can access Polish newspapers delivered daily to the home.
P.C.M Housing Association owns the care home. Those who want to live at the setting must be of Polish origin, aged over 65-years-old and previously resident in England, with Polish as their first language.
'Pre-war' dining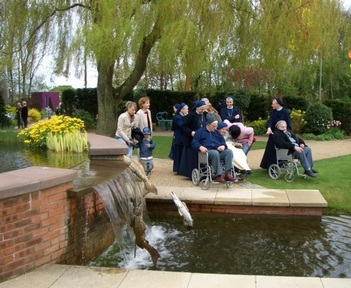 As everyone living at the nursing home is of Polish origin, traditional Polish dishes are made by the sisters with fresh ingredients every day. Residents told inspectors food played a big part in creating the feeling that they were with family.
With breakfast served at 8.30am, lunch at 1pm and supper at 6pm, meals are served 'in the manner and style redolent of a pre-war Polish high-class restaurant' -complete with soup tureens and silver platters - the care home's management said.
The care home's website also states: 'The Poles are particularly interested in food, having experienced five years of starvation during the war.'
The sisters observe all the Polish festivals involving food and even prepare a 12-course dinner on Christmas Eve known as 'Wigilia'.
Inspectors said: "Staff followed guidance from health professionals to ensure that people were able to have adequate food and drink safely."
'Highly competent' sister act
One sister told inspectors: "We have constant training, I feel confident." All staff have been helped to gain vocational qualifications and the sisters have attained at least NVQ level 3.
The care watchdog said care workers were 'highly competent at closely monitoring clinical observations, which enabled them to identify any deterioration in health quickly.'
Religious faith is a part of life with an in-house chapel at the Grade II-listed building, situated in 85 acres between Laxton and Corby in Northamptonshire.
Sunday mass, weekly benediction and celebrations of holy days are organised with a priest who lives on site and eats with residents. Care staff are employed from personal recommendations from their priest.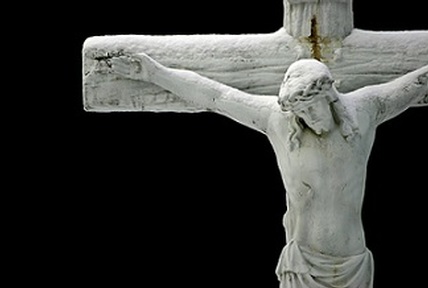 All residents are encouraged to go on daily walks and keep as active as possible, with daily shopping trips organised and visits from members of the local Polish community performing folk dancing, plays and concerts.
While not all residents choose to attend daily mass, some admitted they enjoyed "the sense of occasion" and the chance to "wear something smart".
To read Laxton Hall's CQC report visit: http://www.cqc.org.uk/location/1-105106051
click here for more details or to contact Laxton Hall Polish Residential Care Home