Prime Minister Theresa May, has announced the public will be given the chance to have 'an absolute limit' on what they must pay for their social care costs, in a Conservative manifesto U-turn that has been described as more 'weak and wobbly' than 'strong and stable'.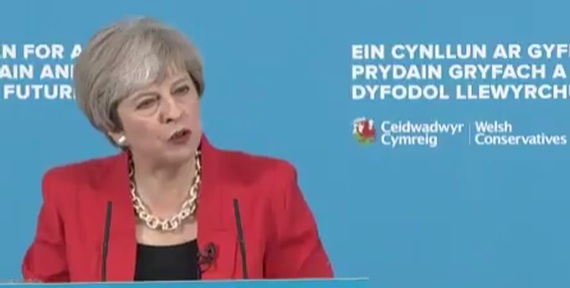 In a speech in Wrexham on 22 May to launch the Welsh Conservatives manifesto, the party's leader said she will introduce an upper limit on social care costs, hitting back at critics of her manifesto proposals to have people pay for social care with the sale of their homes once they are dead.
Mrs May said the Conservatives would offer people the chance of a care cap by including it as an option in a green paper consultation, but refused to answer questions on how much the care cap would be. Two years ago, the Conservative Party 2015 manifesto promised to introduce in 2020 a maximum limit of £72,000 to the amount people must pay for their social care.
'Fake claims, fear and scare-mongering'
Described over the weekend by the Labour leader Jeremy Corbyn and Alzheimer's Society chief executive Jeremy Hughes as a 'dementia tax', Mrs May, defended her party's social care pledges, with the words: "Since my manifesto was published, the proposals have been subject to fake claims made by Jeremy Corbyn. The only things he has left to offer in this campaign are fake claims, fear and scare-mongering.
"So I want to make a further point clear. This manifesto says that we will come forward with a consultation paper, a government green paper. And that consultation will include an absolute limit on the amount people have to pay for their care costs.
'We will make sure there's an absolute limit on what people need to pay. And you will never have to go below £100,000 of your savings, so you will always have something to pass on to your family.
"Nobody is going to lose their family home, while they are alive".
Health secretary contradicts May's care cap message
Last Friday, Mrs May's Health Secretary Jeremy Hunt, appeared on BBC Radio 4's Today programme to rule out the idea of his party capping care costs.
Jeremy Hunt said: "We couldn't be being clearer: not only are we dropping it [the cap], but we are dropping it ahead of a general election, and we're being completely explicit in our manifesto that we're dropping it."
After the Prime Minister's U-turn speech, Channel 4 News' Michael Crick said: "I don't recall an election manifesto U-turn. The lady is for turning. Doesn't this show you are weak and wobbly not strong and stable?"
In response to her U-turn announcement, former Labour Leader Ed Miliband @Ed_Miliband tweeted: 'This isn't just an incompetent non u-turn it's a lie. Nobody mentioned a cap because there wasn't going to be one. #takingpeopleforfools'
To read the Conservative manifesto visit: www.conservatives.com/manifesto
To read the Welsh Conservatives 2017 manifesto visit: www.welshconservatives.com/files/2017-05/Forward_Together_Eng.pdf