A growing number of care homes are creating personalized music playlists after research showed people with dementia who listened to music tailored to their tastes and memories, needed less anti-anxiety and anti-psychotic medication.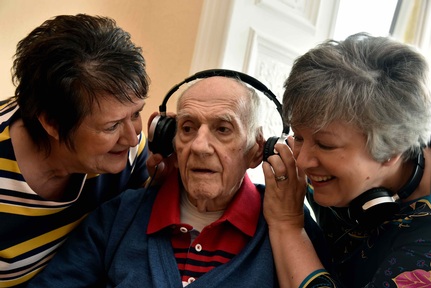 The study by researchers from Brown University in the US found individual music lists had a 'calming or pleasurable effect' on care home residents.
A total of 98 care homes used the programme Music and Memory, which trains care workers to create music playlists for residents based on their personal history and music preferences. Residents' mood, behaviour and their use of anti-anxiety and anti-psychotic medication were all recorded at the beginning of the study and at the end, with care homes reporting an improvement in residents' behaviour and less need for medication.
Time consuming but worth it
It can be time consuming for care workers to find out each resident's favourite music. However Orii McDermott, senior research fellow at Nottingham University, believes it improves their quality of life so it is "time well spent in the long run".
Balhousie Care Group in Scotland has trained up some of its care workers on compiling personal playlists. It joined forces with the charity Playlist for Life which was founded by broadcaster Sally Magnusson, who lost her mother to dementia.
Playlist for Life wants every person with dementia, whether living at home or in a care home, to have a playlist of personally meaningful music from key moments in their life, available on an iPod, tablet or phone.
The charity believes personalized music playlists can also reduce pain. It has a very useful Personalised Music Assessment Tool which measures the impact of the playlist on pain as well as a number of other factors.
Abbeyfield Society, which runs care homes and extra care housing, has also now embraced the concept and is training over 200 care workers and volunteers to become music detectives and compile different music that has significant meaning for people with dementia.
Therapeutic benefits amplified
April Dobson, head of dementia and innovation at Abbeyfield said: "Therapeutic benefits of music are already well documented, and there is growing evidence that personally meaningful music can amplify those effects.
"We can all think of music that gives us 'that flashback feeling' and transports us back to another time, person or place in our lives. That music can become a lifeline if you develop dementia because it is deeply attached to your memories and emotions. It can soothe, calm and comfort and also make us feel alive. That's exactly the experience we want to be able to provide for people living with us who have dementia."
Abbeyfield staff are being trained up as it can be difficult piecing together songs which are significant to someone with dementia. "They may not be able to speak or remember the songs that have left an audial footprint on their lives. That's why we are training up staff and volunteers to become music detectives looking for clues and identifying music that triggers autobiographical memory and instils a sense of identity and belonging for people with dementia," added Ms Dobson.
Music is 'neurologically special'
The Abbeyfield Making Music project uses tools and training developed by Playlist for Life, with the project being supported by The People's Postcode Trust.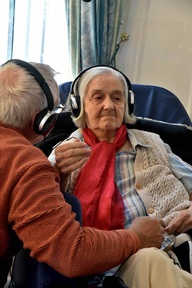 Playlist for Life chief executive Sarah Metcalfe said: "Abbeyfield is the first care group to deliver playlists into every one of their homes in this strategic way. It is really exciting to be working with them as they lead the way on personal music for dementia.
"Music is neurologically special because it stimulates so many parts of the brain at once. Even if dementia has damaged one part of the brain it can still reach those other parts almost as if it gets 'in through the back door' to access memories and abilities that had been thought lost.
"We teach people to become music detectives, giving them skills and tips about how to find the music that is personally meaningful to an individual. Were they part of a choir? Is there old sheet music about? Do relatives or friends remember them enjoying a particular film or going to the cinema?"
Care workers are then taught how to incorporate the playlists they have built into care plans and use the music to help people do the things they may find difficult, like eating or bathing.
"Music helps to make people more grounded in their own sense of self. It can help manage their mood so they have better visits with their family – it's a way of reminding them who people are. It builds better connections between care home staff and the people they are caring for. Carers learn so much more about an individual just by looking at the person. They learn so much about them and their life story, which is enhanced by the cognitive benefits of music. The two just come together," says Ms Dobson.
'I have seen the difference it can make'
Anita Pascoe is an activities coordinator at Abbeyfield Stow Park in Newport, Wales which is set to become the first certified Playlist care home in the UK.
She admits she was "sceptical about the project at first" but says: "I have seen the difference it can make. Many of the people living with us have very complex needs, but the music can help on so many levels. It helps relax them, helping at meal times and bathing – and it does unlock their memories, which is lovely for their families. To see couples who have been so devoted to each other being brought together by music which connects them brings a tear to your eye. It is lovely."
Creating a personalized playlist is not just about saying someone liked Elvis or Jonny Cash. It's about going back further: Finding out the songs they would sing in their courting days, or that you could remember them singing before their memory shut down, she says.
Harry and Margaret
Craigielea care home in Renfrew in Scotland has seen huge changes in their residents due to personalized playlists. Harry who has severe dementia and his wife Margaret were the first couple Playlist for Life worked with at the home. Margaret came every day to see Harry and left most days in tears, as he had stopped responding to her. However something as simple as a personalized playlist got Harry smiling and talking again and he now listens to songs with his wife and they both sing along.
Sheila Inshaw, manager of the home which was recently named as one of the Top 20 care homes in Scotland by the leading care home reviews site carehome.co.uk, reveals that they were looking at some form of medication for Harry as he was so withdrawn "to bright him up a little and get him to interact a bit more. But this is so much better than a chemical intervention. It doesn't cost anything and we have Harry back for nothing."
For more information about Playlist for Life go to https://www.playlistforlife.org.uk/