Britain's over 65s have seen promises broken by many governments and some recall better leadership choices stretching back to Winston Churchill - so who gets the grey vote on 8 June? carehome.co.uk door-stepped residents at Shinfield View Care Home to find out.

Shinfield View in Reading has only been running for a year and residents pay from £1,300 to £1,700 a week to stay at the home. Looking like a modern hotel with music playing out in the reception, the first to be quizzed on 26 May about their election choices was care home manager Amanda Tanner.
"Last election I did vote Conservative. I was attracted by their previous policies. I think they [David Cameron] pledged a social care cap which obviously never happened. So I suppose, at the moment I honestly couldn't give you an answer on who I'd vote for, because I haven't decided myself. I struggle to believe that whatever they say will actually happen.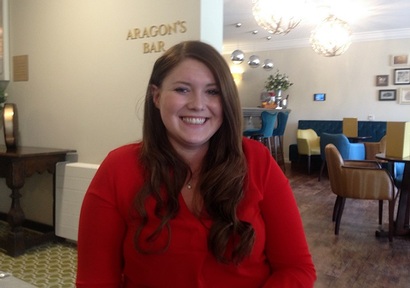 "I don't find Theresa May very memorable as a Prime Minister. What she'll be remembered for is going along with Brexit, even though she was part of the Remain campaign. She's decided there won't be a cap and then she's decided there will be a cap. She doesn't seem to have decided what she will do herself.
"The country looks for a decisive leader. Somebody who knows their policies and their pledges and sticks to those, despite public backlash".
About the leader of the Labour party, Ms Tanner says: "Jeremy Corbyn, Labour, is being a lot more vocal. Theresa May is shying away from the debates that everyone wants to see."
Getting the grey vote including Naomi's
Shinfield View has been named in the carehome.co.uk Top 20 Care Home Awards 2017 as a Top 20 recommended care home in the South East. On 8 June, the home's residents will arrive at the polling station in style in a chauffeur-driven Mercedes as well as a minibus, "so anybody who wants to vote will obviously be assisted to vote".
"In terms of registering postal votes and attending polling stations, we'll do all that. Reception has been printing off details of [manifesto] pledges, for those who want it."
Residents also read information about the election from newspapers delivered to the home.
Seated in her bedroom, 97-year-old Naomi Robinson (pictured above) is a former Conservative councillor for Wokingham District Council and Berkshire County Council and is itching to talk about politics.
Although admitting: "I'm not feeling too well today. I feel very, very old", her response to the election question is clear and quick.
"I shall be voting for Mrs May. I like her because I think she's sturdy. She's rather built in the style of Mrs Thatcher. I feel she'll always be a firm person. I think the complexity of the political situation now, however hard she tries, I think it's going to be very difficult for her."
Theresa May has said she will give people the chance to have a care cap that would limit how much people pay for their care, by including it as an option in a Government green paper consultation after the election.
On Mrs May's decision not to confirm what the cap will be before the election, Ms Robinson agrees: "What she has to do is win the election and then see what she's got".
Churchill's policies: 'enough of them came off'
"I think the personality of the leader is very important because you've got to impress the people, so they vote for the policies. But if they're not able to carry out the promises – what's the use of that? At the moment, it's rather a wait and see.
"Winston Churchill was perhaps the most brilliant leader I've ever known in my lifetime. Even he, I don't know whether some of the things that he proposed to do came off but somehow enough of them came off. Nobody's going to be right the whole time."
Tim Farron, the leader of the Liberal Democrats, has pledged to introduce a cap and give an extra £6 billion a year to "rescue" social care (paid for with a 1p rise on all rates of income tax).
But on the Liberal Democrats, Ms Robinson says: "I've never found them very convincing, I guess that's why they've never had many seats".
Brexit: 'rethink'
On Brexit, she says: "I've just been talking on the telephone to my cousin" adding "and it does make one have a rethink. He was saying all the things that were going to be changed by it. The worrying thing is change one thing, it changes something else.
"When I'm reading the newspapers, they seem to be so wildly biased and almost hysterical. I don't feel I'm getting a balanced view".
'Can we spare the time Monica?'
Ladies chuckled when asked if they had time to talk about the election, as they sat in the care home's reception area.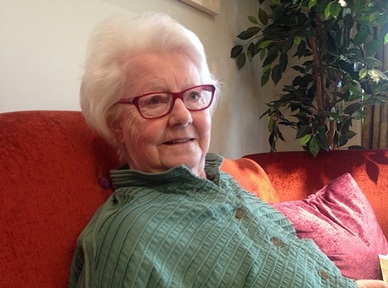 Some £8 billion has been promised for social care by Labour over the lifetime of the next Parliament. Last March in the Spring Budget, the Conservative Government announced £2 billion for adult social care funding over the next three years.
When asked about the major parties' promises to find more money for social care, resident Monica Alderton says: "Forget all that. You either rely on handouts from the cradle to the grave or you learn to grow up and stand on your own two feet. And not borrow, not be given but learn to cope. We all go through hard times now and again.
"You vote one way, you can be looked after but the country suffers because you can't do everything or you vote the other way and learn to stand up on your own. It's a hard lesson because Labour want you to be dependent on them."
She says her vote is "always Conservative" because "the country is better. There's less strikes. The unions aren't as in control as they were."
On Brexit, she says: "I voted out. I'm so fed up all the migrants are allowed in. The people that work here will be allowed to stay I'm quite sure that's no problem."
Margaret: 'I shouldn't be deciding'
Another resident named Margaret is 94 and holds a different view. She has a postal vote arranged for her but says: "I'm so old now it really doesn't affect me, so should I be affecting other people? I shouldn't be deciding the futures of younger people."
She says: "There's no better politician than Clement Attlee." Referring to the post-war Labour Prime minister whose Government introduced the NHS, she considers his efforts huge "in times of enormous austerity".
Fatima Zayadi is a care assistant who converted to Islam after marrying. She didn't vote in the 2015 election but is planning to vote Labour this time round.
Mrs Zayadi (pictured above) says: "I don't think the Conservatives are doing anything for the health service, the elderly or the normal working person. The really well-off are benefiting from everything the Conservatives are doing. The residents here can afford it, they pay for it. But I've worked in care homes that are like a dump. Where do you find a balance?"
'I love my country, even though I'm a Muslim'
Mrs Zayadi was living abroad at the time of the EU referendum vote but says she would have voted to leave the EU. "I'm British. I love my country, even though I'm a Muslim! The EU workers are economic migrants. They earn the money and take it back home. They pay their taxes like anybody else but some get benefits too like working tax credits."
Currently, care home residents with savings and assets (including property) worth less than £23,250 do not pay for their care but Mrs May will increase this wealth threshold to £100,000. She promises: "No matter how large the cost of care turns out to be, people will always retain at least £100,000".
Frank Ursell, chief executive of the Registered Nursing Home Association says this pledge "means the people which local authorities fund will be a much bigger group. How are they going to come up with the money to pay for that? The councils can't afford it, as it is, to fund places for care home residents. Will any of the parties give enough money? I don't think so."