Prime Minister Theresa May has been criticised for giving the responsibility for social care to a junior minister again, rather than to a senior minister at Cabinet level who would be able to take "decisive action".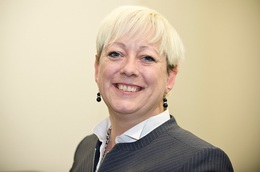 MP Jackie Doyle-Price, who has served as an assistant government whip for the last two years, has been named as the new minister for care and mental health. Mrs May downgraded the post for adult social care brief last year, when she took over as Prime Minister, giving responsibility to Parliamentary Under-Secretary of State for Community Health and Care, David Mowat, who lost his seat in the General Election.
Before David Mowat, the four post-holders were all ministers of state - Alistair Burt, Norman Lamb, Paul Burstow and Phil Hope.
Ms Doyle-Price is the MP for Thurrock and was elected as an MP in 2010. As Parliamentary Under-Secretary of State for Care & Mental Health, she will lead on care for mental health, adult social care, community care as well as women and children's health. She joined with Tory MPs this week in voting against an attempt by Labour to reverse a long-running freeze on pay for nurses and other health and care workers in the public sector.
Billy Davis, public affairs & policy manager for Hft, a national charity that support adults with learning disabilities, expressed disappointment over the Government's decision not to restore the position of Minister of State for Social Care.
He said: "While we welcome Jackie Doyle-Price in the post, and recognise her relevant experience, we are concerned that, by failing to appoint her as Minister of State for Social Care, Ms. Doyle-Price's position will be hampered by the juniority of a Parliamentary Under-Secretary.
Her role will be limited by her 'juniority'
"As we highlighted in our Manifesto, a Minister of State operates at Cabinet level, allowing her to develop a holistic, cross-departmental view of how policies would impact the social care sector. Ministers of State can also appoint a Parliamentary Private Secretary, who are the 'eyes and ears' of a Minister both within Parliament, as well as amongst internal and external groups."
During the election campaign, Theresa May came under fire for her hastily drawn up plan to introduce a 'death tax', where people getting home care would pay if they had more than £100,000 in assets which would include their house. Up till now, property has not been included as an asset for people in receipt of home care. It is currently included as an asset for people going into residential care.
This policy of paying after you die, is thought to be one of the reasons the Tories nearly lost the General Election. The right-wing think tank, the Bow Group, condemned the policy, pointing out that three-quarters of over 65s in the UK are home owners, with the average value of UK property being £280,000.
Halfway through the election campaign, Theresa May made a U-turn and promised to cap the cost of care.
Senior minister needed with the 'resource and authority to take decisive action'
Hft believes Mrs May could have shown she took the criticism of her social care policies to heart by awarding the portfolio to a senior minister at Cabinet level who would have the "resource and authority to take decisive action".
"While it is claimed that there is 'no correlation between the seniority of ministers and the priority given to policy areas', our manifesto highlights that the reallocation to a junior minister amounts to a political and symbolic demotion for social care.
"This is wholly unacceptable at a time when social care is in crisis, and a long term sustainable solution to the challenges facing the sector is needed to protect some of the most vulnerable adults in society," added Mr Davis.
Jackie Doyle-Price has been 'staunch advocate of welfare reform'
However he did note that Jackie Doyle-Price, has since her maiden speech, "been a staunch advocate of welfare reform" saying: "Her time as a member of the Public Accounts Committee should equip her with an overview of the financial pressures currently facing the sector. We hope this means she will be willing to consider innovative funding solutions, in order to both provide top quality care for the people we support, as well as providing value for money for local authorities."
A spokesman for UKHCA (United Kingdom Homecare Association) said: "We wish her well in her new post and will be taking steps to brief her on the serious issues affecting homecare, including the commitments we would like to see taken by the new Government, set out in our Manifesto."
Martin Green, chief executive of Care England, which represents independent care providers added: "We are looking forward to working with Ms Doyle-Price to ensure that there is a vibrant and sustainable social care sector, which will enable the Government and the NHS to deliver much-needed services to our citizens.
"Social care is also a significant employer, and in important part of the UK economy, and it must be seen as a part of national infrastructure and we will work with the Minister to ensure that it is regarded as a national priority."
Jackie Doyle-Price was returned as a Member of Parliament for the third time as Thurrock's MP at the 2017 General Election with a majority of 351.
Originally from Sheffield, she grew up on a council estate and joined the Conservative Party as a teenager.
During her time in Westminster, Ms Doyle-Price has worked on a number of Bills and Committees involving national policy. In 2010 she was elected to the Public Accounts Committee which scrutinises the value for money of Government spending. In 2014 she was appointed as Chair of the All Party Parliamentary Group for Ghurka Welfare and put together a Cross-Party report on how to improve lives across the UK. Last year the Government accepted 10 of her 14 recommendations to amend legislation. She continues to work closely with the Ghurka community.