If a character in a play dies of dementia, how do you mark the death? Trickier still, how do you kill a puppet? To answer that question you must ask an expert in puppetry and Mayra Stergiou has thought long and hard about it. Having spent time with care home residents who have dementia, she was inspired to create 'Dark Matter', a play which won over audiences at this year's Edinburgh Fringe Festival.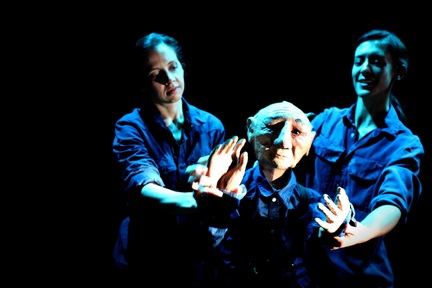 Mayra Stergiou is a freelance puppetry pioneer, whose puppet-making workshops and drama therapy sessions - full of improvisation and storytelling - have sparked memories, conversations and a few laughs amongst people living with dementia.
Creative juices
Ms Stergiou is used to firing the imagination and creativity of older people in care home workshops. But as the artistic director of Vertebra Theatre, she found her own creative juices start to flow after witnessing emotions, confusions and moments of comedy happening inside care homes.
"Dark matter is something that binds the universe together but we can't see it", says Mayra Stergiou.
"With dementia, parts of the brain are disappearing but it doesn't mean it's not there. Imagination and creativity are still there."
The central character in 'Dark Matter' is Alfie. A clever man and well-known astrophysicist, Alfie spent his working life researching dark matter. Now living with dementia, Alfie lives at a care home. The relationship between care worker Anna and Alfie is central to the play but it is dementia driving the action. The one-hour production explores the last day of Alfie's life…as he experiences it. Although his day involves Anna getting him dressed, getting his bath ready, having meals etc, Alfie is seeing it differently.
Alfie's mind takes him in and out of the past. Tiny lights fill the sky like constellations. He hears water running in the bath but confuses it with people talking at an astrophysics conference. His confusion sees him still trying to solve mathematical problems in his head in an imaginary laboratory that he stopped working at long ago. Lights and noise often invade the stage to signal the large role dementia plays.
Staff are not a caricature
Ms Stergiou says: "A lot of the material used came from everyday situations that were happening in the care homes. With the interactions with care staff I tried to make it realistic, not make it a caricature. To understand why care staff can get stressed, the workload can be heavy, the need to attend to each resident who may have complex needs and the constant burnout of staff."
Referring to the care home staff she'd met, she said: "The staff were considerate, kind and caring. They would even feel guilty about taking any time out for themselves. For the residents, some lived high-profile lives and in later years found themselves unable to perform everyday tasks... and how do you cope with that?"
'I want to go home now'
She also drew on her own personal story of her father's final year living with dementia, with a line in the play which sees Alfie tell Anna: "I want to go home now".
"I heard that from residents and from my father. In the last year of his life, he would say 'In six months I will go on a journey'."
She was 22-years-old, when she was told her father had dementia. "It was a bit of a shock for both my mum and myself. My father was sharp, active and worked till he was in his 70s." Her father's job saw him working in a store in Greece. He passed away in 2015.
When it comes to dementia and death she said: "We focused a lot on families, care workers and professionals. It is okay to speak about death to people who are dying. I have spoken about death to residents. Residents were quite open about it. Care staff can sometimes be quite reluctant to open up that discussion." Ms Stergiou sees 'Dark Matter' as an attempt to raise greater awareness about the number one killer in the UK... dementia. Which brings her back to the question first posed.
"We're using a puppet to create a play about death. How do you kill a puppet?" Alfie is operated on stage by three puppeteers. The final scene sees each of his puppeteers leave Alfie one by one, until the departure of the third sees the puppet drop to the floor.
'You smell'
But the artistic director brightens up with a reminder that greater awareness about dementia brings hope, plus the play succeeds by making people laugh. "It sounds like a heavy play with difficult issues but we also try to show the human side with a lot of humour."
On stage, Anna the care worker tells Alfie: "I don't have time for this. "It's been two weeks since you had a bath. It's unhygienic". But he hits back: "I don't need a bath. You go and have a bath, you smell."
Ms Stergiou recalls: "There was a really intense moment when a nurse came to watch the play. At the end, she came to the actor [Sofia Calmicova] who plays Anna and said: 'I saw my life there'."
Resident is director of own story
Mayra Stergiou has held puppet-making as well as drama therapy sessions at Lady Sarah Cohen House, Rosetrees care home and Kun Mor and George Kiss Home, run by Jewish Care. In the care home workshops, Ms Stergiou would use puppets to bring to life the personal stories of people.
"We would talk about the wishes and desires people had. Not just about the past. We may go to a fantasy place that someone would like to be. We would get staff involved like actors to create a character and the resident would become the director of the story."
To engage with residents, Ms Stergiou used improvisation in the story of Romeo and Juliet and its balcony scene. "We had two Juliets. A large-scale Juliet puppet, a resident playing Romeo and another resident playing Juliet. We asked people to share a memory of their own which we used to create a contemporary adaptation of Romeo and Juliet.
"Some people's memories were not romantic or positive because it was war time. One lady said she fell in love with a soldier but he died.
"I felt a lot of times people who weren't that engaged or talkative in everyday life in the care home became more playful, engaging. Those who seemed more serious would be more humourous."
A real, live puppet
In puppet-making workshops, small models of puppets were created for residents to suit their physical disabilities. This included puppets that could be operated by residents with one hand. Such sessions led to one resident to tell her puppet in Yiddish 'Mashugana!'... which translates to mean 'Crazy fool!'
"They wouldn't talk about the puppets but talk directly to them. They would say 'Hello' to them. I found the residents were actually interacting with the puppets as if they were alive", says Ms Stergiou.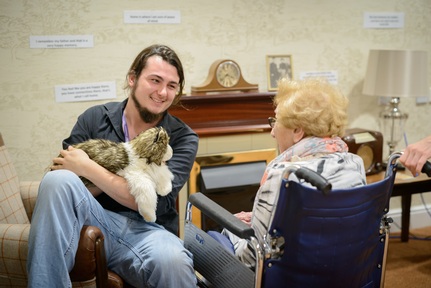 Jewish Care has four freelance puppeteers working across its 11 care homes. Residents can receive 12-week creative art sessions.
Caroline D'Souza, creative arts development manager at Jewish Care said: "I saw 'Dark Matter' and it was wonderful."
Referring to the power of puppetry, she adds: "It is part of our creative arts strategy to incorporate the arts into the daily lives of residents and a variety of ways so that there are stimulating, meaningful and enjoyable therapeutic activities for residents. Even residents who are non-verbal can benefit from puppetry and other creative workshops".
click here for more details or to contact Kun Mor and George Kiss Home