Amateur rower Oli Glanville is expected to burn 10,000 calories a day rowing 3,000 miles across the shark-infested waters of the Atlantic ocean but he plans to take a 45-minute break to celebrate Christmas.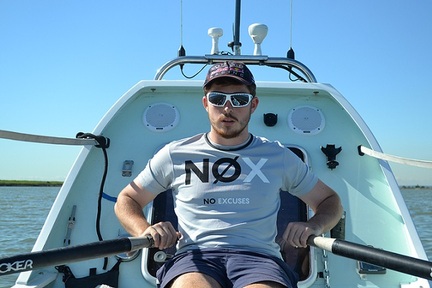 The 22-year-old from London has decided to spend his Christmas at sea in what has been dubbed the world's 'toughest rowing race'. He's doing it to raise money for Alzheimer's Research UK, in memory of his seafaring grandad who died of dementia.
Extr 'oar'dinary challenge
Mr Glanville is a relative novice when it comes to a pair of oars, having only started rowing earlier this year. But since more people have gone to space than rowed the Atlantic, he has asked his childhood friend George Randall along.
George Randall is an experienced rower and the presence of his pal also means he avoids having only the vast ocean and hallucinations to keep him company.
The duo, who call themselves 'The Oardinary Boys', will begin their voyage on 12 December in a 3,000-mile rowing race known as the Talisker Whiskey Atlantic Challenge. It will see them row around 1.5 million oar strokes from the Canary Islands to Antigua.
The pair know race organisers will give them a Christmas stocking each to open on Christmas Day. They admit "We will probably give ourselves 45 minutes to enjoy Christmas and then will continue rowing".
The two men are expected to live in a confined space and be tested daily. They face the prospect of shark attacks, merciless storms, giant waves, salt sores, blisters, sleep deprivation and hallucinations.
Cold Christmas 'space' meal
The pair have tried to prepare themselves emotionally and physically for the row with strict training plans and regular acclimatisation rows out at sea. They will each burn around 10,000 calories a day and are likely to lose 20 per cent of their body weight during the challenge.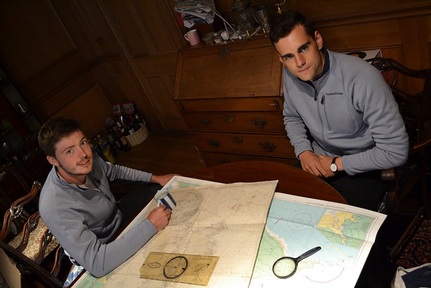 Both are currently trying to eat around 3,000 to 3,500 calories a day. They aim to put on 15kg to 20kg before they set off, so their bodies can cope with the constant calorie burn.
And what will these 'oar'some rowers be eating for Christmas? On the boat, they will consume 5,500 calories a day, eating freeze-dried 'space' meals, plus snacks such as biltong and peanut butter.
The men will have a jet boiler with them but since it takes 10 minutes for it to boil, they think they will probably eat their Christmas lunch cold. The men say eating cold meals is not much fun but when it comes to dishes "chicken korma is best, the beef stroganoff is not so good".
The pair have been in full-time training since April but Mr Randall has also had to recover from surgery in July to repair a shoulder problem, having dislocated it 30 times following a rugby injury four years ago.
The men go to the gym every day to bulk up muscle as well as clocking up the miles on indoor rowing machines. They also get out on the boat once a week for training sessions.
'We could end up hating each other'
The two friends will row for two hours each while the other sleeps, on an almost non-stop rotation for as much as 60 days.
Mr Glanville said: "There's obviously the physical side of the challenge. It's a very heavy boat we are trying to pull along, as well as all our kit. But the mental side is about 70 per cent of the challenge, dealing with the isolation.
"You have to think step by step, hour by hour, otherwise you look at the scale of what you are trying to do and it will make you go crazy. As we get closer to it I think we will start to realise just how mad it is."
The men have been friends since they were 10, attending the same primary and secondary schools as well as Oxford University but they admit this latest challenge will push their friendship to the limit and either make or break it.
Mr Glanville said: "We've had some very frank conversations about how our friendship is going to be tested. Being so close together for such a long time we could end up hating each other, but I think we are in a good place and our friendship will give us an advantage."
The two men are hoping George's rowing experience and Oli's sailing and navigational skills will help propel them to victory over the other nine pairs in the race.
Oli was inspired to take on the challenge and raise money for Alzheimer's Research UK after seeing two of his grandparents pass away with Alzheimer's disease. Oli's grandad John Glanville, was an accomplished sailor. Oli is also keen to use the vital sailing skills his grandad passed down to him.
"I was around 10 when my grandfather was diagnosed with Alzheimer's and then about 14 when he died. It was really tough to see such a wonderful and brilliant man, someone who was a very experienced sailor, struggle with everyday things and get so frustrated by it. As the focus was so much on him, it was only after he died that we realised my grandmother also had Alzheimer's. She passed away during my first year at university."
As well as Christmas Day and New Year's Eve, the men will also be at sea for George Randall's birthday. Mr Randall said: "I'm not sure what I'll do for my birthday yet. I was thinking of having some letters from loved ones to open on the day but it might make me too emotional."
Tim Parry, director at Alzheimer's Research UK, said: "We are in awe of Oli and George for taking on this amazing challenge. We wish them the best of luck and will be avidly following their progress."
The duo are hoping to raise £60,000 for Alzheimer's Research UK and Against Malaria Foundation. This will include proceeds from the sale of their boat once they complete the challenge - as long as they have recruited enough companies to sponsor them to cover the cost.
To donate to Alzheimer's Research UK go to the fundraising page:
www.pledgit.net/campaign/0f79f0/the-oardinary-boys-take-on-the-talisker