Deborah Monk works as a visiting podiatrist at Regent Residential Care Home in Worcester, but she spends her spare time giving free chiropody, podiatry, socks and even shoes to homeless people.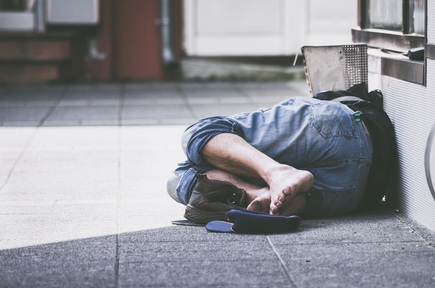 She feels so passionately that something must be done to help the many homeless people who are on their feet in all kinds of weather, that she set up the charity Forgotten Feet to to ensure their foot needs are not ignored.
Ms Monk says: "Homeless people needless to say, are on their feet in all weathers. Sometimes they may not have taken their shoes or socks off for over a month and a lot them have experienced real self-neglect."
Conditions experienced by her clients, who are mostly homeless, include severe blisters, callouses, fungal infections, wounds and long nails.
She and her team offer their services free of charge at special clinics, typically once every six weeks, including at Worcester's Maggs Day Centre, which supports homeless people in the city.
"Forgotten Feet aims to serve the homeless population and alleviate painful foot conditions. However, we have an open door policy whereby anyone entitled to use the centre may have free treatment; this includes socially isolated and vulnerable people.
"We offer podiatry and compassion, giving someone our time and making them feel valued as a person.
Happy feet: 'Offload emotional burden'
"Some people simply want to talk and offload emotional burden, often people have some very harrowing tales, we are there to listen never to judge. Many clients passing through towns may use the service once, others who are staying in the area may be seen again.
"Often, clients are very nervous, fearful or distrusting of anyone in authority so putting them at ease and gaining trust is key.
"Getting any sort of information other than name and date of birth can be challenging, medical histories are often vague, and some people may be in a high-risk category, so always extra caution must be taken with sharps to protect the client and practitioner."
She says the type of foot problems seen "vary tremendously" from week to week, with "sometimes very extreme conditions, whilst others have quite reasonable feet."
Rain, in particular, affects the homeless long after it stops because there is nowhere for them to dry shoes and socks, and so wet footwear stays on resulting in macerated foot conditions which are often infected.
Ms Monk's clients may have pitting keratolysis due to prolonged wet conditions as well as wounds. Anyone with any sort of infection is referred to a GP for medication.
After treating someone's feet, Forgotten Feet will provide them with clean socks, and where necessary, replace their shoes. For this reason, the charity welcomes socks and footwear, as long as they are clean and in good condition.
Some 307,000 people are now sleeping rough in Britain, a recent report by homeless charity Shelter has revealed - that's one in every 200 people now homeless. The figure has risen by 13,000 in the last year alone.
Sanctuary Care steps up with sock campaign
Inspired by its visiting care home podiatrist's selfless act of kindness, the care group Sanctuary Care launched a sock collection at nine of its care homes in Worcestershire to coincide with World Kindness Day on 13 November.
Regent Residential Care Home was the first to begin its own sock collection for Forgotten Feet, which will also be rolled out across Sanctuary Care's eight other homes in Worcester, Malvern, Bromsgrove, Redditch, Droitwich, Pershore, Upton-upon-Severn and Stourport-on-Severn.
Regent Residential Care Home's manager Denise Clark said: "Sanctuary Care's vision is 'keeping kindness at the heart of our care', so we decided what better way to extend kindness on such a special day than supporting this amazing charity."
As well as in Worcester, other clinics run by the charity can be found in Redditch, Leamington, Stratford, Shrewsbury and Dundee. With podiatrists and chiropodists offering to establish foot clinics for the charity in their local areas, Deborah Monk hopes one day she will be able to establish a nationwide service for the homeless population.
As well as the time of more podiatrists and chiropodists, the charity also welcomes donations of podiatry supplies and urges more care homes and other organisations to get involved by donating clean socks and shoes that are in good condition.
While she's hopeful she'll get a bumper donation of socks this winter, how does she feel about the work she does?
She says: "It is about giving something back – to have the ability to do something for someone else is a gift."
carehome.co.uk has a whole range of different jobs in care homes listed on its site. To find a job in a care home click here
click here for more details or to contact Sanctuary Care Ltd