In her youth, Diana Hawkins was a Hollywood publicist, producer and business partner of Lord Richard Attenborough. She lived in a world where she rubbed shoulders with people as wildly diverse as Princess Diana, Ronald Reagan and Mother Teresa.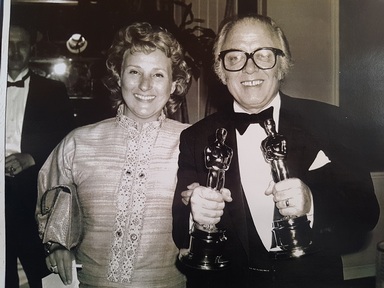 Her friendship and career with Lord Attenborough was an all-important part of her life.
'Dickie liked helping people with their lives and their careers'
The 79-year-old care home resident said of the actor and director: "He liked helping people with their lives and their careers; it's odd because he was the sort of person who was like the archetypal tycoon and you expected him to be one way, with money and things but, he wasn't really like that at all. Although, he did have this dark green Rolls Royce which he used to drive about in that was his pride and joy."
These days Diana resides at West Hall in West Byfleet, Surrey, and has fond memories of working with the late, great 'Dickie' Attenborough. The two shared their stories in the joint autobiography, 'Entirely up to you Darling' in 2008.
As a publicist Diana worked on Gandhi, A Chorus Line and Cry Freedom. As a co-producer, her films included Chaplin (which she also has story credits for), In Love and War, Shadowlands and Grey Owl.
It was Diana's father, who worked as an art director for over 40 years at Pinewood Studios, who got Diana working within the film industry. She started work in their publicity department, as a junior publicity 'dogsbody'.
Her first meeting with Lord Attenborough was when he made off with some black and white stills in her charge. Diana reminisces about the encounter in her book. She said: "Laying on the charm, this celebrity on the scrounge explained that he needed a few black-and-white stills. Would I kindly allow him to look through the Rank collection and maybe purloin one or two to add to his own collection?"
In 1959, Diana, or 'Di' or 'Carter' as Lord Attenborough would call her, was to be the film star's main publicist. She worked tirelessly for the director, and was the unit publicist for the film 'Gandhi'. She was with Attenborough when he collected his slew of Oscars for the film in 1983 (the picture was to win eight awards in total).
After the Academy Awards the ever-reliable Diana was on hand to make sure the 'gongs' were kept safe whilst everyone else was enjoying themselves, she says in her book: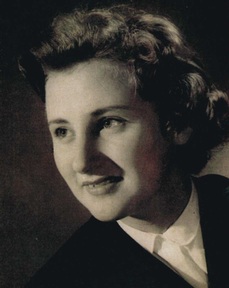 "Dawn was breaking when we finally made it back to the Beverly Hills Hotel and the night staff lined up to applaud Dick and Ben [Kingsley] when they entered. How satisfying, how profoundly satisfying to see this squad of shiny Britannium sentinels, hands clasped on the pommels of their swords.
"And how strange that these trophies of so little intrinsic value, but huge professional worth, should be the end result of Dick's twenty-year quest."
Hard times, but Richard Attenborough 'gave Mum a job'
It was the Beatle's photographer, Tommy Hanley, that introduced Diana to her future husband, Peter Hawkins. He was a charming former Fleet Street news editor, but as Diana jokes in her book: "I hated Peter on sight."
She continued: "He was tall and blond and appeared to be perpetually looking down his Roman nose. But he was fascinated by the film business and we persevered, trying to be polite to each other, until, a week later, I realised I was totally in love."
Diana followed Peter to the South of France. She explained: "We moved to the South of France because he had a commission to write about Prince Rainier. So, I went with him; we both loved the South of France - it was a terrific place to be after wartime Britain."
At this time, Diana wrote a children's book called 'Zozu the Robot', which was eventually accepted by publishers – finding its way into many primary school libraries. It was to be a godsend when she most needed it most, although she never had any burning desire to write books, as she explained:
"You see he [Peter] was working and I didn't know anybody, and I was stuck at home, and I had a typewriter and so I started writing".
The pair were soon to move to a remote village in the mountains in Italy; much of Peter's writing work had dried up by then and they were living in complete penury. They were popular with the locals, who pitied them and would often leave food parcels on their doorstep. Diana remembered:
"There was a bar, and Peter was a very congenial man. He got on with everybody, and whenever he had money he would buy people drinks, and they would buy us drinks, and we just became part of the social fabric of that village."
Despite their poverty and problems, the couple spent the best part of two decades together, but things fell apart at the seams when Mr Hawkins had an affair. Diana then found herself to be pregnant; a mum in her forties, and after a nervous breakdown, she ended back at her parents' home in Berkshire.
Her daughter Kay, succinctly explains the situation: "After 18 years of marriage I was born and my parents split up! My Mum drove non-stop back to England with an eight-month-old baby in the back of the car. She came back with nothing apart from me and the clothes and car she had driven in.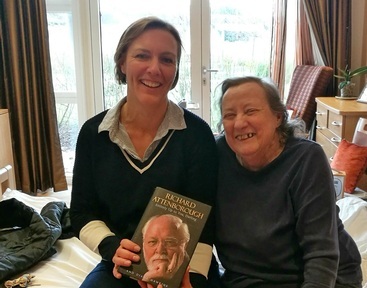 "I spent the first few months sleeping in the bottom drawer of a chest at my grandparent's house. Word got around that Mum had fallen on hard times and a friend got in touch with Richard Attenborough, who gave Mum a job as a publicist."
Robert Downey Jnr: 'He was very naughty'
Diana was practical and talented and went on to work for many years with Lord Attenborough. Her career was multifaceted. She spent stints as a publicist, co-producer, and before his death, Lord Attenborough was to say, 'she was, and still is, the best script editor that I have come across'.
It was in the 1990s, however, with the film, 'Chaplin' that Diana was to have her biggest creative moment, earning herself a storyline credit on the film. It is probably safe to say, that without Diana's influence, the film may well have not been made.
Diana knew that as an actor, 'Dickie' loved Chaplin, so, as a distraction from another unsuccessful film development, she fortuitously put the Chaplin storyline in front of the director. She knew full well that both he and Hollywood would find it irresistible. She said:
"If you have a story like that about Charlie Chaplin, you can get all the best people possible to work on it. He [Lord Attenborough] was always attracted to Chaplin as an actor, and as a person."
The film was eventually nominated for six Oscars, and took nine and a half million dollars at the box office, but as Diana explained with her characteristic candour, "it would have cost half of that to make and distribute". When asked if she remembers working in the 1990s with its star; a young Robert Downey Jnr, she replied: "Oh yes. He was very naughty".
Death of Lord Attenborough was a 'devastating blow'
In 2004, Lord Attenborough lost his daughter Jane and granddaughter Lucy (aged 14) in the Boxing Day Tsunami.
As one of his closest friends and confidants, Diana was one of those who kept the director on track after the tragedy. Ten years later, in 2014, Lord Attenborough passed away.
According to Diana's daughter Kay, the death of Lord Attenborough was to have a huge impact on her mother. She says: "In October 2008 Richard Attenborough had a fall at home and hit the back of his head. Despite surgery to remove the pressure on his brain, he never properly recovered from this. He died in August 2014. This was a devastating blow to my mother."