Joanna Chorley, who is in her nineties, has finally been recognised 70 years after WWII for her work as a code breaker at Bletchley Park.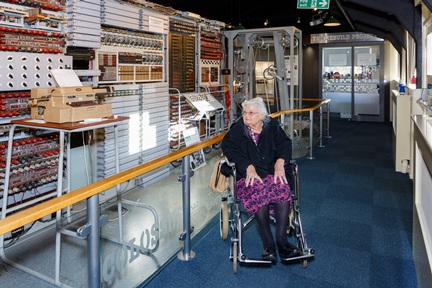 Joanna, who lives at Tewkesbury Fields Care Home in Gloucestershire, never received the badge and certificate that were awarded to the code breakers after the war, because when they were sent to her home, she had moved away and there was no forwarding address.
However when care home staff heard about her work during the war, they got in touch with GCHQ, the Government Communications Headquarters to ask for recognition of the contribution she made.
Joanna was invited back to her workplace at Bletchley Park and was taken on a tour and presented with her commemorative badge and certificate by Jonathan Byrne, who administers the centre's Roll of Honour. The certificate was signed by Prime Minister Theresa May.
Jonathan Byrne, oral history officer at Bletchley Park, said: "It was a pleasure to be able to present Joanna with the Bletchley Park commemorative badge, issued by GCHQ on behalf of Her Majesty's Government.
"It may be over 70 years since Joanna and thousands of other colleagues worked here, but it is never too late to recognise the vital contribution they made."
Bletchley Park is famous for being the decryption centre during the Second World War, where code breakers would spend their days deciphering German, Italian and Japanese messages that had been intercepted by the Allies. Its impact was so great, that some say it shortened the war by at least two years.
Joanna was one of the WRNS (Women's Royal Naval Service) operators for Colossus, the world's first electronic programmable computer. She said: "It looked like something made of Lego, but I thought what it was capable of doing was the most amazing thing and I wanted to be a part of it."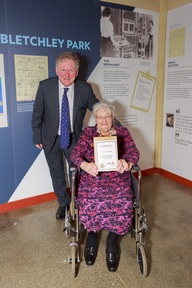 The second world war made a big difference to women as it enabled them to do jobs they would never have had the opportunity to do in peacetime.
After excelling at school, Joanna had ambitions to go to university. "But those were different times with different attitudes and on my father's return from Canada, where he'd been serving in the air force, he made it plain that further education was not for his daughter and that it was 'an absolute waste of money educating a woman'," she revealed.
Joanna was packed off to domestic science college, spending a year completing a housewife's course. However, she didn't accept having her life planned for her in this way and she joined the WRNS, at the age of 17.
One of the options available to her in the service was to work on "light electrical machinery in the country" and she opted for this. "I always liked nuts and bolts," she said. The light electrical machinery in the country turned out to be Colossus at Bletchley Park.
Her return visit to Bletchley Park was arranged as part of a 'wishing well scheme' operated by brighterkind, which runs Tewkesbury Fields.
Amanda Siviter, the home's recreation and activities co-ordinator, who accompanied Joanna to Bletchley Park said: "We are so grateful to the people at GCHQ and at Bletchley Park and the Computer Museum who have all helped to make this a really wonderful occasion for Joanna that will revive special memories and give her new ones to treasure."
click here for more details or to contact Tewkesbury Fields Care Home