On his first tour of duty abroad, 20-year-old Private Daniel Burnikell was sent with 150 UK soldiers to defend the Polish border 'against an undisclosed aggressor'.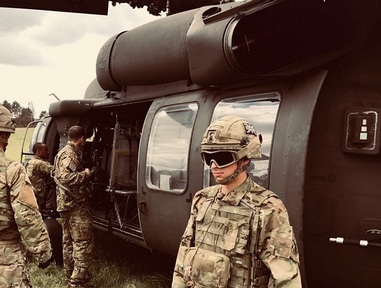 The young soldier's arrival in Poland in March 2017 signalled the first-time British troops had been stationed in the country since the second world war. His presence near the border with Russia, was soon brought to the attention of elderly residents including a world war two veteran at St John's House care home in Kirk Hammerton, who wrote to him and sent food parcels.
Gravy-loving squaddies proved 'resourceful' with Rice Krispies
While President Trump visited US soldiers in Warsaw and the Duke and Duchess of Cambridge William and Kate met with British soldiers, during his six months in Poland Private Burnikell was seeking other, simpler reminders of home. "I missed home comforts like Cadbury's chocolate", he says.
And so it was his mum Donna Burnikell, an activities coordinator at St John's House care home, who got care home residents to write a letter and send food to his squadron. The residents, which included war veteran Cyril Dix, sent a letter of support with shoe boxes of toiletries, Heinz spaghetti hoops (his favourite), biscuits, playing cards, dominos and Cadbury's chocolate.
"Gravy. That was the best thing. They don't have it there. It was nice to have gravy and chips", he admits.
"As squaddies we have to be very resourceful. We would get packets of Kelloggs cereal and melt the chocolate bars in the microwave to make chocolate Rice Krispie cakes."
War veteran Corporal Dix 'at the sharp end'
To thank the care home's residents, Private Burnikell and Trooper Stephen Dixon paid a visit to St John's House care home, when he returned to the UK. "It was very humbling to meet some of the residents. Listen to their stories. They lived through war. These are people who have shaped the world today," he says.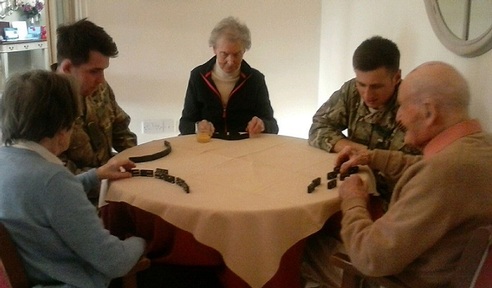 The serving soldiers heard how one female resident's husband was captured and sent to a Prisoner of War camp but it was another resident's presence at the home and support for the troops that particularly overwhelmed the soldiers.
WW2 veteran Corporal Cyril Dix served with the Royal Corps of Signals from 1939-1945. In 1942, he became part of the secretive Special Operations Executives involved in intercepting radio messages from German lines.
In the 'WW2 People's War', an online archive of wartime memories, Cpl Cyril Dix, said: "My war involved me in the closest possible contact with the enemy, intercepting and eavesdropping in on the messages of Germans, Italians and Japanese.
As a radio operator working for a secret unit, Cyril Dix says "my task involved sitting crouched over a wireless set listening into morse code messages, and then passing on the information to Intelligence and sometimes to Bletchley Park for expert interpretation and code breaking where necessary.
"As radio operators at the sharp end, this was a job not without its frustrations because, whatever one sent on to Bletchley Park, we were never told whether it was helpful or utterly useless. The deception was just in case the Germans got wind of the code-breaking successes at Bletchley Park and changed procedures."
After becoming familiar with communications between enemy operators, Mr Dix says: "It was almost as though one was sitting next to them and listening to their conversation."
Informed everything about his work was a secret, covered by the Official Secrets Act, Mr Dix adds: "Perhaps it should be added here that although, as far as I know, this classification has never been cancelled."
While the threat of occupation and defeat by a Nazi Germany has been eliminated, Private Burnikell says of the war veteran: "If it weren't for him and people like him, the world would be a different place than it is today. They talk about people doing their bit. He's more than done his bit.
"He told us what he'd done. But at the same time he didn't really tell us. He's one of the bulldog breed: You don't tell everyone the full extent of what occurred. It's not done to brag about it. It's like he still had a cover story.
"Today, if someone did a job like that, they'd say everything in one day or write a book."
'Deterrent' on the border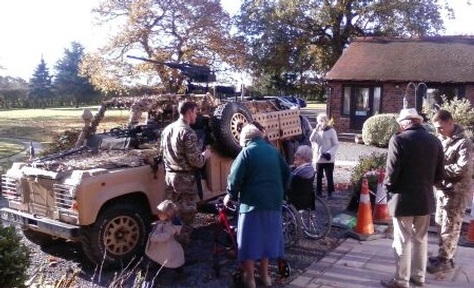 Private Burnikell was deployed from March to September to Orzysz in North East Poland near the border with Russia as a member of the A Squadron of The Light Dragoons. He was one of 150 Light Dragoons to join US soldiers as part of NATO's enhanced Forward Presence (eFP) to defend NATO's eastern member states.
The US-led battlegroup in Poland is one of four NATO deployments, with the UK, Germany and Canada leading other battlegroups in other eastern member states.
Squadron A was the first group of UK personnel to arrive at the border, with others scheduled to follow every six months on a permanent rotational basis.
At the time of his deployment, Major Noel Claydon-Swales, Officer Commanding A Squadron said: "We are going to Poland at the request of their Government to act as a deterrent and to provide reassurance to our NATO allies. The mood among everyone is very positive."
Wherever the army is deployed, a Light Cavalry soldier is at the front, preparing the way for the rest of the force. This is what Private Burnikell's squadron did. As an army medic working in the Light Dragoons, which is part of the Light Cavalry Regiment, he says: "I wasn't afraid. It's more we didn't know what to expect."
He describes the popular BBC One series 'Our Girl' which portrays a female British army medic on tour as a "very realistic" interpretation of what operations are like. While no combat with potential enemies took place during his tour, he spent time building relations with locals. "Everywhere you went, people were very welcoming. We did a lot of outreach events like taking out a truck and letting kids climb on it."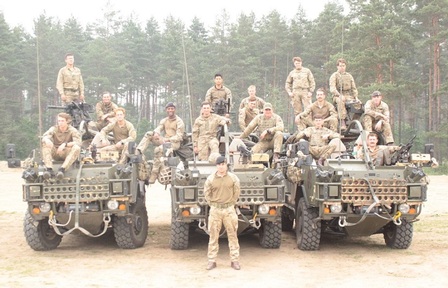 Will fight but 'might die'
With the return of his squadron to the UK last September, care home activities coordinator Donna Burnikell said of her 20-year-old son: "He's back home. I really missed him.
"He's wanted to go into the army since he was four-years-old." As a four-year-old, he would tell his mother he would 'fight for his country but he might die.'
She adds: "Now he's talking about going to Afghanistan."
Private Burnikell, who joined the army at 18, says: "Being scared doesn't really come into it. You don't think about it. It's your job. I signed up knowing what's required.
"I enjoy it because you can't get it in any other job. Because you don't know what's around the corner."
But still the soldier feels his work pales in comparison to the actions of men like war veteran Cyril Dix who he calls: "Still old and bold and proud".
"People doing two years in the second world war have done far more than someone serving 22 years in the army today."