The fire chief of Staffordshire Fire and Rescue Services has issued a warning about the dangers of make-up and vanity mirrors when placed in direct sunlight, after a fire broke out at a care home in Staffordshire.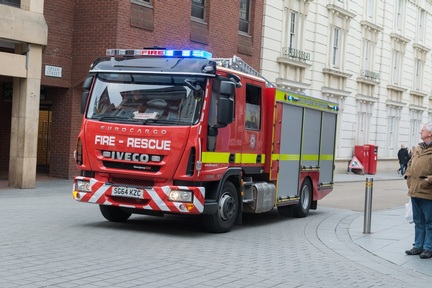 The warning comes in the wake of a fire at Nethermoor House care home in Rugeley, Staffordshire. The cause of the fire was direct sunlight shining onto a make-up mirror, which then set light to nearby curtains.
Firefighters from Rugeley and Cannock put out the fire in a first-floor bedroom of the home on 1 February; they wore breathing apparatus and used a hose reel jet to extinguish the blaze, and smoke was also cleared from the premises.
The fire was stopped from spreading further by the vigilance of a cleaner in the home, who smelt burning. The building was evacuated and the emergency services alerted.
Station Manager Tim Hollingworth praised the staff at the home for dealing with the blaze so swiftly. He said "It is very fortunate that the cleaner acted quickly when she smelt the smoke, before the alarms even activated, and the care home staff did an excellent job, working calmly and quickly, to evacuate residents.
"Crews quickly extinguished the fire and once it was safe, elderly residents were able to return to another area of the building to get out of the cold. Thankfully no one was injured but all residents were assessed by paramedics as a precaution as it was quite a shock for them having to be evacuated."
Now the fire chief is warning people who either work in or visit care homes about the potential dangers of placing mirrors in windows; something that is often overlooked in a care home environment.
Mr Hollingworth said: "People don't realise that sunlight can be extremely powerful and if reflected off the surface of a mirror it can produce enough heat to ignite flammable materials."
Mirrors that magnify are particularly dangerous, according to Mr Hollingworth. He said: "Always keep reflective items such as mirrors away from direct sunlight. Special care should be taken with convex and concave shaving or make-up mirrors which can magnify the sun's rays onto combustible items such as blinds, curtains or bedding, causing them to ignite."
However, it is not just mirrors that can cause these types of fires. Back in 2015, there was a well-documented house fire that started in Twickenham, after low sunlight was refracted by a 'Nutella' jar containing rubber 'loom bands', which was placed on a kitchen window sill. The house was destroyed, and a dog died in the fire.
London Fire Brigade which dealt with the blaze recorded that there had been as many as 125 fires started by mirrors or glass and direct sunlight in a five-year period.