Hip fracture patients can wait up to 80 days before seeing a physiotherapist at home after being discharged from hospital, new research suggests.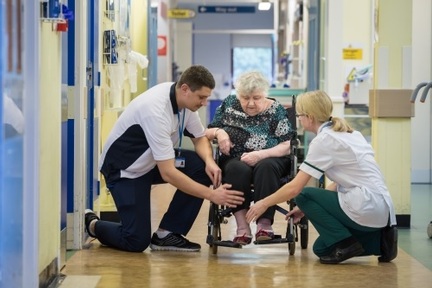 The Chartered Society of Physiotherapy (CSP) says patients are facing unacceptable variations in care, with the average waiting time 15 days, and some getting less than one hour of rehabilitation per week.
Professor Karen Middleton, chief executive of the CSP, said: "Hip fracture patients who do not receive rehab soon after leaving hospital risk depression, deteriorating health, and losing their mobility.
"High quality and intensive rehab in the first week after surgery gives hip fracture patients the best chance of recovery, and at least 20 minutes of therapy a day could free up 1,000 hospital beds a year."
Hip fracture is the most common cause of injury related death in adults and costs the NHS and social care £1bn per year.
According to NICE guidelines, hip fracture patients should be offered rehabilitation at least once a day after surgery, but research reveals that four out of ten missed a day's therapy due to physiotherapists being unavailable.
Iona Price, deputy chair of the Falls and Fragility Fracture Audit Programme, lost her 88-year-old mother to a chest infection; one of the risk factors for hip fracture patients who do not receive continuous rehabilitation after leaving hospital.
She said: "My mother broke her hip in 2012 and had to wait almost four months for community rehab services. During that time, she had to move into a nursing home and was completely dependent on others for her every need which soon led to depression.
"Complete loss of independence aside, I can't help but think she would have made a much healthier recovery had her access to treatment been timely.
"We encourage patients and their loved ones to raise concerns with their local GP if they are not able to access the rehab that they need."
According to a CSP survey, conducted by the Royal College of Physicians, only one in five services successfully maintained the continuity of their patients' rehabilitation, providing optimal care and the best possible chance of recovery.
Dr Kassim Javaid, fracture liaison service database clinical lead, said: "Fragility fractures are very common in those over the age of 50, with the number of older people projected to experience a hip fracture expected to rise by 65 per cent over the next 20 years. These fractures can be a potentially life-changing experience for those who suffer them and it is therefore hugely important that patients receive effective treatment and care to help ensure they do not suffer further fractures later on in life.
"Being able to potentially reduce the number of preventable fractures by over 50,000 would represent a substantial reduction in emergency admissions to our already overstretched hospitals and help to lessen the demand on social care at a time when these services have never been so pressured. It would also provide a huge benefit for patients and their families and carers in reducing the stress and suffering that fractures so often cause."
The CSP are working with patient groups and other professions to draw up best practise guidance for the rehabilitation of people with hip fracture in the UK.