Two years ago, John Sprakes, lost his wife Sybil, but decided to not just sit around feeling sad.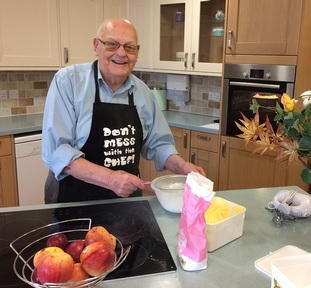 "I realised I could choose how I wanted to spend my time, and I chose to throw myself at every opportunity that came my way and really make the most of each day," said the 91-year-old.
John, who has lived at Kew House in https://www.carehome.co.uk/care_search_results.cfm/searchtown/Wimbledon| Wimbledon since January 2016, decided to get involved in the activities being held at the home and started attending the weekly cooking classes.
"It wasn't long after that Georgina, the lifestyles team leader suggested I run the weekly baking classes. We haven't looked back since and I think we make a great team together," says John.
Baking is a very therapeutic activity, according to research which has found cooking and baking can help people deal with anxiety and depression. John Whaite, who won The Great British Bake Off in 2012, has spoken out about his struggles with depression, finding baking helps him stay "in control".
He recently backed a campaign by the charity Mind, saying: "Baking was my therapy. The whole process is very positive. When you have this destructive energy – which is how depression feels to me – you can either go further into that downward spiral or you can channel that energy into something constructive. That's why I go into the kitchen. It's about organisation and control, and when you're feeling whirly and whizzy, it enables you to operate in a sort of slow-burning way. Baking enables you to step into control."
Peter O'Hare, head occupational therapist at Bethlem Royal Hospital, which has run baking sessions for people with mental health issues, said: "This wonderful project confirmed what we intrinsically believed: that bread baking has tremendous potential as a therapeutic activity which can also foster and enhance community engagement and cohesion."
It has certainly made a huge difference to John, who loved baking as a child. "I always used to enjoy watching my mother and my sister working in the kitchen and always enjoyed the treats that they made. I was a nosy child, and it was my nosiness that first got me interested in baking as I wanted to know how they created all these delicious things."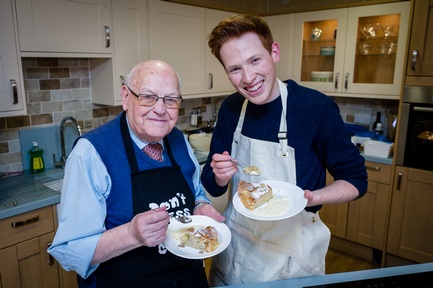 When Hallmark Care Homes found out his penchant for baking, they set up a one- to-one baking lesson last year with Great British Bake-Off finalist, Andrew Smyth, where he picked up a few tips on how to make the perfect Swedish apple cake.
"I had a wonderful time, Andrew was a great teacher and I learnt a number of things like how to make homemade custard.
"I've been enthusiastic about baking ever since I came to the home and the management have been really good at encouraging me to practice," he says.
Throughout his time running the baking classes, John has created many dishes and says: "It's an honour when I bake something and people tell me that it's good.
"I don't necessarily have a favourite thing to bake, it's more the sense of building something from scratch. My motivation is making something that tasted good.
"I love food myself and this is what I aim to achieve each time I bake. My favourite recipes that I have baked here at Kew House are my sausage rolls and apple pies. They always go down a treat with everyone!"