The silent disco which has become a popular phenomenon at festivals, has now found its way to a care home in London.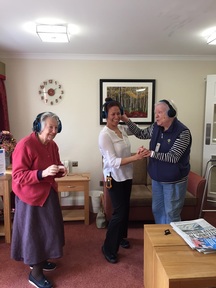 Residents at Barchester Wimbledon Beaumont Care Community took part in the sensory experience which involves dancing to music that they listen to on wireless headphones.
Nicolas Kee Mew, manager of the care home in Wimbledon, revealed that the silent disco was originally planned to inspire residents to keep fit during the snowy weather. However it has proved so popular, the care home is going to put on silent discos regularly.
He said: "I went to one in a club for young people and really enjoyed it and then I heard that some care homes in Australia were holding silent discos. So I thought it would be a good idea to try it in our care home."
Residents listened to a selection of 70s and 80s songs by bands such as ABBA and The Bee Gees. "The residents and the staff were very curious when I said to them about having a silent disco. They were very keen to take part and really enjoyed it. Mamma Mia by ABBA was the hit of the day, even though we were all out of sync with each other with the headphones.
"The residents' relatives joined in as well. It is really good as it is good exercise and it got everyone laughing as some people were singing loudly and it is funny watching people dancing when you can't hear the music.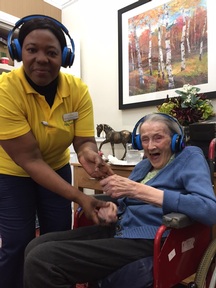 "Some of our residents who are less mobile were also able to join in as they danced using hand movements. We bought some disco lights and we are going to have to get some more wireless headphones as we want to showcase our silent disco on our open day we are holding soon," said Mr Kee Mew.
He has found that the silent disco has been particularly beneficial for residents with dementia and has the Alzheimer's Society visiting him next week to find out more.
Mr Kee Mew recommends it as an activity for other care homes saying: "It is great as it brings all ages together and anyone who wants can join in and you don't disturb other people as they can't hear the music".
He added: "We're looking forward to our next silent disco which will have a reggae theme and will be perfect to get us all warmed up during this cold weather."
click here for more details or to contact Barchester Wimbledon Beaumont Care Community