Nick Griffiths, a manager at Care UK, has lost three toes from frostbite, after undertaking a gruelling 300 mile race in Canada, where temperatures dropped as low as -54 degrees.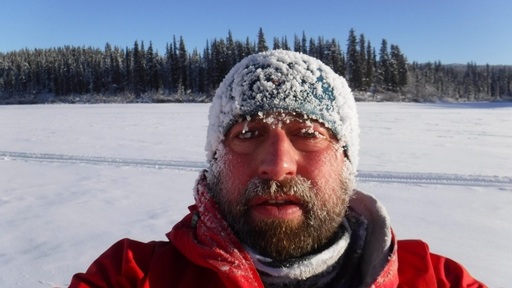 Mr Griffiths was raising money for one of Care UK's charities, the Rob George Foundation - which gives financial support to people with terminal illnesses or those showing ability in the world of sport or performing arts.
The 46-year-old facilities manager for 30 care homes from Crewe up to Aberdeen, took part in the Yukon Arctic Ultra, one of the world's coldest and toughest ultra-marathons, where runners have to cover 300 miles of snow and ice over eight days dragging a heavy sled with all their equipment.
This year's event was the coldest in its 14-year history, with only one athlete managing to complete the race.
The former Royal Marine revealed that before the race started it was about -20 degrees, which is average for the time of year. Twenty six miles into the race, he decided to stop for a rest and some food.
'Moisture on my eyes froze into lumps'
"It was dark and the temperature dropped to -54 degrees. Eighty per cent humidity meant ice crystals were in the air. I had experienced cold weather before, when taking part in Arctic warfare training in Norway with the marines, but that was the dry cold you expect at low temperatures. In the Yukon, moisture on my eyes froze into lumps. I had to use my gloves to try and pull off the ice because I couldn't see," he said. Mr Griffiths kept going, struggling with hunger and dehydration as his inner gloves had frozen whenever he had removed his hands from his mitts, preventing him from retrieving food or water from the bags on his sled.
He and a fellow racer snatched some sleep in high tech sleeping bags, designed to withstand -50 degrees, but still struggled to get warm. In the early morning they managed to light a fire and eat and drink before heading off again.
'I wasn't worried about my feet'
He said: "I knew my hands were cold, but I was not worried about my feet - they felt OK. We kept pushing on and had been going for around 30 hours in total before a marshal, who had picked up another competitor, checked my hands and found frostbite. The rules of the race state that frostbite means automatic elimination."
Mr Griffith was taken back to the hotel and then to a hospital where specialists told him that while the frostbite on his ears, nose and fingers was superficial, his foot had severe frost bite that would see the loss of toes and potentially the front of his foot. He spent five days receiving cutting edge treatment in the hospital's intensive care unit and since his return he has been treated by the burns unit team at Wythenshawe Hospital in Manchester.
'We are going to let the toes drop off'
He said: "My toes are extremely sore and they reek. I have the dressing changed every other day and special dressings with silver and charcoal help to keep the smell down. It has been agreed by the team here and in Canada that we are going to let the toes drop off. They say about frostbite in Canada 'snap them off in spring', as that is how you preserve the largest proportion of healthy flesh."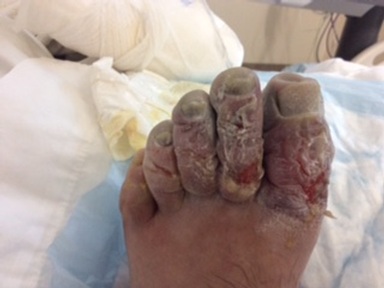 Mr Griffiths is no stranger to endurance based challenges. In 2013 he was part of a four man team (Bolton Atlantic Challenge) that took part in the Talisker Whisky Atlantic Challenge, rowing 3,000 miles across the Atlantic Ocean. He has also completed several marathons and Ironman triathlons.
However after the Yukon Arctic Ultra, he has promised his wife Janine and his daughters Hannah and Amy, enough is enough.
"They have been wonderful throughout my fundraising adventures, but I would not want them to go through the worry of hearing I was in intensive care again." He has also had some support from his wife's dog. "Max, the sausage dog, normally doesn't show much interest in me but now every time I sit down he wants me to pick him up. My dog, Harry the cocker spaniel, will not leave my side; it is like they know something is wrong and that I'm in pain."
Care UK's head of facilities management Kevin Orme, praised Nick Griffith's drive and determination to support others.
'He is a very caring person'
He said: "Nick has a great reputation across the business in supporting the homes by always putting the needs of our residents first."
"He is a very caring person, so it wasn't a surprise when he told us he would like to raise money for the Rob George Foundation that supports young people living with terminal conditions.
"Nick has a passion for helping others and with a love of extreme sports, the Yukon Challenge was a natural event for Nick to participate in. He did a fantastic job to get as far as he did in the event; we are all proud of him."
So far Nick Griffiths has succeeded in raising nearly £10,000. To donate go to https://mydonate.bt.com/fundraisers/nickgriffiths1
click here for more details or to contact Care UK Nursing & Residential Care Services