A Channel 4 experiment on intergenerational care has inspired a care home in Derbyshire to integrate young children into the home.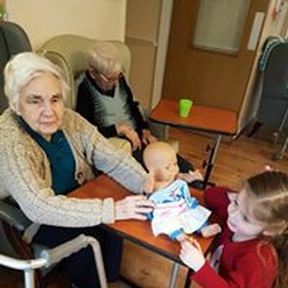 The TV programme 'Old People's Home for 4 Year Olds', which brought together a group of older people and a group of four-year-olds over a six-week period, proved children really can give the older generation a new lease of life.
The series of 'moving' scenes featured a widower, who formerly sat in his chair but who now 'feels very much alive' and another resident who said he would remember the children to his 'dying day'.
Lara Beardshaw, activities & well-being manager at Langdale Lodge Care Home in Chesterfield, decided to replicate the experiment, saying: "We trialled our first toddler and parent play session. Our aim was to integrate young children, families and our residents who may not normally come into contact with each other. Many of our residents have a diagnosis of Alzheimers, Dementia, Parkinsons and cancer.
"Our trial came about through watching the Channel 4 experimental documentary "Old peoples homes for 4-year olds".
The first play session was limited to a 90-minute session, as the home wanted to ensure it wasn't too tiring for both the residents and the children.
"All parents were given a brief on what to expect as some may not have even been in a nursing or care setting and extra staff were on hand to ensure everything ran smoothly.
"Visiting children were invited to bring along their favourite toy or game from home and start off with a `show and tell` to help with introductions and settle in with our residents.
"What was amazing to see was how the children immediately engaged with all our residents, striking up a conversation, showing their favourite toys and inviting our residents to play their games," she said.
She found the residents' reactions to having children in the home was "wonderful to see. As soon as the children walked into the main lounge where our residents had gathered, their faces lit up. Smiles adorned their faces and the sounds of 'ooos' and 'arrrs'."
The care home found that residents who wouldn't normally engage in board games played Connect 4 and Snakes and Ladders, while others played with dolls and did colouring in.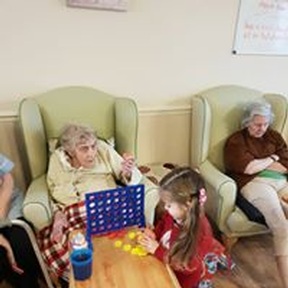 The children and parents joined in with a mid-time snack, children encouraged residents to eat and vice versa.
Ms Beardshaw said: "We asked for feedback from the residents, some asked if they were coming back and when, while others sat and chatted with smiles and laughter over the fun they had had. Children asked if they could come back and play again tomorrow.
"A parent said 'both myself and my daughter had a lovely time. My daughter didn't want to go home, and the residents were so good and caring towards her'.
"Another said 'it was a lovely atmosphere. Surprisingly calm and relaxed with children around but it was so good to see generations coming together, smiling and laughing. So welcoming and can't wait for the next one'."
Following on from this play session, the care home has arranged a second session for the Easter holidays with an Easter theme.
The intergenerational event is to be rolled out at the other three care homes owned by Langdale Care Homes Group.
click here for more details or to contact Langdale Lodge Care Home