Bob Weighton is the oldest man in England and he is now the world's oldest selfie-taker.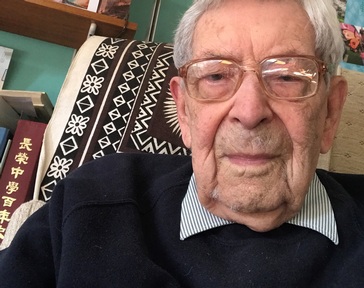 Bob, who celebrated his 110th birthday last week, proved to be quite the perfectionist when it came to taking his first selfie.
When carehome.co.uk visited him and asked if he wanted to take his first selfie, he didn't like the light reflecting off his glasses so took a series of selfies before he was satisfied with the end result.
Bob was born on 29 March 1908, and is England's oldest man, but shares the accolade of 'Britain's oldest man', with Scotsman Alf Smith, as neither of them know the exact time they were born.
Remarkably, Bob lives independently in a flat with a warden. It's run by care provider Brendoncare Alton in Hampshire. When carehome.co.uk first arrive at his home for the interview, Bob isn't in. He's shopping at Waitrose instead. This is usually the case when press call, we are told by staff.
'I was born in Hull, but my horizons have expanded'
When Bob does arrive back, he chats extensively about his varied and interesting life; from humble beginnings in Hull, to a teenage life spent in Japan and Taiwan in the 1930s.
Both cultural landscapes have clearly defined the way he sees the world. He secured a teaching job with a school in Taiwan when he was younger and then spent two years in Japan learning the language before he could start teaching.
He eventually wound up in Canada as he was redirected there when the Second World War broke out (he was travelling back to the UK at the time). The British Government then hired him to translate enemy broadcasts.
Bob disproves the stereotype of being an older person who voted for Brexit.
The supercentenarian says: "Well my own feeling is that Brexit is unnecessary. I have a son who married a Swedish girl, and I have a daughter that married a German, and I absolutely refuse to regard my own grandchildren as foreigners".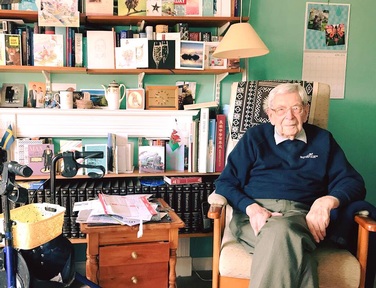 'We need to live together constructively'
Bob sees no reason why people from different cultures can't just get along. He says: "I found it possible to have the same kind of human relationships with anybody else, different though they may be, and you've got to find a way of living together constructively."
"You have to live together in some way, and you have to give and take, and reach a reasonable conclusion. You can't live in a world that is perfect from your own point of view."
The retired engineer has words of wisdom for a world where people have become increasingly suspicious of anyone who is different. "It's far better to make a friend out of a possible enemy than to make an enemy out of a possible friend," he says.
The spritely 110-year old has youthful looks that belie his age and could easily pass himself off as an eighty-year-old. He likes to keep himself busy doing woodwork, chatting with people and visiting his favourite high-end supermarket.
In his typical style, Bob is humble when talking about his travels, which would have been very out of the ordinary for a young Yorkshire lad in the 1930s and 1940s. He says: "Although, I did travel, the most valuable experience is not the actual travel, it's living in a community that is not the same as what you were born into."
He seems somewhat baffled by all the recent media attention he and Alf have received for their joint 110th birthdays, which occurred on 29 Mar 2018. To him, it was just another day. He is much more interested in talking about his Yorkshire roots.
He says, "I don't think you should cease to be what you were born into. I'm just as proud now of being a Yorkshireman as I ever was. I come from Yorkshire! I was born in Hull, but I think my horizons have expanded to an extent I hadn't dreamed they would do."
When asked what he thinks are the biggest technological changes in the modern age, Bob replies: "The speed of travel. Until the railways, no one had ever travelled further than a man on horseback, which is about 25 miles an hour."
To Bob, the invention of the internet doesn't seem that big a deal when compared to the invention of trains, planes and automobiles.
You can see a video of Bob attempting to be the oldest selfie taker on the carehome.co.uk YouTube channel.