A mother's 'handsome young man always with a girl on his arm' began 'drinking heavily' after his Huntington's diagnosis at 18, her daughter Lizzie can no longer swallow, walk or talk because of it, and her youngest Jonathan wants to 'go on living independently as long as I can' before the condition takes his freedom.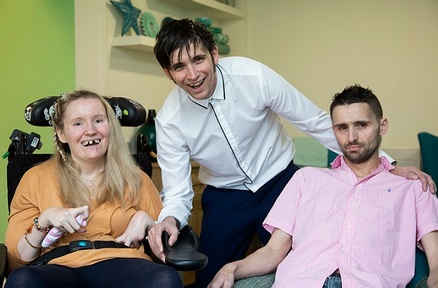 The diagnosis of Juvenile Huntington's disease in all three of her grown-up children, has left mum Kim James desperate to find a cure for the hereditary condition.
Pleading for more research for the condition, she has found an ally in the care provider Pendine Park Care Homes, which is treating two of her children, and together they are keen to raise public awareness of the neurodegenerative disease.
Describing it as "Parkinson's, Motor Neurone Disease and Alzheimer's all rolled into one devastating condition", Kim James said: "I would never want to put any child through what I have had to watch and endure my children have to go through and deal with."
Kim James is a regular visitor to Penybryn Care Home in Wrexham where son Christopher Bennett, 36, and daughter Elizabeth Bennett, 29, are both residents. Her youngest son Jonathan Bennett, 31 also has the condition but is at the moment still able to live independently at home.
'Anger and frustration'
Di Lyes, Huntington's Disease specialist advisor who has worked with the family for years said of Jonathan: "This was a handsome young man that wanted to go to university. He always had a girl on his arm and just wanted a relationship, get married, have a career and have his own family.
"He has had to watch his friends do all these things and that has led to anger and frustration. Who could blame him? He knew from the outset what the disease was going to do to him."
Huntington's disease is an inherited illness caused by a faulty gene in your DNA. A child conceived to a parent with the Huntington's gene has a 50 per cent chance of inheriting it. In the siblings' case their dad carried the faulty gene.
Urging pregnant women to get themselves checked if they knew of anyone in their family with the Huntingdon gene, Mrs James said: "If a woman gets pregnant with a HD background she can have the foetus tested for the HD gene, then she has a dramatic decision to make."
Eldest son 'went off the rails' after he was diagnosed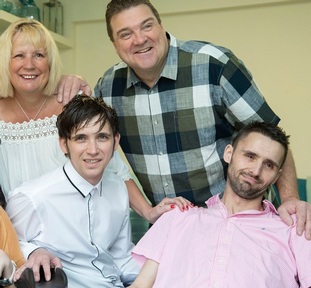 Kim James' husband Ian James, who is stepfather to the three siblings, said: "Christopher showed the first signs he might have the disease when he was 18. He had counselling and blood tests and that confirmed he had the disease. He went off the rails in truth and began drinking heavily.
"Lizzie developed Huntington's next when she was 16. It began with depression and hiding in the toilets at school.
"Her physical problems came on very rapidly and now she can't walk, talk and is peg fed through her tummy as she can't swallow. She can still say the odd word but it's getting worse."
Youngest son: 'I know what is going to happen to me'
According to the Huntington's Disease Association (HDA), a person can live with the faulty 'Huntington gene' for years without symptoms, but at some stage they will develop symptoms, however doctors cannot say when this will be. Mrs James' youngest Jonathan was 27 when his Huntington's symptoms emerged.
Jonathan Bennett said: "It's a terrible, terrible illness and I know what is going to happen to me as it's happened to my brother and sister. I know what's coming but have grown to accept it.
"I want to go on living independently as long as I can and do what I can to raise money for the Huntington's Disease Association. But, more importantly, I want to raise awareness of the condition."
In his own personal quest to raise awareness and funding for research into the condition, Jonathan has completed the Manchester, Chester and Conwy marathons several times.
Praising the work of Penybryn care home, Kim James said: "Having Christopher and Lizzie together in Penybryn, which specialises in brain injury and neurological conditions, is a Godsend. Until February, I was Lizzie's full time carer but she has settled in Penybryn very quickly. Christopher has been here four years now and to have him settled is wonderful."
Penybryn care home manager Tracey Cuthill revealed she and her staff care for six residents with Huntington's disease, including the two siblings.
Affecting the central nervous system and brain, Ms Cuthill said the condition "causes involuntary muscle movement and changes in the brain that lead to emotional swings that can result in challenging behaviour and an inability to control emotions."
Ms Cuthill added: "There is no doubt Huntington's is a terrible disease. It's vital we raise awareness of the disease and how it manifests itself in those that suffer from it."
click here for more details or to contact Pendine Park Care Homes