Life is better when you're laughing, but can it help you live longer too?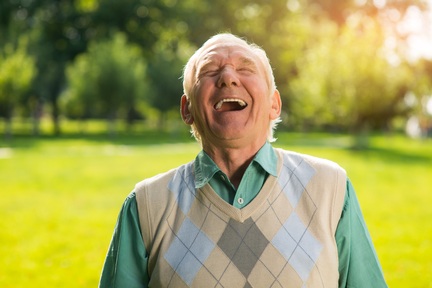 Once a month, residents at Bishopstown Court care home in Cork, Ireland, have been taking part in laughter yoga - a therapeutic alternative combining laughter exercises with yogic breathing for a complete wellness workout, and all without a joke being told.
"It's truly an exercise program that's fun for everyone and can transform quality of life," said instructor Deborah McCann.
"Older people face isolation, loneliness and sickness more than younger people and unfortunately don't have as many reasons to feel good or laugh but laughter yoga brings a sparkle, a little joy, and something different than the traditional entertainment like music, films or exercises."
A smile goes a long way
While adults typically laugh just 17 times a day compared to children's 300, research has shown a good hearty laugh helps to alleviate stress, worry and depression.
According to Ms McCann, who also teaches Ashtanga yoga, "a smile goes a long way to establish a bond with older people who need care and empathy. It creates an ambience of belonging and generates the much-needed feeling of closeness and fraternity."
Instead of using traditional yoga exercises, laughter yoga uses creative visualisation, breath work and role play.
Sessions include gentle warm-up techniques such as stretching, chanting, clapping and body movements, followed by a series of laughter exercises interspersed with breathing exercises. The classes finish with a calm and balancing meditation.
Ms McCann teaches people in their 20s up to their 90s, with a growing number of those interested in their 50s. Her oldest participant is a 94-year-old care home resident who "thought everyone was a little bit nuts at first."
Another participant is 58-year-old Patjoe O'Leary who has been practising yoga for 15 years. He said: "Compared to normal yoga sessions where you listen to the instructor and do your exercises, with laughter yoga, you're interacting more. We are looking at each other and making all these sounds... the hee hee, the ha ha, the ho ho. The laughter is infectious as we all bounce off one another, and there is no need to worry about anyone watching you."
A natural painkiller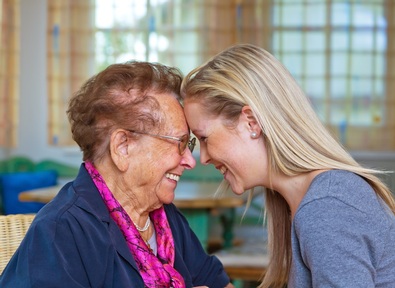 Studies have shown that laughter yoga really is the best medicine to be prescribed to older people to keep them in good cheer.
According to researchers at the University of Oxford, a few hours of laughter brings several positive changes. It helps to increase memory and intellectual capacity, strengthens the immune system, relaxes muscles and acts as a natural painkiller.
Professor Robin Dunbar of Oxford University, who led research in 2011, says uncontrollable laughter releases endorphins into the body which, as well as generating mild euphoria, also dull pain.
"It's the emptying of the lungs that causes this effect," he said. "It's exactly what happens when we say 'I laughed until it hurt'. It seems to be extremely painful and it's that pain that produces the endorphin effect."
Laughter yoga was invented by Dr Madan Kataria in 1995, and since then, doctors have been prescribing laughter to the sick, elderly, young, and healthy for its stress-reducing effects.
Ms McCann commented: "Besides being the panacea for good health, laughter generates positive thoughts and reduces the negative strains. As we grow older we can suffer from many diseases of ageing, but laughter yoga promotes physical and mental health instantaneously.
"Thousands of people have benefited from laughter yoga in recent years, particularly older people who are living with a variety of illnesses and diseases due to their reduced immunity, and a lifelong of unhealthy habits."
Prior yoga experience or high levels of fitness are not essential, but Ms McCann asks that participants "turn up with an open mind."
She said: "Natural laughter only lasts for three to five seconds and that isn't enough time to bring about physiological and biochemical changes in our body. In order to get the scientifically proven health benefits of laughter, we need to laugh continuously for at least 10 to 15 minutes.
"After all laughter really is the best medicine. We shouldn't leave it to chance!"