Featured Care Homes
£50 + VAT per month  Enquire
Invoiced annually @ £600 + VAT. Discounts available for orders of 2 or more Features.
carehome.co.uk Features are a great way to get your brand noticed and generate enquiries. carehome.co.uk received over 92% of all website traffic across the top 12 ranked commercial care home directory websites. We also have over 30 times more visitors than the site ranked number 2 on the list.
When you take a Feature, you will appear at the top of your chosen carehome.co.uk area search pages. For each searched location, a maximum of four care homes will be displayed (three as well as yours). Your care home photo (your 1st photo from your listing), along with your logo, current review score and a link to your home page will all be displayed. Plus, if you are an award winner, your winner's badge will also appear.
The display order rotates randomly on each page load after 2 minute intervals but you will always feature as one of the four care homes displayed along the top of the page.
You can be quite specific with your targeting when selecting a Feature. We have a selection of location based options to support your marketing strategy. These include:
Small Town / Village e.g. Kintbury
Postal Town e.g. Reading
District e.g. West Berkshire
Area Postcode e.g. RG
County e.g. Berkshire
Region e.g. South East
Country e.g. England
Category e.g. Dementia
Please click here to see an example of some current Featured Care Homes or see the example below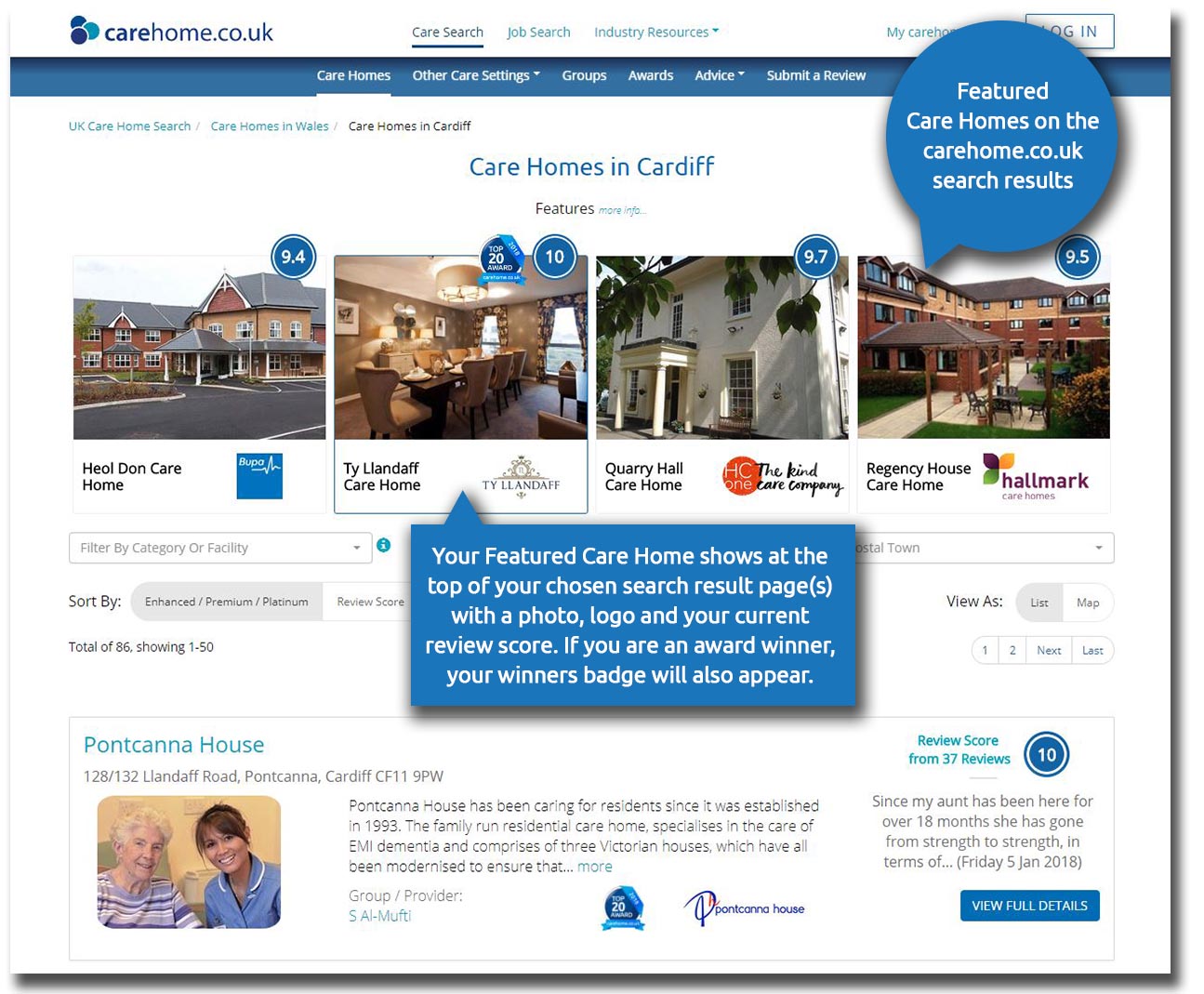 Groups who book a Featured Care Home can either specify which of their members to display, or a random member record will show. The random member record will be one that matches (if available) the location of the page that it is on. Please note that Groups are not permitted to book more than one Featured Care Home on the same page (eg 2 bookings on the Berkshire Care Homes page would not be permitted). Also please note you must be subscribed to the Enhanced or Premium Service to take a Feature.
---
For information on prices and availability,
please go to your carehome.co.uk Control Panel or call our sales team on 01488 684321