Anisha Grange Care Home, owned by Hallmark Care Homes, is spearheading the drive for innovative design in care homes.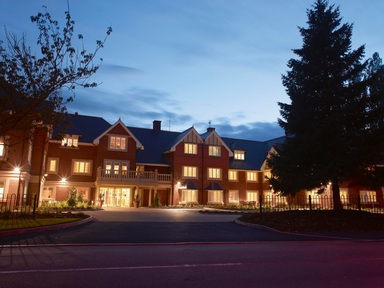 The home only opened last year and it has already won two awards.
The home in Billericay, Essex was awarded the 'UK's Most Outstanding New Care Home at the Over 50s Housing Awards and won the 'best large new build in the care home for the elderly' award at Pinders Healthcare Design Awards.
It was also recently nominated in the 'Laing & Buisson Independent Specialist Care Awards'.
The home is one of 15 care homes, owned by Hallmark Care Homes. Nine of these are in Wales with the remainder in England.
People often have pre-conceptions of a care home, so for managing director, Avnish Goyal, the "external design of a care home is so important as it gives it curb side appeal".
"When a new resident and a family pull up at the care home in their car, they get the feeling they have arrived and it makes them feel they want to go in, instead of getting a sense of foreboding," he says.
Mr Goyal describes Anisha Grange as "an upmarket, classy building" and says: "When you go through the reception area, there is a lovely café where residents can sit and talk to their visitors. The café has become the hub of the home. It is nice as the residents feel they are out at a public café instead of in a home and the visitors don't have to sit in a room with all the other residents, so it is more intimate."
The home has a large cinema with a 10ft screen, Dolby speakers and electric curtains which is regularly used for showing films.
"It is like being in a real cinema," says Mr Goyal.
Anisha Grange also offers a range of therapies including massages, pedicures, manicures and aromatherapy.
"It makes the residents feel pampered which is very important," he says. Anisha Grange is a 70-bed home but it is still in the "fill up phase".
The home provides residential, nursing and dementia care, and facilities include IT suites and library, a therapy room, garden café, and even a pub.
Each of the bedrooms has its own en-suite facilities, while several rooms on the ground floor enjoy direct access out to a private garden area and all bedrooms have their own TV and telephone points, Wi-Fi access and an electric profiling bed.
Hallmark Care Homes spent a quarter of a million pounds on the garden which is "beautifully landscaped".
It has also taken the bold decision of refusing to segregate people with dementia.
"It is part of our policy that we do not segregate dementia residents, so we have events for the whole home rather than floor events. The traditional model is to have a separate dementia wing" says Mr Goyal.
He admits that "some families have had concerns about this", but says "we believe that everyone has a right to integrate with each other. For this reason, we have also moved away from having a dementia only garden. To us, a garden is a garden and our one has all kinds of sensory features and it has of course been made safe."
A popular feature of the garden is an old Morris Minor, which serves as a valuable reminiscence tool.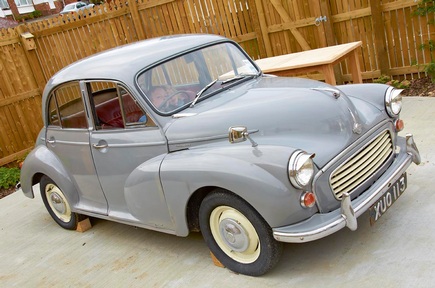 Anisha Grange is very close to Hallmark Care Homes' head office and we have gone that extra mile with it, says Mr Goyal.
"People tell us it is the best home they have seen. A resident's relative came to visit and asked me "when can I live here".
"The residents enjoy going to the café, having the therapies and going into the garden. We have lots of activities for them. There is a high level of engagement with our residents. It is really important that care homes get away from that image of everyone sitting in their chairs around the edge of the room bored with their heads flopped to the side," he says.
Hallmark Care Homes is continuing to expand its portfolio of innovative care homes and recently opened another home called Admiral Court in Leigh-on-Sea in Essex.
"It is purely for residents with dementia. It looks like a series of houses. We didn't want it to look like an institution and feel daunted by it so it has a very homely feel," reveals its managing director.
The 60-bed home has a shop and pub and an artist is working with neighbouring schools to create mosaic art pieces outside the home.
It is also opening Bucklesham Grange in Ipswich later in the year, a 55-bed home offering residential, dementia and nursing care.