Langley Haven care home has won Care Home Idol 2014.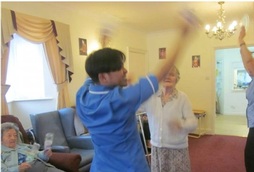 The residents of Langley Haven care home in Slough, battled against numerous other care homes in the UK, to win the talent contest with their rendition of 'Maybe it's Because I am a Londoner'.
Yogesh Patel, operations director of the home said: "We are obviously very happy for our team at Langley Haven who always go out of their way to ensure that the residents' lives are made as entertaining and active as possible. To win Care Home Idol 2014 against all the care homes in the UK is great news, and honest reward for all their efforts." Resident Doris Southgate, who took part in Care Home Idol, added: "It's an important achievement."
To view, Langley Haven care home's video, go to http://www.carehome.co.uk/idol/idol.cfm/id/132
Care Home Idol is an annual competition run by carehome.co.uk, the leading online guide to care homes.
It is designed to showcase the talent and vibrancy that exists in care homes and challenge people's preconceptions of residential care.
There are two categories, one for residents and staff and one for professional entertainers and the winners are decided by the public who vote online for their favourite act.
Davina Ludlow, director of carehome.co.uk, said: "Congratulations to Langley Haven care home for winning Care Home Idol 2014. It was a lovely video and their entry shows how much they enjoy singing and performing and the warmth that exists between the staff and the residents.
"There are active and talented communities in care homes all over the country and Care Home Idol is an opportunity to see some of that in action. "Care Home Idol aims to help break down the barriers that can exist between a care home and the wider communities they serve."
Jeh Kazimi, founder and chief executive of Breezie, which has supported Care Home Idol and is awarding a Breezie tablet to Langley Haven care home, said: "Congratulations to all of the residents and staff involved in Langley Haven's winning entry. Providing entertainment to those living in care facilities is a huge part of our mission at Breezie as we bring the Internet to older people - and the staff and residents look like they're really enjoying themselves here.
"Breezie wanted to support Care Home Idol because it's important for residents in care homes to benefit from schemes that can really brighten up their days and keep their mind active. We applaud carehome.co.uk for managing the competition, and all of the entrants who spent time on their entries - you all brought us a smile in the office."
MP Penny Mordaunt has given her backing to the initiative calling it "great fun and a good excuse for a knees-up in homes around the country".
She added: "There is rightly much focus on the care system when things go wrong, but we should remember that there are also some wonderful homes out there where residents are supported to pursue their hobbies and talents, while being engaged and entertained."
Langley Haven care home will be awarded a trophy, £500 and a Breezie tablet in recognition of their talent.
For more information, please contact Sue Learner, media manager at carehome.co.uk, on 07779 155130 or email sue.learner@tomorrows.co.uk carehome.co.uk is the UK's leading guide to care homes. It has over 15 million visitors per year and features over 40,000 recommendations for care homes from residents and their friends/family. It helps people to find the right care home.
Breezie is award-winning tablet software that makes the Internet easier for older users who are less familiar with technology, supplied on a Samsung Galaxy tablet. Breezie works in partnership with care homes so that they are able to offer personalised devices with Internet access to residents.
With Breezie, residents are able to stay entertained with catch-up TV, books, games and quizzes, as well as staying in touch with friends and family through Skype, email and Facebook. Breezie caters to residents of all technical abilities, with digital literacy settings that can be changed as the user grows more familiar with the services they enjoy.