Free UK travel guide details accessible days out across the UK
16-Jun-15
Article By:
Nina Hathway, News Editor
Make sure you get out and about this summer with the newly updated edition of The Rough Guide to Accessible Britain.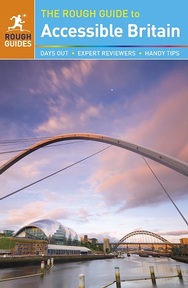 This invaluable digital guide to days out can be viewed at http://www.accessibleguide.co.uk/home.php and its online format allows readers to easily browse the information and select chosen chapters and reviews to read and print – ideal when planning days out.
One of the contributors to the guide, Emma Bowler who has a mobility disability, says: "When you have a disability planning a day out is not just about finding a great place to go, it's also about finding out whether you can park, get in, use the toilets, take an assistance dog and so on.
"The Rough Guide to Accessible Britain has all this information and much more. I always refer to it if I'm planning a day out because it has some great ideas of places to go and things to do, and the reviews are accurate and honest, so there are no access surprises to spoil a great day out."
Produced by leading travel content producer Rough Guides in conjunction with Motability, the UK's leading car scheme for disabled people, the guide features more than 200 reviews and ideas for days out across the UK, and includes reviews of some of the country's most beautiful and accessible towns – one for each of the 10 regional chapters.
Each town review is jam-packed with fun things to do and see, many of which are free, and includes a potted history of each town. Each chapter of the guide also features a recommended scenic drive route, passing through some of the UK's most stunning scenery.
The accessibleguide.co.uk website also offers readers the chance to submit their own reviews for places they have visited or great days out they've experienced. Visitors to the website can download a free activity pack to keep kids entertained on long journeys and access special offer vouchers too. Added benefits to the online format include direct links to attraction websites and pre-populated Google maps for the scenic drive routes.