The UK Government has signed a memorandum of understanding (MOU) with India to implement healthcare projects which transport the expertise of the UK's NHS organisations, companies and universities to India.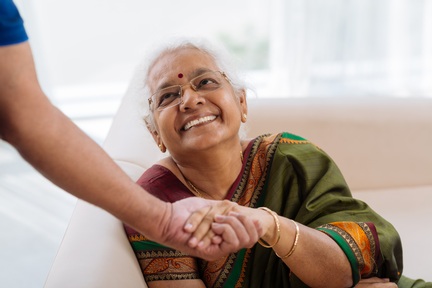 Northumbria Healthcare NHS Foundation Trust is being held up as an example of great integrated health and social care for India because it integrates acute hospitals (including emergency services) with community services and care delivered at home.
Rated as 'Outstanding' by the Care Quality Commission (CQC), in a report published last May, the Trust was praised by the care regulator for taking 'positive action to increase the number of patients who were dying in their usual place of residence.'
The Trust, in collaboration with Northumberland County Council, was described by the CQC as having a range of integrated services to support care closer to home for patients and avoid unnecessary hospital admissions.
Its team of community health and social care staff form an Immediate Response Team to give urgent support to people in the community within two hours of the first call for assistance. It provides equipment to help people move around their house and arranges emergency short term care support to allow them to remain at home.
The Trust also ensures specialist palliative care is closely aligned with its emergency care so that patients receive palliative care at the earliest opportunity. CQC inspectors stated in their report: "Patients receiving end of life care had the opportunity to discuss their wishes for their future in terms of resuscitation, preferred place of death at end of life and decisions to refuse treatment."
Staff in Community Adult Services run a free 'Inspired Carer Masterclass' for staff at local care homes to improve care for patients in residential and nursing homes. The one-day course for care home managers and staff covers dementia care, falls prevention, infection prevention and control, swallowing assessment, depression, skin integrity, and supporting families.
The Government says the area served by the Trust has "some of the best and most fully integrated call anywhere in the NHS, if not the world."
'Significant revenue stream for health and care services'
While many NHS trusts are in a financial crisis, the agreement with India was, the Trust said 'expected to become a significant revenue stream for local health and care services in Northumberland', as the closer ties with India aims to help accelerate the development of integrated healthcare outside of hospital in India, in line with Indian Prime Minister Narendra Modi's vision of delivering affordable healthcare for all.
The Indo UK Institute of Health Programme ("the IUIH Programme") will deliver a staged rollout linked to the Indian Government's Smart City programme across 100 cities as India aspires to achieve the standards of integrated care in Northumberland.
In India, public spending on healthcare has been traditionally low and an estimated 70 per cent of its population still lives in rural areas with little or no access to hospitals or clinics.
Dr Ajay Rajan Gupta, managing director of IUHP said: "This is an important milestone in our vision to transform the health of millions of Indian citizens. We want to take the very best that the NHS has to offer across to India and there is no doubt Northumbria is the best at what it does."
The partnership between Northumbria and IUHP has been made possible by Healthcare UK, a joint initiative between the Department of Health, NHS England and the Department for International Trade.
Healthcare UK and UKTI India are promoting the UK's expertise in India and say they will support companies to secure business with Indian partners in the coming months.
Deborah Kobewka, managing director of Healthcare UK welcomed the signing of the MOU. She said: "The NHS and social care system in Northumberland delivers superb care to hundreds of thousands of people across one of the largest and most rural areas in England and this makes it a unique fit for this venture with India."
"This is a moment of opportunity and we are determined it doesn't pass the NHS by, not least because the gains from overseas partnerships can be reinvested in improving frontline services right here in the UK."
Healthcare UK says it is keen to assist British organisations – both public and private – to develop international business in a range of priority markets, including India, China, the Middle East, Turkey, Brazil and Latin America.
The move is in line with Prime Minister Theresa May's wider Brexit strategy to reach out and build stronger ties with countries outside the EU, following the UK's vote last June to leave the EU.
Scrapping of UK's integrated health and care taskforce
Despite the Government's efforts to promote integrated health and social care abroad, Theresa May has decided to scrap the Health and Social Care Implementation Taskforce - a government body established by former Prime Minister David Cameron.
The body brought together senior ministers, health officials and local government to join up the NHS with locally-funded care services for older people and the disabled.