A Welsh ladies' choir have won Care Home Idol 2016 with their rendition of 'Any Dream Will Do'.

This is the fourth year of the competition run by carehome.co.uk, which is designed to showcase the talent and vibrancy that exists in care homes and challenge people's preconceptions of residential care.
Contestants comprised of residents and staff from the UK's 19,000 care homes with the winner chosen by Sylvie Silver, director of National Activity Providers Association.
Winner
Alastair House
Ms Silver, who campaigns for care homes to put activities at the heart of their care, revealed that she chose the choir at Alastair House in Rhyl because "they had clearly put a lot of work into their performance prior to the filming. They were all so engaged with the song and were really concentrating on the conductor. I sensed that they gained from the benefits of singing regularly in the choir which is more than a single performance might offer."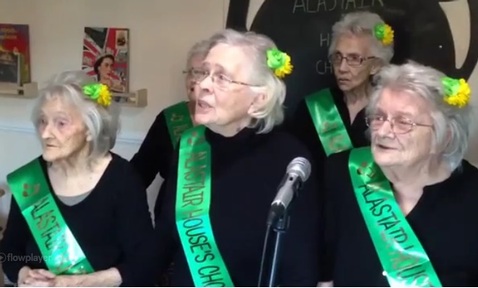 She added: "It was clear from watching all the clips that many residents gain from being encouraged to connect and join in with activities like singing. I was particularly pleased to see individuals gaining attention as we know that spontaneous moments can have as much impact as larger scale group activities.
"Any engagement that lifts the mood can add to wellbeing even if it is for only a few moments. In the past activities were often perceived as just large scale group events, that view is slowly changing as some of the carers in these clips demonstrated so well."
The singing ladies from Alastair House were "delighted" at winning Care Home Idol 2016, according to Lakhansi Keshwalla, who owns the home. He said: "Daily activities play a vital role at the home and the residents love participating in choir singing every week, it is a joyful experience for them. The video enabled us to share this beautiful moment with everyone. We are a dementia care home and daily activity helps our residents to stimulate their mind and body."
Care home manager Samantha Leuty set up the choir with co-ordinator Carol Smith. Mr Keshwalla called Carol Smith "the back bone of all this as she also organised the outfits, getting the residents proper dresses to wear with Alastair House sashes."
To view Alastair House care home's video, go to www.carehome.co.uk/idol/idol.cfm/id/296
Runners-up
Forward Vision
Forward Vision in Edinburgh managed to scoop second place with a film of their festive Christmas special 'Is It Nearly Christmas Time?'.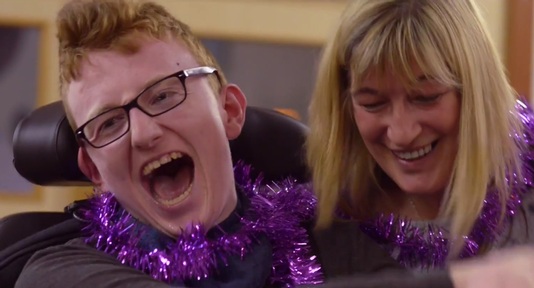 Forward Vision, run by the charity Royal Blind, provides care and support to young adults with a visual impairment and additional disabilities, encouraging them to have greater independence.
Music workshops are a regular and popular activity that take place throughout the year.
Care Services Manager, Julie Jamieson, said: "We are delighted to have been named a runner up in the Care Home Idol competition. As a service for young adults with sight loss, music is a hugely important part of our residents' lives, and everyone loves taking part in our regular music workshops.
"We are really proud of our residents for once again producing such a great music video, and our two staff members Esther and Patty for writing such a catchy song for them to sing!"
To view, Forward Vision's video, go to www.carehome.co.uk/idol/idol.cfm/id/297
Wansbeck Care Home
Wansbeck Care Home in Northumberland tugged at the heartstrings with their video of care worker Lee Holdroyd dancing with resident Pat to the Monkees' song 'Daydream Believer'.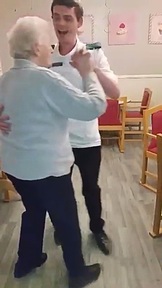 The care home posted the video on its facebook page and within days it went viral and was watched by thousands of people all around the around. Lee started dancing with 86-year-old Pat one evening, after she felt a bit down and restless as he knew how much she loved to sing and dance.
The video has even sparked two family reunions - Pat's brother who lives in Canada hadn't seen her since moving to Canada after the war and he was shown the video by his family who noticed it on Facebook. Lee's older brother also got in touch with him after he saw the video online to tell him how proud he is after not speaking for many years.
Denise Hyden, care home manager revealed that on being told they were runners up, Pat shouted "Fantastic, we're simply the best".
To view Wansbeck Care Home's video, go to www.carehome.co.uk/idol/idol.cfm/id/282
Belmont Castle Care Home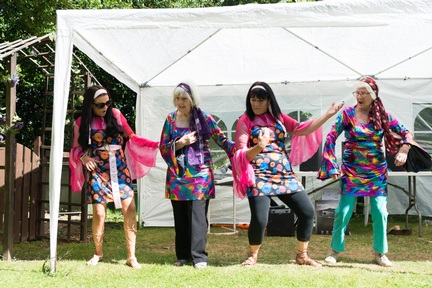 Belmont Castle Care Home in Havant came fourth with its video of staff and residents dressed up as ABBA singing a medley of songs by the 70s pop group.
Juanita Pearce, manager of the home said: "Music therapy is an amazing way of stimulating residents and staff.
"Life is never dull at the Castle, every day is a celebration. Both the stars of the video have an excellent outlook on life, whilst living with Alzheimer's and coping beautifully with short-term memory."
To view Belmont Castle Care Home video go to www.carehome.co.uk/idol/idol.cfm/id/265
Entertainers
Winner
Care Home Idol also has a category for the best entertainer which was won by Johnny Tarrino performing for residents at Watford House care home in Staffordshire.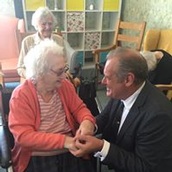 "We liked the way he was in there with the residents, there was a lovely moment when he sang directly to the lady in the armchair, and he had a good variety of modern songs," revealed judge Sylvie Silver.
Mr Tarrino said: "I do all sorts of shows in all sorts of venues but my care home performances are always my favourites. My Care Home Idol video was shot at Watford House and it is the residents and staff there that make this video so special, the look on their faces says it all. I will be looking forward to performing in many more fantastic homes in the future."
To view Johnny Tarrino's video go to www.carehome.co.uk/idol/idol.cfm/id/270
Care Home Idol showcases hidden talents of care home residents
carehome.co.uk hopes Care Home Idol encourages more care homes to get their residents to sing and perform as activities such as music and dancing can have a huge impact on people's wellbeing.
Care homes are full of older people who have led varied and interesting lives who don't get many chances to show off their skills and talents so a competition like Care home Idol gives them that opportunity.
In addition, it shows the outside world the close-knit communities that exist in many care homes.
Davina Ludlow, director of carehome.co.uk said: "We would like to congratulate the ladies at Alastair House care home for winning Care Home Idol 2016 with their touching version of 'Any Dream Will Do'. It looks like they really enjoyed making the video.
"We would also like to congratulate the three runners-up, Forward Vision, Wansbeck Care Home and Belmont Castle Care Home for all their hard work and for putting on such lovely performances.
"As well as Johnny Tarrino – our winner for our entertainers section, who sang such uplifting songs and conveys fun and warmth that is so important when entertaining care home residents.
"We have been really pleased that so many care home residents and staff got involved in our contest and sent us their videos so we could show the wonderful talent that exists in care homes in the UK."
Alastair House care home and Johnny Tarrino will receive a trophy and a cash prize. The runners up will receive a trophy.
To view all the entries for Care Home Idol 2016 go to www.carehome.co.uk/idol/