Pamela is not your average 65-year-old. Once a week she takes part in a specialised boxing class tailored to those living with Parkinson's disease.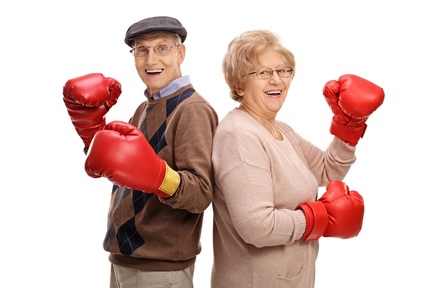 She was diagnosed with the progressive neurological condition eight years ago and knows from personal experience that boxing can have a huge impact on both body and mind.
"Parkinson's saps all your confidence, and left on my own, I would never have achieved the movement I have found from the boxing class," she said.
When the idea of boxing was first suggested by her friends, Pamela immediately thought she was too old to participate in such an intense sport.
But after a little persuasion, Pamela is now an expert at reps of uppercuts and jabs to a punch bag at Fitness Zoo in Sheffield and says she has "never laughed so much."
Boxing classes have gained popularity across the UK as an active way to fight the effects of Parkinson's disease. With its rapid combinations of hand-eye coordination and footwork, boxing helps re-discipline a body that has lost touch with the mind's eye.
Training incorporates whole-body movements, with punching motions and footwork in multiple directions, all performed at speed. It provides both anaerobic and aerobic exercise in one session.
Slowing the progression of Parkinson's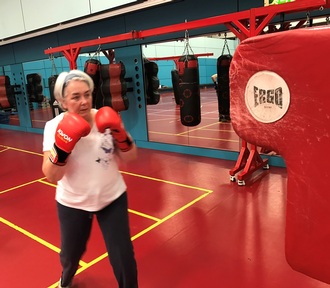 With no known cure for Parkinson's, Michael Crofts, professional trainer at Fitness Zoo, believes boxing can help alleviate a number of associated symptoms including falls, tremors, coordination and depression.
Like most workouts, boxing at Fitness Zoo begins with a warm-up phase which consists of stretching, footwork drills and various team games.
"We perform many different boxing-based drills on bags and pads," said Mr Crofts. "Some designed to help with power, speed, hand-eye coordination and others to help them with footwork, balance and timing."
He added: "When you are living with Parkinson's, the basis is that your brain and body do not communicate with each other. Exercise is one of the known methods to help slow down the progression of the disease, so our class is specially designed to cover balance, coordination and muscle strengthening."
Since starting the class two years ago, Pamela says her overall health and fitness has improved significantly.
"I feel stronger, fitter, more mobile and flexible and this has helped me going about my daily life.
"The combination of punches that I have to deliver to the various punch bags have benefitted my hand-eye coordination and improved my core strength, flexibility and balance. I have also learned to react quickly in situations where I might previously have lost my balance and fallen over."
She added: "Until now I never realised how hard boxers had to work to throw punches – you use your whole body; rotating and balancing at the same time. These movements are excellent to combat the symptoms of Parkinson's."
'Knocking out' the disease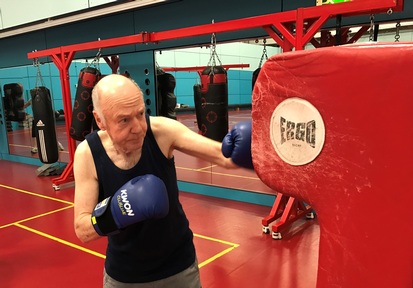 Although she still has her "off days," Pamela remains keen to encourage others to experience the benefits of boxing.
Around 127,000 people are currently living with the condition in the UK – the equivalent to one in every 500 people.
According to the NHS, the progressive movement disorder can have a "devastating" impact on a person's nerve cells, causing tremors, rigidity and other debilitating symptoms.
53-year-old Andrew has been living with Parkinson's for a number of years, and as well as affecting his movement, he finds that tiredness, pain and depression all have an impact on his day-to-day life.
Although he describes the symptoms as "incredibly frustrating," he says the boxing classes at Fitness Zoo have improved his outlook on life.
"At times, it is difficult to stay positive because of the relentless progressiveness of the disease. It also reduces your self-confidence, making you less likely to want to go out and socialise with others," he said.
"Yet by the very nature of the class, all the participants are at roughly the same stage of progression, with the same symptoms, and it is great to have this network.
"Since attending the training, I feel stronger, I've noticed an increase in my general fitness level, my core strength, my balance and my confidence. My outlook has become more positive, it gives me something to look forward to each week and I have made life-long friends.
"Together we're having fun, getting tough, and 'knocking out' the disease."
Fitness Zoo's boxing class began in 2015 and supports individuals living in Sheffield and the surrounding areas.
For more information about Parkinson's visit: https://www.parkinsons.org.uk/