The charity single 'Let Me Shine' starring autistic teenagers and the band Low Island, has become an internet sensation with 2.7 million hits on social media sites.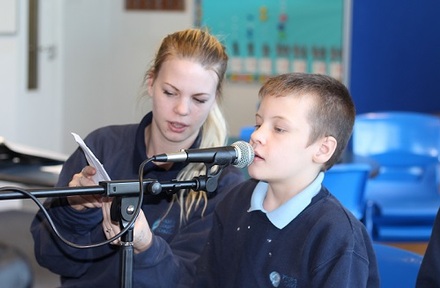 Released on 2 April to coincide with World Autism Awareness Day, the catchy tune was recorded at a studio used by world-famous musicians such as Arctic Monkeys, Beyoncé and Bjork.
The song is sung by young people living with severe autism at Prior's Court in Hermitage, Berkshire.
Some of the young people also use sign language in the song, helping to shine a spotlight on the challenges they face living with severe autism. The staggering number of hits generated by the video via Facebook, YouTube and other social media sites has become something of a talking point.
According to Anna McPherson, marketing director at Prior's Court, the 'Let Me Shine' video has received upwards of 2.7 million hits across all media channels, including their YouTube channel, website and Facebook page.
'Uplifting' project sees band 'blown away' by 'incredible relationships' between staff and pupils
Jamie Jay and Carlos Posada from the band Low Island, who wrote the song, were keen to have as much participation from the students and staff as possible in the song's creation. Mr Jay said: "We were blown away by the incredible relationships we saw between the staff and young people and wanted that sense of warmth and joy to come across in the song".
Drummer Tomson Chauke, a staff member at Prior's Court, was a major force behind the collaboration and features heavily in the song's video. Mr Chauke explains the process behind the song's creation.
"We have had an amazing time putting the song together", he said. "It started with a member of staff being inspired by the engagement and enjoyment that our young people, who are severely challenged by their autism, have with music.
"It ended with several months working with professional musicians Jamie and Carlos from Low Island, recording sessions at Prior's Court and Real World studios, video-making, a staff choir and staff instrumentalists and most importantly lots of young people involved in the recording and in front of the camera.
"It is a very uplifting project and has created a real buzz and sense of excitement here at Prior's Court. We are proud of the song and the way in which it celebrates the uniqueness of our young people and how, when given the chance, they shine".
Musicians got access to music studio used by Beyoncé
The waves that are being made on social media by the "Let Me Shine" video will be music to the ears of Prior's Court's chief executive Mike Robinson, who decided from the outset he wanted a professional approach to the production of the song and video.
He brought in the band Low Island to help with writing and performing the song and asked Universal Music Group and Spinnup to publish and distribute it.
Much of the song was recorded at Real World Studios, a musical hotspot that has witnessed songs recorded by many musical stars including Coldplay.
Most of the children 'can't talk' and spent 'months' learning lyrics
Prior's Court is known as a specialist centre that works with children and young adults at the very severe end of the autism spectrum. Prior's Court really wanted to highlight some of the challenges overcome daily by those with severe autism.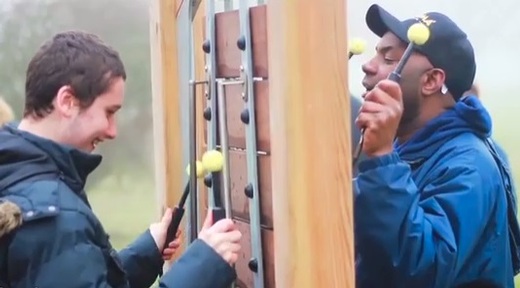 Andrew Chirgwin, is an instructor at the adult provision section of the school, who plays guitar and trumpet in the song.
Mr Chirgwin knows first-hand the challenges that youngsters at Prior's Court face. He said "All of our students have a difficulty with communication.
"Many of them can't talk and it has taken months for them to learn the lyrics to the songs.
"In response to this, we support their communication with extra tools, such as the Picture Exchange Communication System, which is essentially a symbol-based system containing laminated cards with corresponding words, and, of course signing, which many of our students find hugely beneficial.
"Prior's Court is also a world leader in what we call TEACCH methodology. This is a system involving the use of visual aids to support the pupils throughout their waking day. PECS and signing are a part of the visual support used in this methodology."
Priors Court Choir enjoy a good old-fashioned 'sign-along'
Considering the communication difficulties of the young people at Prior's Court, fully including them in the making of the song and video was always going to take a lot of perseverance by all involved in it.
The Prior's Court choir made up of staff and pupils, perform in the video, some using a type of Makaton signing to 'sign-along' with the song.
Andrew Chirgwin said:" This was all arranged by the speech and language team and was a wonderful way to put the Prior's Court students fully centre stage and to 'Let them Shine'.
Since the song's release, Mr Chirgwin has been playing it for the students during assembly.
"As well as promoting Prior's Court and raising awareness of autism, probably the biggest aim of all with the song was to help the children to learn the lyrics, culminating in the band performing the song live in assemblies. So, from that point of view, we have definitely achieved what we set out to do!"
'Let Me Shine' is available to buy online or stream from all major platforms including iTunes, Amazon Music, Spotify and Deezer. All funds raised will go directly to supporting the young people at Prior's Court.