Staffordshire Fire and Rescue Service have issued a reminder to care homes to take care when disposing of smoking materials.
The call comes after an investigation into a serious fire at a Tamworth care home was found to have been caused accidentally, by a discarded cigarette.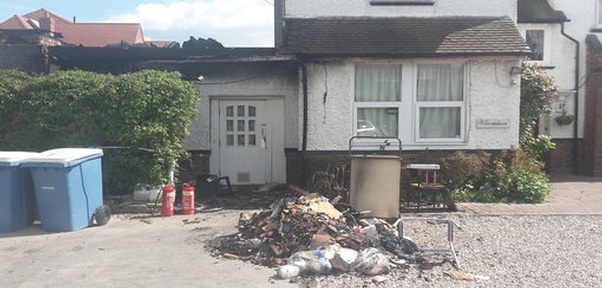 Station Manager John Kitchener, said: "Seven residents were taken to hospital suffering with smoke inhalation and carbon monoxide poisoning but thankfully none of them suffered life-threatening injuries. We've been updated that five are due to be released from hospital, with two others receiving ongoing treatment for unrelated medical issues."
Fire crews were called to Standon House in Ashby Road at around 10.45pm on Saturday 15 April, and worked with staff, police officers and colleagues from West Midlands Ambulance Service to safely evacuate 25 residents from the building. Seven residents suffered smoke inhalation; six were taken to Good Hope Hospital and one to Queens Hospital in Burton.
A thorough and detailed examination of the scene found that the fire started accidentally and was caused by a discarded cigarette in an external smoking shelter. The cigarette had not been fully extinguished and caused nearby plants and woodwork to catch fire, before the fire to spread into the ground floor roof space of the home.
Mr Kitchener, who attended the incident, added: "This was a significant fire which will have been incredibly distressing to residents, particularly those who were within bedrooms near the fire. Thanks to the swift actions of care home staff no one was seriously injured.
"Upon discovering the fire, staff alerted emergency services and worked with firefighters, police and ambulance staff to ensure all of the residents were accounted for and safe. Colleagues from the Civil Contingencies Unit were instrumental in arranging alternative accommodation for the elderly residents and the local community have been fantastic, offering their help to the care home in the days following the fire.
"The extensive damage to the building shows just how quickly fire spreads. It highlights how important it is to make sure cigarettes are completely extinguished and correctly disposed of in appropriate bins."
Smoking is one of the biggest causes of accidental fire deaths and is one of the factors Staffordshire Fire and Rescue Service are highlighting in their SAME campaign; an awareness drive focused on raising people's understanding of what puts them at higher risk of dying in a fire.
Paul Richins, senior fire safety officer, said: "Any business or work place which provides a smoking shelter should consider the potential fire risk this type of structure poses.
"A robust smoking policy should be implemented in conjunction with a fire risk assessment. One of the main considerations when providing a smoking shelter is its location and construction. Good house-keeping arrangements should also be put in place to monitor the disposal of cigarettes in a suitable container.
"Combustible materials of any kind should be kept away from the shelter. This includes materials such as foliage, which could enable the fire to easily spread."
For more information and advice visit: www.staffordshirefire.gov.uk