No less than 120 care homes caught fire accidentally in London in 2016, causing London Fire Brigade to change its view last October from recommending smoking take place on premises 'as safely as possible' to no smoking at all. So can care homes strike the right balance between upholding a resident's rights while protecting them from harm?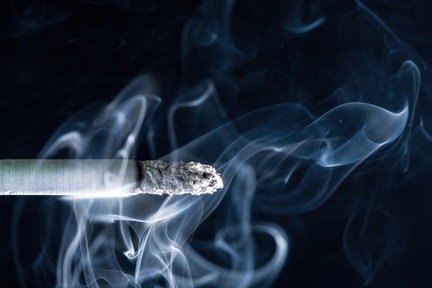 Discarded cigarette in outdoor smoking area
In April, two care homes hit national headlines with frail people having to be carried out in the arms of firefighters in the middle of the night and re-homed after fires broke out.
On 15 April, a discarded cigarette triggered a fire in an outdoor smoking area of Standon Care Home in Tamworth. The cigarette had not been fully extinguished and caused plants to catch fire, before the fire spread to a roof awning.
Station manager at Staffordshire Fire and Rescue Service John Kitchener said: "The smoking area is underneath a roof awning which was set alight. From there it spread into the roof. The extensive damage to the building shows just how quickly fire spreads. It highlights how important it is to make sure cigarettes are completely extinguished and correctly disposed of in appropriate bins."
Smoking is one of the biggest causes of accidental fire deaths. Staffordshire Fire and Rescue Service is urging care homes to take care when smoking outside.
Paul Richins, senior fire safety officer at Staffordshire Fire and Rescue Service (SFRS), said: "One of the main considerations when providing a smoking shelter is its location and construction. The SFRS recommends 'combustible materials of any kind should be kept away from the shelter. This includes materials such as foliage."
On 8 April, two female residents died after a fire spread through the New Grange care home in Cheshunt. Ivy Spriggs aged 91 and 88-year-old Daphne Holloway both died. An investigation into the fire's cause is ongoing.
'Sprinklers must be in all care homes'
While a fire does break out in care homes, not all settings have sprinkler systems fitted to suppress a fire.
Rob McTaggart, a spokesman for London Fire Brigade said: "We want to see all residential care homes fitted with sprinklers. The number and regularity of care home fires that the Brigade attends is clear evidence that builders, developers, local authorities and private providers need to stop ignoring their benefits."
Vaping the answer?
The fire brigade also recommends allowing residents the chance to enjoy a 'vape' rather than a smoke to limit the harm done to residents' health and homes.
According to a report published by Public Health England, electronic cigarettes are at least 95 per cent safer than tobacco cigarettes. (See report here: https://www.gov.uk/government/publications/e-cigarettes-an-evidence-update).
E-cigarette do not contain tobacco, don't create smoke and don't rely on combustion. They use battery power to heat an element that disperses nicotine that can be inhaled by the resident.
The LFB spokesman said: "You're 255 times more likely to have a house fire with tobacco compared to vaping". When asked whether the fire brigade recommends vaping, he referred to the brigade's latest care home fire statistics saying: "I would certainly say the figures speak for themselves."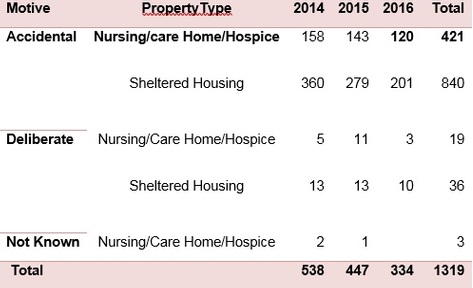 'Not CQC's responsibility to improve fire safety in care homes'
There is currently no regulation that enforces sprinker systems be installed in care homes or the use of vaping be adopted instead of smoking in care homes. A spokeswoman for the Care Quality Commission (CQC) told carehome.co.uk: "As the regulator, it wouldn't be in our remit" to enforce or recommend sprinkler systems or vaping in care homes. Nor is it CQC's responsibility to improve fire safety in care homes.
She said providers by law must "ensure they can demonstrate that premises and equipment are safe, properly maintained and used properly. "For example, evidence that a care home has fire safety risk assessments, that equipment has been properly tested and appropriate staff fire safety training is in place."
What the law says
Residential care homes are exempt from smoke-free legislation. It is an individual resident's right to continue to smoke when in care because it is their home. Although it is not a legal requirement, designated indoor smoking rooms or bedrooms can be made available for use by those residents wishing to smoke indoors.
There remains a ban on staff smoking in a care home, therefore, an outdoor area can be designated for staff and visitors.
Should a 90-year-old who has lost her husband and home lose smoking too?
Frank Ursell, chief executive of the Registered Nursing Home Association (RNHA) said: "The regulator requires us to put the patient first.
"Imagine a 90-year-old who has smoked all her life. The trauma of losing her husband and leaving her home. Should she have to give up smoking too?"
Mr Ursell runs a 24-bed nursing home in Worcestershire in which a resident's bedroom is a designated smoking area. His policy ensures a staff member is present to monitor residents smoking in their bedrooms.
He added: "Sprinkler systems get my 100 per cent support in new builds but not in existing buildings. We do not have a sprinkler system. It's a 200-year-old building. It's difficult to comprehend how hard it would be to install a new sprinkler system."
A care home smoker's death: what the coroner said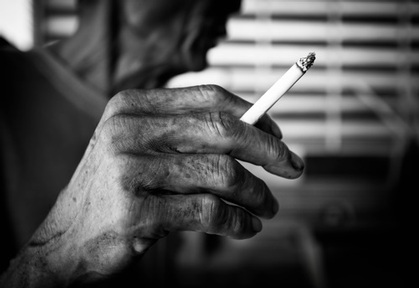 On 3 April, an inquest into the death of an 81-year-old woman who died in a care home fire in 2012 after smoking in her bedroom, revealed the setting's smoking policy was ignored. Kathleen Feegan, resident at Owenvale Residential Care home in West Belfast, died in hospital on 11 April 2012.
The care home's smoking policy stated Ms Feegan who had dementia should be given individual cigarettes by staff and supervised while smoking. However, the inquest heard smoking rules were not properly enforced and she accidentally started the fire by smoking unsupervised in her bedroom.
'Resident burnt her clothing a month before she died
In 2012, Kathleen Feegan was twice found smoking in her bedroom. On 15 March - a month before her death - she was found with burnt trousers and underwear while smoking but the incident was not reported to Northern Ireland's care watchdog RQIA.
Her family's solicitor Leoni Askin said the care home had ignored numerous 'red flags'. Cormac Coyle, the care home's manager at the time said staff levels had been increased after the incident and voice- activated smoking alarms fitted in residents' bedrooms.
The inquest heard about an email from another resident who claimed Mrs Fegan entered the designated smoking area shortly before the fire and asked to borrow a lighter, which she put in her pocket. Coroner Patrick McGurgan said: "That sets out the stark reality of that smoking policy. It seems with the best will in the world it was going to be impossible to police this."
'Staff be vigilant eyes and ears of fire service'
The LFB (taking the advice of health professionals) no longer recommends smoking take place on-site but said: "Small fires caused by a dropped cigarette on bedding or clothing do kill and cause serious injury which is why it's essential that if care homes allow people to smoke on their premises, they need to look carefully at their fire risk assessments.
"For care homes that allow smoking they need to work with us to prevent death and serious injury by training staff to pick up on the early warning signs that residents could be at risk from fire." The fire service recommends "looking out for burn marks on carpets. A lot of the fires are very small and they can be near misses."
What care home groups say
The UK's biggest care home groups (operating between 60+ and 200+ care homes) were asked to highlight their smoking policy, whether they have sprinkler systems and how they protect residents against the risk of fire but declined to comment.
One care home group which was happy to share its fire safety policy is Hadland Care Group, one of the smallest care providers in the UK with two care homes. Both of its care homes (operating under the brand Reside Care Homes) do not allow smoking on the premises.
Zero tolerance: 'residents escorted off premises' unless they vape
Lynne Rourke, care home manager at Southwood Lodge Reside Care Home in Bournemouth said: "We make it very clear that all residents and staff smokers leave the premises to smoke. The staff go out for their breaks signing in and out in line with fire policy and residents are escorted off the premises also. There are no exceptions to this rule.
"A risk assessment would be carried out saying the resident would need an escort outside the home and a DoLS (Deprivation of Liberty Safeguards) put in place if necessary. It would also say that residents would need to leave cigarettes and lighters in the office.
"If a resident uses a vape we would allow them to sit in the back garden. We would not allow the use of vapes in the home due to the vapour exhaled. Staff still have to leave the premises to use the e-cigarettes."
On the question of whether to light up or not in care settings, the law lets care homes decide. And while some manage the risks linked to smoking with fire risk assessments, smoking policies and perhaps even sprinkler systems, it seems others are not afraid to go further and introduce a smoking ban on-site.
You can join our debate by answering 'Yes' or 'No' to carehome.co.uk's online poll: 'Should residents be allowed to smoke in care homes?'