Two fundraising cycle rides have succeeded in raising over £11,000 for the Care Workers Charity, which helps current, former and retired care workers when they fall on hard times.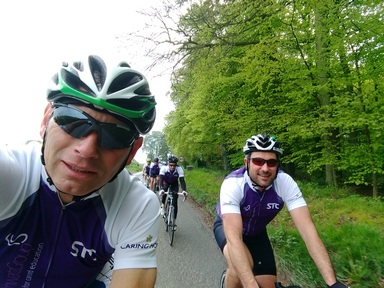 The 30 cyclists, mainly from Carter Schwartz, a care recruitment consultancy, split into two groups, one cycling a 75 mile route and the other 125 miles from London to the Cotswolds followed by a charity auction. Some of the other organisations taking part included Caring Homes and Octopus Healthcare.
Alex Ramamurthy, chief executive of the Care Workers Charity, said: "The event raised £11,000 for the Care Workers Charity, a buzz around the cause and a deep sense of satisfaction from all that took part. Two riders came off, with one serious injury and a total of four punctures, led to some tall tales, knocked egos but no permanent damage."
Sarah Hyman from Investor Publishing, who took part in the cycle ride said: "As a novice cyclist I can safely say it was one of the hardest, hilliest things I've ever done but it was an honour to help support the Care Workers Charity as it is an incredibly worthy cause and events like this are so important for giving back - a great initiative from Carter Schwartz."
Adam Carter from Carter Schwartz called it an "incredible day with unwavering effort from all involved - sweat, blood and tears went in, an £11,000 donation and a band of brothers came out".
There are around two million care workers in the UK caring for some of the most vulnerable people in society. Care work involves early starts, long hours and can be physically and emotionally demanding and when that is coupled with an injury or an illness, people can go into a downward spiral both financially and mentally.
The Care Workers Charity, formerly the Care Professionals Benevolent Fund, was set up back in 2009 to give help to some of these care workers.
Trustees for the charity are Davina Ludlow, director of carehome.co.uk, Avnish Goyal, managing director of Hallmark Care Homes, Martin Green, chief executive of Care England, Teresa Lynskey, managing director of Lynskeys Care Services, Anita Goyal, director of events at the Hemraj Goyal Foundation, Vernon Baxter, managing director of Health Investor, Adam Hutchison, managing director of Belmont Sandbanks Care Group and Richard Hawkins, editor in chief of Caring Times.
To view a short film of the cycle ride go to https://www.youtube.com/watch?v=FV6zwXB8Beg&feature=youtu.be.
You can also donate to the JustGiving page www.justgiving.com/fundraising/carter-schwartz-cycle-challenge
click here for more details or to contact Care Workers Charity