Khadija Saye, a care worker and up and coming artist, whose work is part of a showcase of emerging artists at the Venice Biennale, has been named as one of the many residents killed in the Grenfell Tower fire.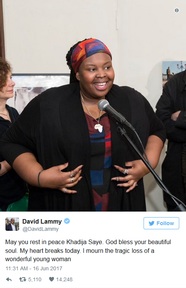 Khadija lived with her mother, Mary Mendy, also a care worker on the 20th floor of the tower block in West London. The 24-year-old who won a scholarship to Rugby School when she was 16, went on to study at the University of Creative Arts.
Friend and fellow artist Lou Johnson, said she was "one of the most remarkable people I have ever, and probably will ever, meet."
Nicola Green, artist and wife of MP David Lammy, who had been mentoring the 24-year-old, called Khadija "inspirational". She revealed that in the last few weeks, Khadija had been contacted by a number of important galleries wanting to exhibit her work and was on the verge of making it as an artist.
Her photographs which are on display at the Venice Biennale are called 'Dwelling: in this space we breathe' and are described as a 'series of wet plate collodion tintypes that explore the migration of traditional Gambian spiritual practices and the deep rooted urge to find solace within a higher power'.
She used photography to explore culture and identity and photographed people in Britain and in Gambia where her mother was born. One of her last posts on Facebook reveals her happiness over her achievements as an artist saying 'It's been a real journey, tears shed, highs and lows, but mama, I'm an artist exhibiting at the Venice Biennale and the blessings are abundant!'
Khadija Facebook messaged Ms Green at 3am in the morning of the fire last Thursday saying she couldn't get out of the flat and the smoke was so thick and to pray for her and her mum. It was confirmed that the pair both died on Thursday. Family friend and Labour MP David Lammy tweeted about Khadija saying he "mourned the tragic loss of a wonderful, young woman".
Emergency services have said the number of people presumed dead in the fire is now as high as 79. There are also 18 people still being treated in hospital.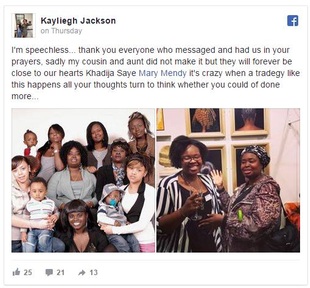 Prime Minister Theresa May has announced a £5m fund to help people affected by the fire.
Each household that has lost their home will receive at least £500 in cash and £5,000 paid into an account.
The fund will also help people having to stay in temporary accommodation and with paying funeral costs.
In the wake of the fire, Theresa May has been heavily criticised for her decision to just meet with emergency services rather than the residents of the tower, when she visited the area.
Kensington and Chelsea Council has also come under attack over their slow response in finding places for the homeless Grenfell residents to stay.
The Prime Minister has announced a public inquiry into the disaster. However thousands have already signed a petition calling for an inquest instead claiming a public inquiry will be a 'whitewash' as it will be Government-led.