Londoner Jean Cohen never forgot the 'cute' American GIs she met during the Second World War, and others can now have a chuckle over her memories at a sound installation project in her care home that conjures up thoughts, history and laughs from unexpected places.

Visitors to Jewish Care's Kun Mor and George Kiss Home in London have for the last four weeks, heard Jean Cohen's tales and the voices of other care home residents spilling out from an upturned plant pot, a teapot's spout and an old suitcase exploding with photographs.
Jean met Ashley Cohen at a party and married him in Hendon Synagogue. But that's not what she wants to talk about. Well before she married him, the war came - and with it American GIs.
'Oh say it again!'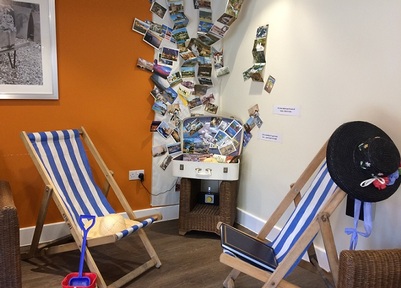 Her voice emanating from an old suitcase in the corner of the room, Jean tells visitors: "When I grew up during the war, my mum and dad invited American soldiers home.
"[We'd] give them Friday night supper…or Saturday, whenever they wanted to come.
"I was just smitten with American men.
"The way they spoke. The way they looked. Their hats and everything. I was just young and fell madly in love with Americans. They were just so cute you know.
"The American language, aahh! 'Oh say it again!'
"They used to say to us: 'But we love the way you speak', but I said: 'We only speak normal'."
Jean "used to come home and write everything about what we did on that day" and her cupboards became full of diaries she'd written.
Jean, who has three sons, this week celebrated her 88th birthday. And, as she still likes to write in a diary every day, she was intrigued by the sound project that saw her voice and those of other residents captured over 12 sessions from January to March by Jewish Care's sound artist Esther Ainsworth.
"Jean was very articulate. She's kept diaries all her life", says Ms Ainsworth, who was hired by Jewish Care to work in its creative team known as Living Well, that also includes a movement artist, bibliotherapist and a puppeteer.
Talking plant pot
The Kun Mor and George Kiss care home has set aside exhibition space for intimate, themed rooms that include two stripy deckchairs next to a suitcase that scatters old holiday snaps up the walls, a chair wrapped in flowers where you can sit and listen to birdsong and a plant pot talking about someone's childhood garden.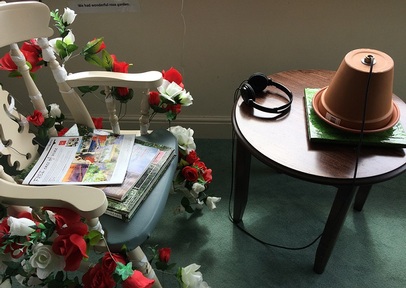 Of the residents' reaction to the sound installation, Ms Ainsworth says there was: "Surprise. Sadness. It's been amazing. A lot of people were really moved by it."
Ms Ainsworth, who has an MA in Sound and Digital Media, began recording residents' monologues in January with fellow sound artist Andy Cruz who works at Output Arts.
With six to 12 residents in one session, "depending on who was up for it", the two sound artists each led six sessions.
"Andy's approach in his sessions were more interview style, asking about holidays, work, childhood memories and love. I would share sounds. Play favourite 1940s records on the gramophone, the sound of old machinery that doesn't exist anymore, a washing board…a typewriter. "We would take orange juice outside, sit in the sun and play the gramophone. We tried to avoid anything that would evoke bad memories for them. "
But bringing up past memories during a time of war, inevitably brought up the unexpected.
Salutes
During one session, resident Cyril said pupils had to salute their teachers outside school and would be saluted back. He said: "The teachers come along on bicycles and we had to salute them…very silly".
But his words prompted one woman, who had arrived in war-time London from Germany as a girl, to respond with a 'Heil Hitler' and laugh to herself.
'Rode around with guns on them'
In another session, a woman said her first holiday was a trip to Cornwall. But after that it was: "Blankenberge, Belgium. That was the first overseas holiday we had. Listen those days we had a cine camera, so we could see it all again. The first year going to Belgium was when they had been occupied.
"People said 'Oh! You're mad to go to Belgium'. People thought it wasn't safe to go there at the beginning, but once you got used to it – I mean the fellows rode around with guns on them, things like that. I liked the continental discovery of it. Their beaches were beautiful.
Of her life in England, she said: "We didn't have much spare time because it was all raids. "You couldn't go out in the street and play and things like that, you just stayed in. We always had plenty of friends, one night it was in one house, one night it was in another. When the sirens went, we all had to get in one house."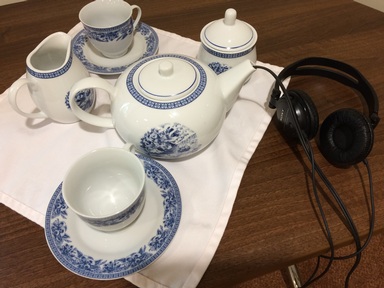 Sounds can 'capture the spirit of a person'
After 12 sessions over three months, Ms Aunsworth says putting together an exhibition in time for the start of June was a production in itself - with four hours of footage typically taking 30 hours to edit.
Now the care home's sound project has proved so popular, the installation will not be dismantled as planned on 1 July but will play on for another two weeks following requests for an extension by people eager to see it.
Some 1,500 of the Jewish Care's staff and volunteers from 12 care homes as well as families and friends, have booked appointments to see the sound installation.
"It couldn't be a public show because it's a care home. We've already kept it longer than planned" says Ms Ainsworth.
But she is not surprised by the interest, summing it up simply: "It is valuable to everyone to have those stories. It's not a photo but a grandmother discussing a lifetime of memories.
"At that time they may not have had video footage but sound footage can capture the spirit of the person, even after they've gone.
"We can watch movies, read books but it's not the same as hearing someone who's lived it."
click here for more details or to contact Kun Mor and George Kiss Home