A 'sophisticated baby monitor' for older people may sing you to the land of Nod but its presence in a care home has also dramatically reduced falls and stopped staff disturbing sleeping residents.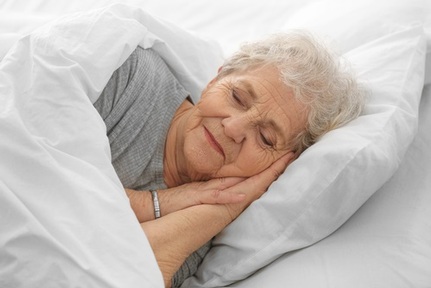 No need to 'creep' into rooms
The soft singing of an obliging night manager to a lady who finds it hard to sleep has been made possible because of a listening device at Drovers House care home in Rugby but it is the monitor's ability to detect the sound of someone falling in their bedroom that has led to falls at the home decreasing by 34 per cent in one year.
Drovers House witnessed a drop in night-time falls over 12 months, in a trial of the acoustic monitoring system CLB Acoustic Monitoring, which began in April 2016. The decline resulted in the care home ending its practice of hourly staff visits to bedrooms throughout the night to check on residents.
"We believe we are the first care home to have it", says a Jo Cheshire, head of marketing for WCS Care Group which has six 'outstanding' care homes out of 13, which includes Drovers House.
Likening it to a sophisticated baby monitor, she says: "We had to get 100 per cent consent from residents and families to turn it on in each room. At night, staff used to try to creep in and have a look around the door - now we don't need to ask staff to make checks on rooms every hour. With the monitor, staff can be in the room within a minute of a person falling."
The speedy response of care workers to a concerning noise captured by the monitor can also result in some falls being prevented from happening at all because the resident has only started to get out of bed.
Good moods and better appetites
Other benefits for older people in the specialist dementia care home included better sleep, improved appetites, better moods, more privacy as well as better use of care workers' time.
These advantages have not gone unnoticed by visiting Care Quality Commission (CQC) inspectors either, who rated the care home 'outstanding' in a report published on 3 July, after an unannounced inspection in April.
No more knocking on people's doors at night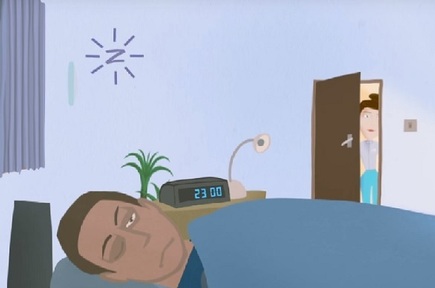 "Instead of having care workers knocking on doors all night every hour, checking to see if they are asleep, people are sleeping better because they are not accidentally getting woken up by staff.
"They have their privacy. Some have better appetites.
"One lady will talk to the voice in the room", she says referring to the monitor.
"Another will order a cup of tea. And we had one ask a member of staff to sing to them over the monitor.
"It is also good for staff. Carers feel more supported because there is a listening device in the room. When they go into someone's room at night, care will be exceptional. And for residents with a tendency to fabricate because they have dementia, the care worker can ask the manager to listen in."
Like a sound detective ignoring snores
Acoustic monitors were fitted in the corner of residents' bedrooms last year and work based on noise sensors which check the level of sound in a room from 10pm until 8am the next day.
While monitors are adjusted to suit residents' own noise levels - such as snoring, watching television, music and routine movements in bed - it is the thumps and cries out in pain that are picked out.
When a concerning noise is detected, the system captures 15 seconds of sound prior to the incident and an email alert is sent to a central server which is monitored by the duty night manager. After listening to the sound clip, a message to a care worker's handheld device is sent asking for a room to be checked.
"The duty manager heard one resident enter another's bedroom but then heard a lovely conversation between two friends."
The sound recordings are not saved but a note that there was an incident with the time and date is logged. The care home is currently testing cameras linked to the acoustic monitors so that a live feed from a camera in a bedroom is also seen when the manager clicks on the email alert.
'Wide awake club' members can get a midnight haircut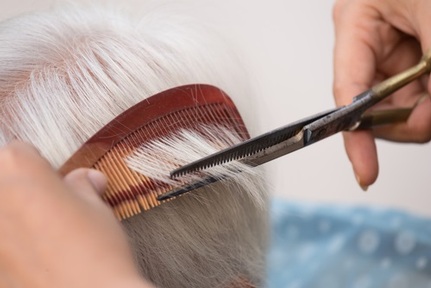 One knock-on effect of the acoustic system has been to cut the number of staff needed. With hourly room checks stopped, the setting has reduced its night staff from six to five. After retrofitting the acoustic system, a return on investment was seen within 15 months as a result of lower staff costs. And instead of walking the halls at night, care workers are now free to carry out other tasks.
The workers now congregate in the lounge and bring anyone down to the lounge to join a 'wide awake club'.
In a bid to "reset their sleep patterns", the staff have taken wide awake residents to the hair salon at night, given them food to eat, drinks and social stimulation, while "watching for signs of tiredness" which would prompt them to help an individual to bed. Actions such as helping people get to bed an hour earlier gradually over time effectively reset sleep patterns.
In this way, the care home, which has 75 residents, cut the number of wide awake club residents from 16 (in April 2016) to three, a year later.
More time outdoors to improve sleep
Having first opened in September 2013, rooms at Drovers House cost £834 a week and £953 for individuals with dementia. It is the third WCS Care home in Rugby to be recognised as 'outstanding'.
Staff at Drovers House have teamed up with academics from Coventry University who are researching the effect of the acoustic monitor systems on falls at the care home. But the academic studies don't end there.
To improve sleep and harness the health benefits of daylight, the care home's bosses are also on a mission to get 90 per cent of its residents outdoors for 90 minutes a week. A software app has revealed that in the last two months (on average across the WCS Group) its care homes have 53 per cent of its residents outside for 66 minutes a week. It has so far increased outdoor time for mobile residents by 20 minutes a week.
'Staff had more time to care'
Having the listening devices at Drovers House is clearly one of many forward-thinking steps taken by the care home's management. Drovers House is also getting circadian lighting retrofitted and academics will study how well residents sleep before and after its installation. Designed to adjust lighting to keep residents' circadian rhythms on track, it is hoped it will boost the mood, energy and physical and mental well-being of people living at the home. An electronic care planning system at the home is another source of research, with staff checking and logging all residents' hydration levels electronically to make sure each have at least one and a half litres of fluid a day.
The efforts of staff and use of innovative technology has caught the eye of CQC inspectors, with care workers as well as residents sleeping more soundly knowing the care is outstanding.
In the care home's CQC report, WCS Care's use of technology was highlighted by inspectors who said: "The provider was innovative and creative and constantly strived to improve the quality of people's lives. They had implemented technological systems that promoted undisturbed sleep, ensured staff and management had access to the most up-to-date information at the press of a button. People benefited from the technology because staff had more time to care for them."