Just over three-quarters of adult social care services in England have been rated good and two per cent are outstanding, says the country's watchdog, but it warns not all care homes and domiciliary services offer 'good enough' care, revealing size plays a part when it comes to quality.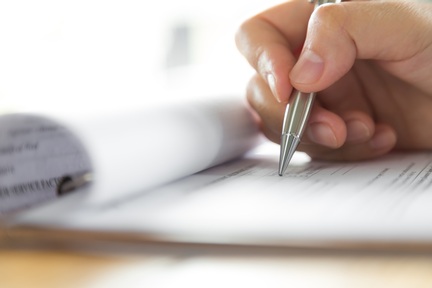 Does size does matter?
In its report 'The state of adult social care services 2014 to 2017', published on 6 July, the Care Quality Commission (CQC) said: 'While the majority of adult social services are of a high quality and many are improving, too many people across England are receiving care in care homes and from home care services that is not good enough.'
The regulator revealed 19 per cent (4,073) of adult social care services require improvement and two per cent (343) are inadequate. Some 77 per cent have been rated 'good' (16,351) with two per cent (353) rated 'outstanding'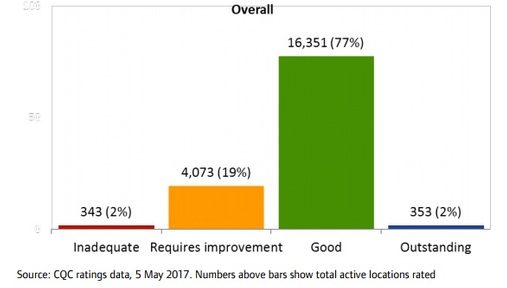 It stated: 'Our analysis of our inspections shows that there is variation in performance depending on the size of services.
'Generally, smaller services that are designed to care for fewer people were rated better than larger services.
'In both nursing and residential homes, there is a trend that smaller homes are rated better than larger homes, with 89 per cent of both small (1-10 beds) nursing and small residential homes rated as 'good' or 'outstanding', compared with just 65 per cent of large (50+ beds) nursing homes and 72 per cent of large residential homes.'
The regulator highlighted that four per cent of large nursing homes which are rated as 'inadequate' can provide services for around 5,500 people.
The care regulator stated: 'services that care for smaller numbers of people often found it easier to demonstrate a good level of responsiveness – for example, by being able to offer activities that are based on people's individual interests. This may be a challenge for larger services, but can be achieved.'
Since October 2014, the watchdog has completed more than 33,000 inspections of 24,000 adult social care settings up until February 2017, which include care homes, nursing homes, home care, shared lives and supported living services.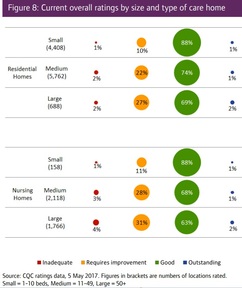 For home care services, CQC ratings data reveals that settings providing care to a smaller number of people were also performing better than larger services. The CQC data shows 85 per cent of small services (for one-50 people) were rated as good or outstanding, but only 73 per cent of larger services (for 101-250 people) achieved the same results.
'Nursing homes remain the biggest concern'- one third failing
The CQC found a 'considerable variation' in ratings across different care services with community services (such as Shared Lives) rated the best overall but nursing homes described as the biggest concern. Four out of five care homes and home care services received good CQC ratings but almost a third (32 per cent) of nursing homes either 'require improvement' or are 'inadequate'.
The CQC stated: 'It is nursing homes that remain the biggest concern – 67 per cent were rated as 'good' and one per cent as 'outstanding', with 29 per cent rated as 'requires improvement' and three per cent as 'inadequate'.
And with nursing homes grappling with a shortage of nurses (staff attrition at these settings is approximately 33 per cent a year). The quality of care in nursing homes is an issue that is not being helped by Britain's Brexit move to leave the EU. The Royal College of Nursing revealed recently that there has been a 96 per cent drop in the number of people applying from the EU to work as nurses in the UK.
Regional variations in CQC ratings
The care watchdog also discovered variations in CQC ratings according to region, stating: 'Quality across England is undeniably variable'.
It highlighted differences in performance from region to region, with the East of England showing almost 10 per cent more locations rated as 'good' or 'outstanding' than the North West.
Dr Rhidian Hughes, the chief executive of VODG (Voluntary Organisations Disability Group), said: "There remains considerable variation in quality across the market and it is unacceptable that some people find themselves exposed to poor and inadequate services."
Innovation is identified by the CQC as a characteristic of 'outstanding' services, with good leaders described as being 'innovative' or 'creative', especially when adopting person-centred practice and solutions to individual care needs. With only two per cent of adult social care services rated 'outstanding', the CQC states: 'While we make no apology for setting the bar high, this is considerably lower than we originally expected.'
More intelligence-driven inspections
To raise standards, the CQC said the regulation of adult social care 'will become even more targeted, risk-based and intelligence-driven over the next few years'.
But the regulator said its recent 2017 budget survey shows 'whilst extra funding is very welcome, it doesn't meet increasing needs and costs, that 74 per cent of directors report that care providers face quality challenges and that 69 per cent of councils had experienced provider failure or returned contracts'.
Andrea Sutcliffe, the CQC's chief inspector for social care, said: "The danger of adult social care approaching its tipping point has not disappeared. If it tips, it will mean even more poor care, less choice and more unmet need for people."
Nicola O'Brien, head of policy and campaigns at Alzheimer's Society, said: "People with dementia deserve better. Without funding to put the right protocols in place, it's no surprise that providers are being forced to cut corners. We need to see Government act before the care system collapses, with clear detail on consultation for reform that is backed up with action not more words."
In response to the findings, Vic Raynor executive director at the National Care Forum blogged: "This report shows that the 'care' factor is alive and well, with over 95 per cent of services being rated as good or outstanding for the care that they provide. This is good news, and is vital that we continue to measure."
But she added the report also highlights "investment needs to be delivered now to maximise the impact of the good care on offer – to deliver good and outstanding services across the board."